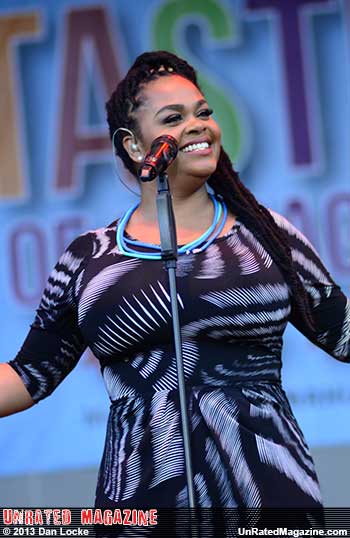 Chicago's most famous festival, the Taste of Chicago brings together the city's best food and big music acts. Though the revamped festival offered paid concert seating and fewer vendors, headliners like Robin Thicke, Fun, and Jill Scott made this year a huge success.
Jill Scott headlined the Taste of Chicago in Grant Park on Saturday. Jill Scott, Maxi Priest, and spoken word group Ideology performed for a sold out crowd of thousands. Fans stood the entire set as Jill belted out hits like The Real Thing, A Long Walk, and So in Love. Other cuts like The Way, Cross My Mind, and Hate On Me were given soulful remixes. Jilly from Philly rocked the stage in a sexy black and white fitted dress with platform heels. Those of us used to seeing a thicker Jill Scott perform in draped garb were pleasantly surprised at her sexy slimmed down look. Jill is still voluptuous as ever, now with a tighter posterior and muscular legs for days.
Jill Scott also rocked a custom-made grille as she excited the audience with her frank adlibs. On her soulful ballad, Whatever, where she exalts her man and declares there's nothing she won't do for him, Jill joked, "I'll even let your baby mama sleep over and you know we don't get along." Another song, Quick got Jill pretty emotional. While she performed it she stop singing - turning from the mic and shaking her head. The audience lent their full support, shouting, "It's okay..." Jill never finished that song.
Unrated Magazine (UnRated Flair) had the pleasure of attending the show as a guest at the Verses & Flow VIP tent positioned right next to the stage. Verses & Flow is a series created by Lexus that brings poets and R&B artists together for a grown and sexy night of spoken word and good music. Verses & Flow in conjunction with the Taste of Chicago presented spoken word group Ideology as the opening act.
Ideology had the audience feeling sentimental when they spoke about love and relationships, then cracking up when the joked about the shortfalls of dating the wrong guy. The five gentleman group set the stage for reggae artist Maxi Priest, who performed before Scott.
Maxi Priest has never lost his swag. He performed classics like Close to You and a few new hits that had the crowd dutty-winding. Maxi even brought out a special guest whose dancehall chants got the crowd jumping.
Day four of the Taste of Chicago was a weather-perfect day of pride for Chicago with grown and sexy folks of all ages packing the Petrillo Music shell to the brim and groovin in unison.
---
RELATED LINKS