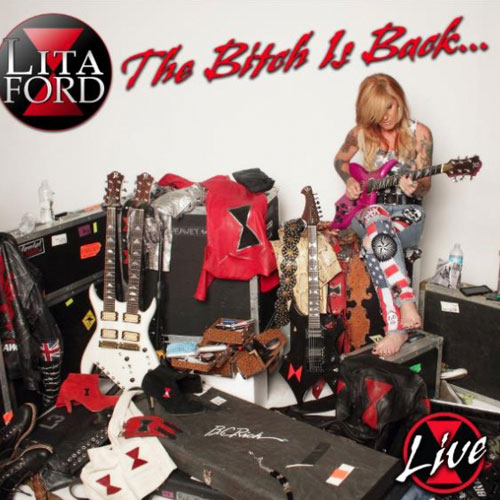 "The Bitch is Back...Live" is the brand new live album from the queen of Hard Rock and Metal; the luscious Lita Ford. Hot on the heels of her comeback album"Living Like a Runaway," she took to the stage at the Canyon Club in Agoura Hills, California in early October of 2012 to showcase the new material as well as her acclaimed classics. "Living Like A Runaway" marked her return to her classic hair metal sound and this live CD proves that to be a very wise decision.
The album takes off with Lita's remake of Elton John's classic "The Bitch Is Back" in a raw and wild explosion of metal. The recording is a drop dead honest display of the performance and seems hardly dubbed. It captures a great gig with a band in great form. Not multi-layered and pumped up to the max, this performance feels like you're actually there hanging by the bar. While the album spins, you actually also hear the band improving more and more while the audience goes wilder. "Hungry" is the first step up to perfection.
"Relentless" is raw, pure and powerful and "Living Like a Runaway" sounds simply magic. It sounds as inspired as it does on the album. It's a captivating reenactment of her life and her hey days as part of The Runaways. A story captured in words and music which really grips, as does this performance. "Devil in My Head" and "Back to the Cave" are linked together easily in pace. Both feature Lita with soaring vocals. Even though Mrs. Ford ain't the best vocalist around, she perfectly knows in what registers she tops and which not. She steers clear from those traps and compensates with charisma. Lita Ford's charisma radiates off the edges of this silver spinner.
When the pace goes up, Ford and her band explode with energy. "Can't Catch Me" displays a rock band in its purest form, with Lita shredding it up wildly. Her hair metal anthem "Out For Blood" rocks hard and loud. Ford has her guitar buzzing while her voice captures the raw energy of the album with the same title perfectly. Ra wand is energetic t and thunders onwards into "Dancing on the Edge," another highlight of her illustrious career. Moaning and soaring while guitars lay down a wall of sound. "Hate" is another song from her last album, with a nice hook line and harmonies that instantly stick to ya, proving Lita's feel for melody and (above all) drama. Lita points out those lyrics, as she does manage to start a grin occasionally with her one-liners and announcements. "Close My Eyes Forever" is a track which may not be discarded on this album. Although it has never been my favorite, it truly shines on this album. Lita is 'duetting' with her audience and taking care of the lyrics herself, due to Ozzy's (obvious) absence. It's a heart warming and captivating performance, one of the highlights of the album.
"The Bitch is Back... Live" ends with a full frontal version of her big 80's hit single "Kiss Me Deadly," a true rock anthem! A song which still stands out in rock today, laid down perfectly.... It's raw and energetic; the perfect way to end this live trip down memory lane.
Perhaps the album doesn't instantly appeal to every fan in the genre, because of the true "LIVE" feel which radiates from this disc, but it is an album capturing rock'n roll in its purest and most deadly form. Lita's band is a perfect rockin' machine, and Ford's playing is still pristine. "The Bitch is Back... Live" is a document of one of rock and metal's most influential female performers, who still has the edge and ability to put on an inspired rock'n roll show. Let's not forget that Lita Ford paved ways for many female musicians in the masculine world of metal... the woman is an icon!
79 / 100
RELATED LINKS