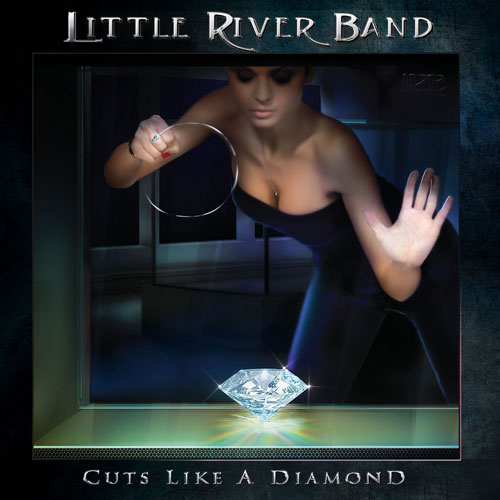 Top 10 hits for 6 consecutive years, "Reminiscing" garnered more than 5 Million airplays where "Lady" achieved the milestone of 4 million+ plays recently! 30 Million records sold worldwide, and still touring the globe all year round. Ladies and gentlemen; Little River Band!
"Everyone one of us / owe so much even our lives / To the ones who guard that open door / to what's on the other side".
It kicks in right away with this homage to troops all over the world guarding our lives, protecting our freedom. It's a statement adding up perfectly to this new album by the Australian hit machine. An album that took some years to make, during which Wayne Nelson and his troop gathered song and ideas from several songwriters, as well as themselves, to carefully mold them into the typical LRB sound. A unique sound which landed them those many highlight marking their long spanning career. Multi layered guitars, all-in high pitched perfect harmony, excellent close harmony vocals and vocal interaction and songs that instantly nest in your brain. Sugar coated, slick and on the verge of being tacky.
The trademark sound is there, with a little less country timbre and more leaning towards AOR than ever. The opening "The Lost and The Lonely", "Forever You, Forever Me" and the title track are typical LRB tracks with a more modern and fresh approach. "You'll Dream, I Drive", "I'm an Island", you name it, it all bears the mark of excellence. Slide guitars and Hammond give the last one that laid-back undertone it needs, making it stand out from the rest. It's that finesse which makes this new album also very enjoyable. Songs are well balanced, as is the entire run of the new tracks. The high level of expectation is matched by this remarkable band. The finger licking sweetness continues on "Way Too Good" and the slightly country inflicted "What If You're Wrong", which warps us back to the band's acclaimed heydays more than ever. "Where Do I Run To" also has that timbre and feeling, but is pumped up with high choirs and soaring guitar solo. "Love Is" is the campfire love song easily connecting to "Where Do I Run", "Someone" is the typical classic AOR track from the eighties with a more modern sound. "Who Speaks For Me" has more of a bite, slightly gritty and with an 'aggressive' pumping beat tugging it forward. Featuring again of those wonderful guitar solos, unloading in some remarkable twin extravaganza. It wraps up a wonderful album adding up to the fame and fortune of their long and glamorous career. It also has the band addressing social issues with sharp and pointy lyrics, something present on more songs featured on "Cuts Like a Diamond". That in combination with the excellent fine-tuned harmonies makes it a great statement in time as well.
The typical sound is revived with some newly found modern panache, adding up to the band's catalogue. The production is crystal clear, the songs are absolutely wonderful. The tracks are all spot on and next to perfect, as where the musical marksmanship is outstanding. It all adds up to a fine piece of work.
After the first spin this collection of tracks finds its way to the storage section of your brain, and with every singly play of the disc you will feel more and more connected. This is an album for fans, music adepts and lovers....
82 / 100
---
RELATED LINKS