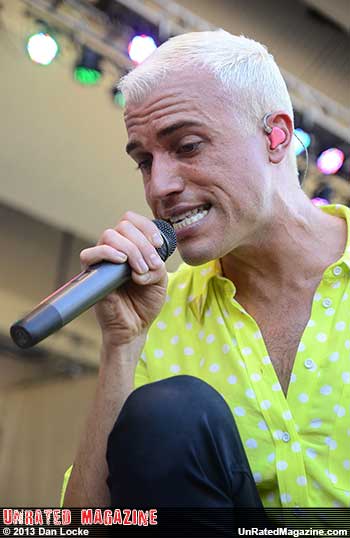 If you are over the age of 30 or do not have the luxury of having your children introduce you to what's new in music nowadays, you most likely have not even heard of the band Neon Trees. Well, you are in luck because with this concert review, it is my intention to inspire you to put your finger on the pulse of what is considered cool in music nowadays. . .at least according to the gazillion screaming 20-somethings I encountered at the band's latest concert in Chicago on July 14, 2013.
First, a little bit of background on Neon Trees: While most of the members of Neon Trees grew up in California, the band made their first home together in Provo, Utah. (Quick side note: The drummer [Elaine Bradley] is originally from Chicago!). While gaining popularity in Utah and the surrounding region, the band was "discovered" while playing in Las Vegas by a member of "The Killers." It was in 2008 when Neon Trees opened for The Killers in that year's tour. From that point forward, the band gained momentum in popularity throughout the United States and, in 2013, having opened for Maroon 5 on that band's latest tour, Neon Trees has become known throughout the world. . ..that is if you've got your finger on the pulse (which you can certainly say you do now). Personally, I would compare the sound and style of Neon Trees to a cross between Muse and Stereophics however, their live show is much different from the two as Neon Trees performs with much more enthusiasm.
On to the live performance: The band had just been introduced by the MC and within milliseconds, the sounds of the city were replaced by thousands upon thousands of screaming 20-somethings. I scanned the audience and the only people that were similar to my age were most likely the parents of one or two of the screaming 20-somethings. . .either that, or they thought they were there to see the Chicago Symphony but realized they were standing at the wrong downtown band shell. Considering the fact that on July 14th, Chicago had been under an extreme heat warning by the National Weather Service, it certainly did not prevent Neon Trees frontman, Tyler Glenn from covering each end of the stage at breakneck pace. Actually, the entire band was so full of energy and it was obvious that their fans in attendance appreciated every single moment. The band performed the following songs, "Animal," "1983," "Everybody Talks," "Mad Love," "Calling My Name," and ending their set with an INXS cover "Never Tear Us Apart."
Highly recommended.
---
RELATED LINKS