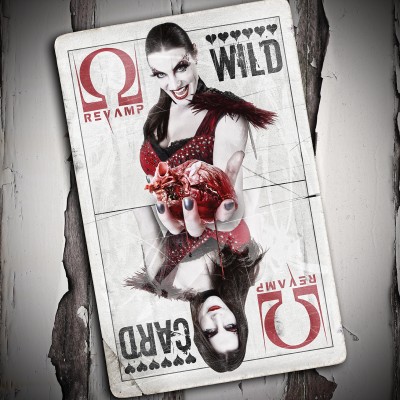 Reporting back from the trenches of melodic metal with "Wild Card" is none other than vocalist extraordinaire Floor Jansen (After Forever, NightWish, Ayreon, Star One) with her band ReVamp. After Jansen joined Nightwish, I did not expect her to return with a new band, even though the new CD was already long in the making. After the glorifying debut, expectations ran high. Is ReVamp able to match those expectations, and how will Jansen build in ReVamp in her packed agenda?
"Wild Card" evolves around the epic trilogy "The Anatomy of a Nervous Breakdown" which bursts open the album with the first two chapters immediate displaying the direction and course set fort his metal CD. 'cause that's what ReVamp offers; pure and powerful metal!"
Chapter 1 "On The Sideline" outlines the direction as where the extremely progressive second chapter "The Limbic System" links this new spinner perfectly with Jansen's wide and varied past in music. It blooms through pompous Ayreon elements drenched in After Forever classical thematic, propelled by ponderous drums and razor sharp guitars. It's blunt as well as keenly arranged by Floor and producer (& former band member) Joost van den Broek. Not only does the song weave together the musical past, it also showcases Jansen's immaculate skills in all directions as a vocalist. Powerful and loud, charismatically chanting, opening all registers at hand.
Floor Jansen without doubt is one of rock's most compelling vocalists and personalities. The title track on Wild Card is blunt and full frontal, it is classic melodic metal, leading us into "Precibus." This is a riff monster molded around a keyboard and lush guitar interaction with soprano vocals shifting shape together with the song. "Nothing" is a melodic explosion of emotion in which Jansen shines like never before. The mid-section is pompous and loud with some jaw dropping guitar solos flashing by over fierce riffs. ReVamp also addresses personal issues and social themes, something Jensen always did. But this time it is more philosophical and deep; more intriguing and dark. It certainly adds up to the presentation and force of this new CD.
"Nearasthenia" is the last chapter of "Anatomy..." A duet with Devin Townsend unloading more power building tension towards the towering grand finale. Perhaps it is Townsend who put his mark on Jansen more than one can imagine. Their previous collaboration surely was an eye opener in music. Given the facts and variegated approach of "Wild Card," a lesson well learned; diverse and entertaining, is this entire album.
"Distorted Lullabies" is a semi-ballad which unexpectedly explodes with aggression. "Amendatory" has fists flying up. It is a powerful rock anthem balancing on the fine line between progressive metal and US power metal. It's very intense and perfectly executed on all accounts. The song contains slick choirs and vocals from provide a slick overall feeling. "I can Become" easily matches the best of her debuting band, with loud grunts and towering vocals. A little theatrical undertone hints the Dutch roots of Jansen. "Misery's No Crime" again has Floor belting some classical soprano vocals with panache. The vocal interaction explodes when Floor rejoins forces longtime friend Mark Jansen (Epica) who unloads some terrifying growls. "Wolf and Dog" closes this tremendously well-arranged showcase of grandeur.
"Wild Card" closes the gaps between Jansen's wide spread musical career. It adds progressive elements to classical metal themes, spits dirt through slick melodies and has smoke covering fairytale like structures. Smooth melodies can suddenly explode into neurotic riffs and thunderous drum patterns. It's a wide variety of structures and an arrangement makes this album stand out. Diversity and unexpected plot changes which are carefully molded around that one binding factor: the immaculate Floor Jansen!
And it is heavy as hell itself!
90 / 100
RELATED LINKS