Just like The Taste of Chicago itself, Robert Plant is a timeless classic. The live performance by the legendary Led Zeppelin frontman took place at the Petrillo Band Shell, promptly at 7:00pm, in the midst of hundreds of thousands of fans enjoying amazing local food while anticipating the nostalgia of what Plant would provide. The show itself, dubbed "Robert Plant Presents The Sensational Space Shifters", contained a variety of songs past with the element of an eclectic big band that did not disappoint.
As 7:00pm crept closer, the smells of the various food stands were cast aside and replaced with a wafting of incense placed strategically on the front of the stage where Plant would soon begin his set with a Led Zeppelin favorite, "Babe I'm Gonna Leave You". As I scanned the audience, I fully expected to see a sea of tie-dye, but was surprisingly mistaken. Instead, what I witnessed were a myriad of fans spanning in ages from early 50's to very young 20's, of which only a few were wearing the coveted hippie garb. I couldn't help notice the overwhelming excitement of a young man and his friend as the concert started. He was so excited....and barely 20-years old. I snapped a picture of him with my cellphone, perhaps hoping his youth would be contagious.
Hair donned in a bobtail, Robert Plant leaned into his mic stand and into the audience, performing the following hits: "In the Mood", "Friends", "Going to California", and a sweet mix of "Whole Lotta Love" with Bo Diddley's " Who Do Ya Love" intertwined oddly yet perfectly. The face of Robert Plant may have aged but his voice sounds exactly the same as it did back in the day. What an amazing show.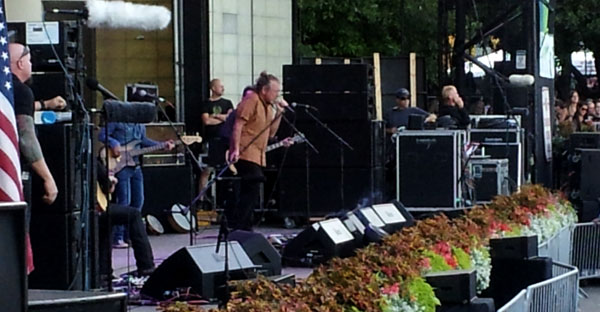 Plant's tour heads to the southeastern United States and then heads to Europe by the end of the Summer.
---
RELATED LINKS