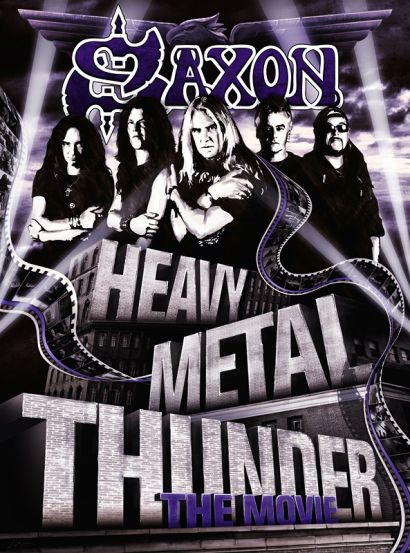 Working class heroes, New Wavy of British Heavy Metal (NWOBHM), heavy metal, and heroes; all these sum up the mighty Saxon. The band around charismatic shouter Biff Byford stood the test of time. Saxon is a test of time which was loaded with mischief. Saxon not only suffered from bad management, band intrigues and break ups, in addition Saxon suffered from the (many) turn of tides as well. But always and forever, Saxon proved to be as solid as a rock, not giving in to hatred and mishaps.
"Heavy Metal Thunder" is the long awaited movie about the British band. A two disc DVD / Blu-ray which goes inside and out, addressing issues and turbulence with strong and explicit verbs. A movie funded by the band and their fans, about a band... and their fans.
Where Spinal Tap paved the way, Anvil picked the sweet fruits of that labor, Saxon taps in as well. "Heavy Metal Thunder" displays a band still on top of the world, thriving hard as ever. Growing musically, growing as a band, and growing as individuals. Wisdom is wide spread all over this DVD. Wisdom shared by musicians having seen all odds and ends in Metal.
We are taken way back in time, all the way back to the era with rivaling bands in the Barnsley scene. Many band members being judged upon their where abouts, such as Paul Quinn being pulled in from a rival rock band, and members merging into what would become the flagship of British Heavy Metal: SAXON!
Saxon share their wisdom for future generations, hailing from suburbs themselves; they have quite a story to tell. Hear Biff Byford, Paul Quinn, and their band mates tell their story about losing their equipment, sleeping on worn down mattresses in an old band van, waking up in wagons, drinking and partying their way through life. Every bump they took, every obstacle they hit, they address. It is funny as well as compelling. Rumors and fiction go hand in hand. Saxon share the ultimate highs and lows of their long spanning career. Tremendously driven, knuckle busting their way through the heavy metal scene. Saxon remembers performing in the small bars and clubs leading them all the way to shine bright on the biggest stages all over the globe.
Saxon takes on a journey of splitting up and the long and painful struggle in court about the band's name and rights. The Graham Oliver/Steve Dawson camp steps in for their side of the story, Biff and his men telling their side, offering quite a rare and unique doorway to the truth. With court ruling Saxon's name to Byford, you feel the agony of Steve Dawson and his comrade Graham Oliver. It deserves praise for all to be this honest about it and not sweep things under the carpet, or smother the 'other camp'. Both camps, addressing an era which led to the actual split in a drop dead honest way. The breakthrough scheduled for the USA, which had the band twisted. Commercial success awaited the downfall towards their so praised working class attitude. The drug abuse by Dawson and the dressing room brawls between both camps. It is all there.... And more....
Very entertaining are the interviews while on tour with Motörhead during "The Eagle and Bomber Tour." Ian "Lemmy" Kilmister and Byford are shown in good mood looking back on the English scene and the music industry. Holding fond memories judging by the atmosphere in the scene. The movie shows the drug abuse by Lemmy, the liquor and booz, with both men now shaking their heads in agony. "Saxon relies on tea and good wine," laughs Lemmy. And it is that finer taste of liquors which is also addressed by the band furthermore. A unique inside.... Aside Lemmy, dozens of members from the music community praise the legendary English band. Lars Ulrich (Metallica) speaks out on why Saxon was so important in raising his Metallica, the importance and mark the band put on the overall sound in metal as we know it.
Almost 2 hours long we get to see the band up-close and personal. Time flies by fast and even the producers must have been struck by that fact. The last 15 years of the bands career are coming by like a speed train. 15 Years covered in little more than 15 minutes. Productive days in which the band landed again with their Eagle, producing some excellent new music while on the road and in studio. Its fifteen long years which where fruitful as their ground breaking early years, yet get covered in a short and timely manner, screaming out for a second edition of this DVD set.
Aside the story and highlights, the band also allows us to take a peek in the kitchen while composing new songs, mixing and recording. Bottles of wine on the table, the band gives insight to their creativity in a drop dead honest way. You see them struggle while recording, fine tuning a solo and taking care of the production as well. The atmosphere is much like in the old days, judging from the flicks of the past. We see Byford performing with Saxon during their "Strong Arm of the Law" days in 1981. Spandex and glitter, while giving their absolute best, displaying their unique riff and melody style of NWOBHM. The audience is seen as being far from the band performing which is different from the performance as depicted on this 2nd disc. The St. Georges Day gig in 2008, where the band plays a set list consisting of not only the well-known classics, but build from a couple of forgotten gems as well. It is especially interesting for long time fans of the band, just because of this truly unique gig, hence set list. A must per se!
Disc 2 features a few sights and sounds from the past with the band producing "Crusader" as well as the American rooted and ultra-melodic "No Excuse." Two short documentaries captured in this unique presentation of a unique and powerful band. It is as entertaining as the lifetime story of the band itself, though captured in small fractions on DVD #2. A highly enjoyable feat for fans!
Having broken down this awesome DVD into just a two page review, one can imagine this is something you must check out yourself. It is an exceptionally entertaining DVD which has you laughing out loud more than once. It is all commented in explicit snobby English with a working class underlining ... sophisticated swearing by a band who are legendary. This is SAXON.... This is life!
I'm ready for the landing of the second part to this story.
Disc one:
Heavy Metal Thunder – the Movie
Disc Two:
Saxon live at Beat Club, 1981
St. Georges Day concert, 2008
Documentary: Building the Labyrinth
Documentary: The Eagle & The Bomber
Documentary: On a Crusade
Documentary: No Excuse
RELATED LINKS