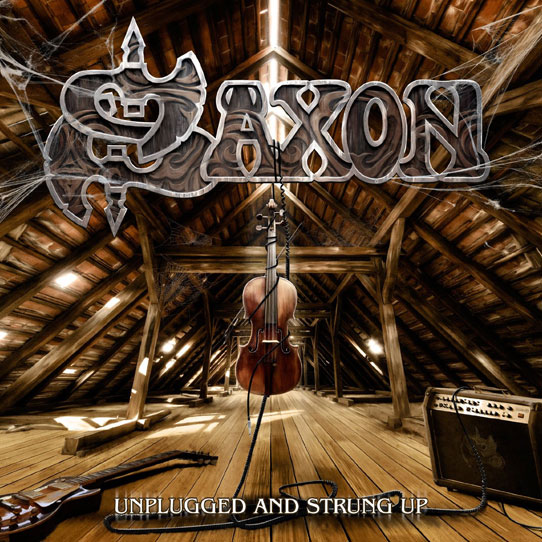 Upon the release of "Sacrifice", rumor had it that Saxon was to release an acoustic/unplugged album within a year. Being granted a sneak preview on the album's deluxe edition I expected no less than magic. In all honesty; I had not expected their music being suited this perfect for heavily orchestrated make overs. "Unplugged and Strung Up" is an album which proves the diversity Saxon brings to the front. And above all; it proves metal to be suited for a wide audience!
"Lionheart" displayed the Saxon's material gaining more strength being orchestrated, as did the remarkable sneak preview of "Crusader" on the last album. Strong and fierce metal tracks benefit from the larger than life orchestration creating an intense atmosphere which is taunting and powerful. It's that panache and perfection which uplifts this album and catapults it into the stratosphere of metal. Orchestral versions of marching magnetic "Crusader" and the classic "The Eagle Has Landed" stand tall. "Red Star Falling" morphed into a powerful pompous rock ballad with Byford's soaring vocals shining like never before. Same goes for the immaculate "Broken Heroes," a gripping highlight which radiates passion. The original being a great song as is, this version beats it easily. Propelled by the driving riff from Quinn the song rises towards the chorus and explodes while strings take over in large layers. "Call to Arms" already displayed that wonderful spirit on the original version, but has only grown on this epic CD.
The contrast with the acoustic renditions of their songs is tremendous, though it bears the typical marks of Saxon, with Biff's voice as binding force and Quinn's excellent riffs that pull the songs forward. "Frozen Rainbow" is built around the fine-tuned acoustic guitar lick and grabs you right away. "Requiem" and "Coming Home" are simply wonderful tracks being stripped to their bare essence.
"Coming Home" re-arranged to a country track with steel guitar sliding along and tambourines giving it a real 'campfire' feeling.
"Iron Wheels," the ode to Biff's father, flies by in a live version, semi-acoustic. It does justice to this outstanding song sung along to loud by the audience. The guitar lick sounds slightly reminiscent to Bon Jovi's "Wanted Dead or Alive."
"Militia Guard" and "Battle Cry" are featured alongside remixed and re-recorded versions of the speed demons "Stallions of the Highway" and "Forever Free," and the hymnic "Just let me Rock." It completes this remarkable CD of which the title doesn't really cover the magnitude of this powerful release.
The 2 CD edition of this mesmerizing CD features "Heavy Metal Thunder" as extra album, making your penny worth twice the value.
Saxon dodged the bullet on this CD, by not focusing on an all-acoustic album. Instead, the band decided "Unplugged and Strung Up" to be a balanced album of tracks pumped up to the max, while other tunes are stripped down to their very essence. Thanks to this, the album keeps sounding fresh, while the mood shifts from powerful to mellow. It's an excellent CD and the tracks couldn't be picked any better. Diversity at hand, this album will take you through those long dark days of November and December, coloring your mood.
Hear Biff explaining the Ins and Outs of this new release here: http://youtu.be/551z5RxDn40
89 out of 100
RELATED LINKS