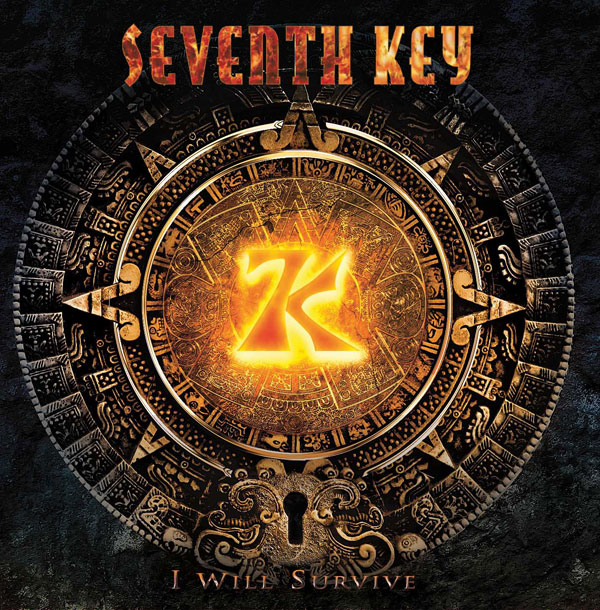 For over 25 years Billy Greer has been one of the driving forces of classic rock outfit Kansas, often referred to as the 7th Key of the band. His unique style of playing and one of a kind voice stands out as it does provide a perfect backing to Steve Walsh typical vocals. 12 Years ago Greer decided to join forces with old friend Mike Slamer to record his first solo album under the ironic Seventh Key banner. An album combining the best of their Streets history and Greer's Kansas influenced progressive touch. In 2004 "the Raging Fire" saw the light of day, leading to the first tour of his 'band', born out of a solo project.
"I Will Survive" is the perfect follow up to the live staging of his band in Atlanta. It breathes an overall band vibe, something slightly missed on the debut. Not only that band sound is a key trademark on this new CD, Seventh Key clearly keeps progressing towards a swirling and captivating rock band rooted deeply in the roaring 70's, without lacking the punch of superb melodic greatness.
The opening title track is a song which is clearly rooted in Greer's Kansas soil, with slightly progressive elements coming together in a pointy and edgy track with the unique trademarks of Slamer's qualities as well. It's an action packed and will have fans of progressive metal drewling. This is how it's done! Not overshooting musically, but with a focus on thematics and scales. There's a lot going on but all is serving the song. Manion's swirling keys in combination with Slamer's blistering riffs take it to an extremely high level.
Slamer who also shines with his razor sharp soloing on the following "Lay It On The Line." A song propelled onwards by the sharp riff in combination with the unmistakable organic sound of the Hammond organ. Over all of this it is without doubt the wonderful and typical sound of Mr. Greer himself that stands out. His sloppy bass playing and picking gives the song that little punch to make it an instant classic. And Greer shines further onwards with his excellent vocal presentation on this CD! His voice has aged but hasn't lost its uniqueness and power. Every so often I caught myself thinking Walsh also delivered his portion adding up to this beauty of this album. The choruses are strong and thanks to Trude land Brock it sounds exceptionally compact and close harmony.
"See You There" follows and is a slow paced track that unfolds with a wonderful musical bridge and double pace chorus over a swirling keys and a whammy guitar exercise. Again the Slamer solo is finger licking and sublime....
"It's Just A State Of Mind" is a real endeavor which combines 80's prog elements from the more compact Yes era with arena rock ingredients.
"Sea Of Dreams" is crafted over an acoustic folk theme and could easily be fitted on a Kansas CD. Key feature in this link isn't only Greer's voice but David Ragsdale's mellow violin slides, creating sheer magic together with the plucking of Slamer. This awesome close harmony vocal belts this wonderful highlight, perfect one of the best tracks pulled from the hat by Greer and Slamer.
Another highlight is the bedazzling "Time And Time Again" which features a drop dead gorgeous chorus, mega melodic and haunting. A pointy riff pulls us into the Journey reminiscent "When Love Sets you Free" which is mega melodic and features a couple of mind blowing breaks and drum extravaganza from Chet Wynd. The chorus again is a sugarcoated close harmony outing over an intriguing solo from Slamer. "Down" is a more gritty track with pompous undertone over a loud running riff from Slamer.
"The Only One" is a somewhat awkward track which balances out the pompous multi layered display of power on "I Will Survive". It's a full frontal 70's rocker with a focus on the leading (Rock 'n Roll) harmony laid down by Slamer on guitar and Greer with his pumpin' bass line. "What's Love Supposed To Be" opens with David Manion on piano, quite timidly. The song evolves with the addition of string arrangements pumping it into the stratosphere. Layers and layers of sound pasting it solid and pompous. The choirs are powerful and have a certain feel good vibe to it making it a very memorable tune, breathing hope.
The album doesn't die out like a flame, it ends with another highlight from this unique band; "I Want It All". The song is keenly arranged and features a display of power from Greer and his backing assistants. Huge pompous close harmony howls that keep you on the edge of your seat hoping to unfold more beauty towards the grand finale. The progressive and 70's rooted organic ingredients combined with the layers of modern melodic rock give it the punch it needs to stand out. It goes where no one ever went before, explores the Native Window, so to say.
Billy and Mike manage to craft a truly unique sound which sounds reminiscent to that of Kansas and Streets, but in general is a combination of the long lasting legacy of these two giants. It is powerful and sophisticated, never over produced or killed by one note to many. It is all perfectly arranged and keenly produced by Slamer and Greer outdoing themselves on each and every track.
The album warps us back and forth through history, shifting between melodic rock and multi layered progressive rock, even metal. The gear knob has been controlled by both making this a musical journey through time and space, to land in the future of The Seventh Key.
96 / 100
RELATED LINKS