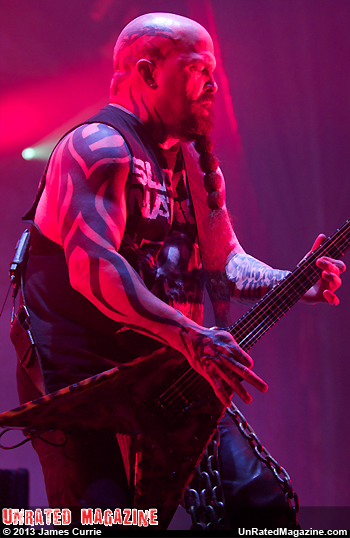 "Fuck all that shit; Slayer was fucking awesome!"
What can be said about tonight that hasn't already been written? Metal isn't dead, the crowd was fantastic, and the band simply rocks. Slayer has been out there since the 80s, and unlike another all too obvious heavy metal band out there, the years and success haven't corrupted the energy or quality of Slayer's performance.
Chicago's famous Aragon Ballroom with its cavernous space balcony and large floor pit is a perfect environment for the massive arena sized speakers to utterly destroy your eardrums...all with a surprisingly well mixed wall of sound. Vocals and guitar solos come through crisp without losing the classic rhythmic pounding that defines these Legends of Rock.
Tonight Slayer is on top of their game. Song after song after song their energy never waivers and they never miss a beat. The light spectacle that comes with the rock show is ideal with a skull and two gothic crosses upside down in the background the lights flash and strobe in time with the music. Reds blues greens and purples wash across the venue.
Such a quintessentially perfect performance is impossible to summarize. Metal concerts, especially Slayer concerts, must be experienced first hand to be truly understood. Avid fans both incredibly friendly and intense churning through unbelievable floor mosh pits. As I write this, I can see three -no; make that four circles thrashing and banging from where I sit in the balconies. However at the same time there's great courtesy, smiling faces, and incredible diversity among the crowd. It always seems to be a perpetual surprise in rediscovering just how diverse and great Metal fans really are.
While coming into the venue I observed Dads bringing daughters, couples that have been together as long as the band has, and brand new generations of Metalheads.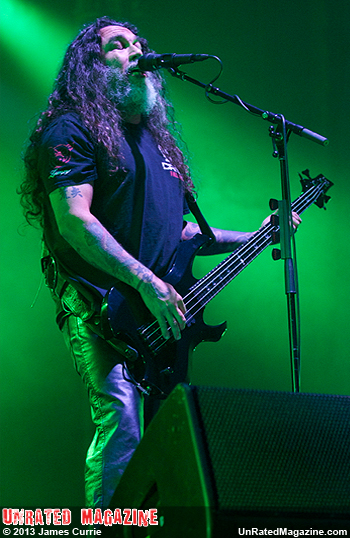 Considering the ...strained relationship Metal has had with organized religion this very much feels like a communal spiritual moment. From all walks of life people have come together for singular experience and expression, and with our social tolerance for Heavy Metal changing to full blown acceptance of a mature and responsible music scene you come to understand anyone is welcome to the genre for Heavy Metal is indeed the original auditory gospel of misfits and outcasts.
And tonight has been no exception. Welcome to the church Brother; Slayer is fucking awesome.
RELATED LINKS