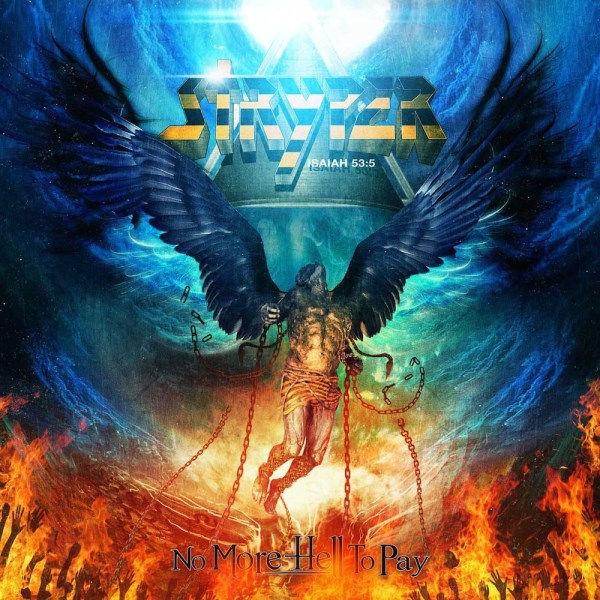 They really sound reborn, finally!
After the return of gospel rock's most trendsetting bands of all time, Stryper was on a quest it seems. The gritty and somewhat dark "Reborn" didn't satisfy my hunger, nor did "Murder By Pride" which already sounded a lot more like the classical Stryper albums. Upon the return of Tim Gaines and Robert Sweet the band released two albums which would point them into the right direction. "Covering" was the band's tribute to their heroes which had Sweet & Co re-arranging rock and metal classics and blend them with their unique sound. Re-recording their own biggest hits took them one step further towards perfection. The last step needed, as proves their brand new album.
Stryper's "No More Hell To Pay" indeed is the album the band was supposed to record after their highly acclaimed "Soldiers Under Command" and "To Hell With The Devil". The latter being the starting point of Michael Sweet and his men composing the new material for their 8th studio album. The songs are heavy and slightly blunt, combining the best of Stryper's unique multi-layered sound. High pitched vocals and sugar coated choruses always made Stryper stand out, and they are present. The fine-tuned guitar harmonies and the immaculate guitar battles between Oz Fox and Sweet are featured on every single track, while Tim Gaines is laying down an overwhelming and rock solid foundation together with drum-monster Robert Sweet. "Second Coming" already displayed their elusive power, and that ultra-dynamic bass and drums interaction is featured on "No More Hell To Pay" in a 3 dimensional way. Stryper's power lies in the reunion of their own truly unique talents. It is the sum of all four members which completes the typical and trademark sound.
In spite of all that, it is Michael Sweet foremost putting his mark on this new CD. His vocal abilities are unmatched by any and on this album he sounds better and more powerful than he ever did before!
"Revelation" is exactly what the tittle has us expecting. It immediately throws us back to the band's hair metal days and revamps the classical Stryper trademark. It also does justice to Sweet's statement that this is the album the band supposed to record as the follow up to "THWTD."
A powerful and blunt hooked riff slowly pulls the song forward, the stop and go drumming of Michael's brother puts the extra fuel to the raging fire. "Revelation" also revives the typical fluent soloing of Fox in fine tune with that of Sweet. The interaction is absolutely magical, has arpeggios flying all over the room. Like I said: the song is the upbeat to much more to come, such as the immaculate title track which' vocal line sounds widely reminiscent to QR's "Take Hold Of The Flame." It breathes that same grandeur, stands out with class. "Saved By Love" brings the pedal to the metal. Double bass explosions, furious guitar riffs in the vein of Judas Priest, and some serious gravel spit around in minor key. It is dark and taunting, furious and powerful. Michael Sweet takes the spotlight with an inspired and powerful vocal performance. High pitched perfection balanced out by some heartfelt anger unloading in this pointy and powerful song. "Jesus Is Just Alright" is a remake of the classic gospel tune by Art Reynolds Singers (and later Doobie Brothers), slick and classy. It's ended by a slow paced section with an organic Hammond powering it up slightly. The song kicks around wild but also takes down the pace towards "The One", the unexpected power ballad. Not sugarcoated like in the old days, this soaring love song is powerful and gripping, shattering hearts worldwide in hot rotation. "Legacy" takes us for a trip down memory lane with its "Soldiers…" reminiscent hook line and power chords. From out of nowhere Sweet hits an ultimate high note which shatters glass displaying his unmatched talents.
"Marching into Battle" opens with a stop-motion solo over pumping bass and buzzes onwards to lead us into the Teutonic 'love song' "Te Amo," a high paced freight train in the vein of any good old NWOBHM classic. The thunderous groove brings an 'in-your-face' mentality to the start, almost surreal for Stryper. "Sticks And Stones" has the slick harmonies and choruses the band is known for, combined with a sophisticated almost epical feel. Perhaps the best song on this sparkling record, certainly one to release as a 'single'.
"Water Into Wine" is a non-sticky arena rocker in the eighties vein which doesn't instantly grab you like the following "Sympathy" does. It's chunky guitar hook rolls onwards to unfold a dynamic riff underneath the chorus. Drumrolls and shuffles add up to the dynamics displayed while screaming guitars head into battle with high pitches and super clean interaction between amazingly skilled Oz Fox and Mr. Sweet. It is that same duo who lead in the last tune of album, "Renewed," a powerful shouter that flies by with pompous tempo. The break midway through the song is almost epical. It has guitars with loads of reverb, drums ponderous and bass laying down a groove to swing to. The song suddenly explodes with a blistering guitar duel spotlighting the qualities of one of metal's most underrated guitar duo.
"No More Hell To Pay" is an absolute hammer in its genre. Not only is it one of their own best albums, it's also one of the best albums released in 2013!
We get presented a reunited band laying down 12 songs with eerie perfection. The musicianship at times is dazzling, the vocal performance is unmatched, and the guitar licks and riffs are thrown around with the precision of snipers. On this album Stryper succeeds in creating face melting metal songs with sparks ignited on a song to song bases. It simply burns onwards like a fire out of control, inspired and passionate with a focal point on perfection. The intense power of the songs is balanced out by close harmony choruses which give it that typical Stryper touch. "No More Hell To Pay" is captured in a pristine and crystal clear production by Michael Sweet himself, guarding the dynamics of this album.
If all of the above doesn't pull you in, the magnificent cover art will do for sure. The angel rippin' free from chains tying him down in purgatory, to face up towards the sky and eventually Heaven. It is simply magical!
This would be the album drawing attention in record store windows in the 80's and 90's, and hopefully does so in the storefront of online retailers.
The album comes as a regular CD as well as a deluxe with DVD, featuring "The Making Of" and the videos of "No More Hell To Pay" and "Sympathy."
95 / 100
RELATED LINKS