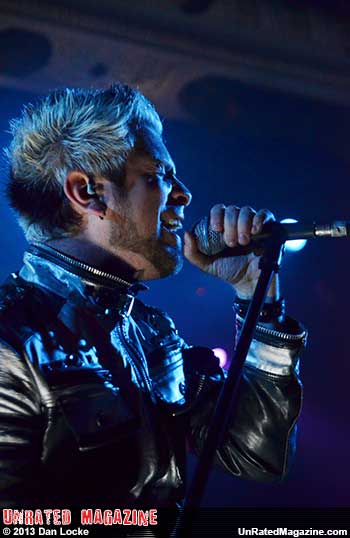 I'm going to be honest here. I wasn't at all too thrilled to be covering the band The Rabid Whole ("TRW"). I mean, it had zero to do with the band itself and everything to do with the fact that this writer had already way too much on her plate to focus on one more live performance. But, as strange things tend to happen for great reasons, I was pleasantly surprised....very much so. This band truly rocked! Their sound was sharp and their stage performance was equally as such. What a great show:
Setting their stage at Chicago's Cold Waves II (a live music gathering, turned festival, paying tribute to one of Chicago's most beloved soundmen and artist, Jamie Duffy), The Rabid Whole is an industrial band that nobody knew much about but they clearly made their mark within the festivities. Their set was quite short but they definitely made an impact. Actually, I think what impressed me most with this band was the fact that instantly you could tell they were actually trying to impress the audience. It wasn't your typical "I'm too cool - wearing all black - dark studded belt - drinking PBR - pierced up - tattoo covered - depressed" industrial band performance. They had energy and they actually wanted people to take notice of their music. It definitely worked.
TRW is a five piece band based out of Toronto, Canada. As mentioned above, they are an industrial band through and through. They could easily be compared to a mix of your typical industrial heavy hitters, Powerman 5000, KMFDM, and maybe even a twinge of Skinny Puppy. But, it is co-vocalist and keyboard player Chalsey Noelle who put this band a step above the rest....even if in the back of my mind, DrainSTH was echoing albeit faintly. Their set list included the following: Stargazer, Delusion, Selfish Nature, Future, Metro, and All The Same.
Again, not a show I was biting at the bit to cover but definitely a great show to take in. I would definitely recommend checking them out. If they're not going to be in your city anytime soon, there's no reason why you can take a listen at their website: http://www.therabidwhole.com Doooo it.
RELATED LINKS