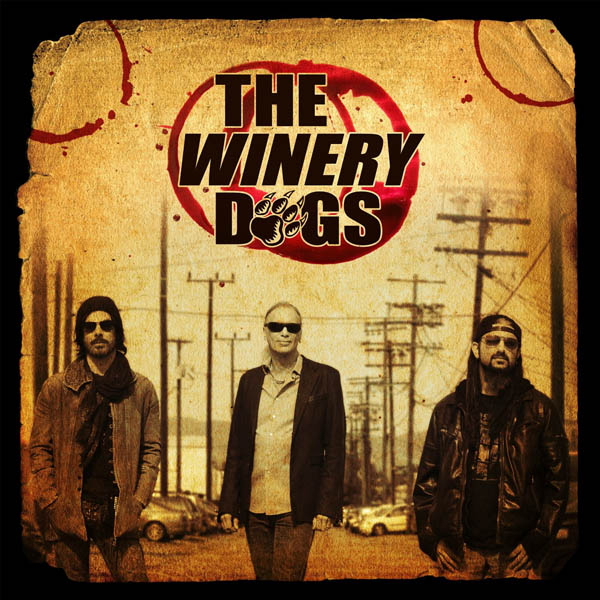 So called super groups have always been surrounded by a certain mythical haze which often made a debut release implode. Debuts by bands such as this Winery Dogs CD are ever so often unable to live up to the high expectations of fans. Expectations which must often be discarded because an all-star band 9 out of 10 makes more ripples than actual waves.
Winery Dogs know how to deal with the sky high expectations. Billy Sheehan being the founding member of 80's super group extraordinaire Mr. Big, Portnoy for his share in Adrenaline Mob as well. So let's step aside from the term which is more haunting than it does justice....
Let's look at Winery Dogs as a brand new band?
No, can't do....
Winery Dogs debut album simply does add up to the term Super group like hardly any other band did in the past. With the gifted Richie Kotzen teaming up with his former Mr. Big partner, chemistry has been boiling for decades. Added the skills of powerhouse drummer Portnoy, it is a group as well as it is super... or superb. The Winery Dogs debut is one compelling motherf*cker of a disc. The silver spinner explodes energy, radiates musical perfection as well as enthusiasm and high class marksmanship. Opening track "Elevate" directly hits hard, with a sonic melodic overload of the senses. A swirling orchestrated chaos with dynamic power and precision. Loud guitars, even louder thundering bass & three dimensional drumming, all-in fine tune over a live feed vibe. "Desire" has a slick chorus and the mid-section showcases the impeccable interaction between Billy and Richie. The short 'bass solo' vaporizes into a sizzling sleight hand solo from Kotzen. The roaring "We Are One" instantly raises the bar with highly energetic melodic rock explosions. It also has Sheehan playing an insane bass line close to the shred-riffs of Kotzen. The interaction creates the extra power and energy uplifting the music of this debut. Portnoy adds up to this wild party of melodic rock mayhem. His expressive drumming is powerful and explosive, every once so often throwing around an unexpected break or pulling progressive trick on his band mates. It is the level of craftsmanship combined with the almost childish enthusiasm that makes this album a monster. Check out "The Other Side" to see what I mean.... It's that tremendous power that unloads in numerous tracks such as "Not Hopeless" and "Six Feet Deeper", with its trademark Kotzen legato speed runs. Power which sounds reminiscent to the better end of the grunge era. The low scale groove once propelling Alice in Chains, Soundgarden en (better) King's X, is infested with fresh melodies and infectious choruses and riffs.
Even though the album features this action packed dense sound, there's a lot of diversity upon display as well. Southern drenched gritty riffs carrying "One More Time" towards the end, or the killer ballad "I'm No Angel" with its soaring vocals and slick chorus. Check out the remarkable rip roaring guitar solo and Kotzen's ditto vocal work. Where he always sounded a little uninspired (in my opinion) on his solo albums, he is opening all registers on this debut CD. His hoarse voice often reminds me of Chris Cornell's finest performances like on Temple Of The Dog... Powerful, colorful and driven, with heartfelt passion, Richie shines on vocals as well as on guitar. The guy being a gifted player is an understatement. His guitar work is magnificent, his solo-ing never out of place, his riffs powerful and gripping. His truly unique blend of Mississippi-delta blues and soul injected fusion combined with his trademark wide intervals and fluid sweeping, adds so much extra fuel to the fire on this album.
But, back to the diversity mentioned; With "The Winery Dogs" the band debuts hard rocking, but let's not cast aside the bluesy power vibe delivered all over the record. "The Dying", with its spell casting blues vibe in the best Johnson tradition, spotlights the roots of the trio. "Regret" again is a wonderful slow mover, leaning on a nice guitar/piano melody, all pasted solid by a Moog/Hammond keyboard wall of sound. It's timid and fragile as well as powerful in statement. Close harmony chorus and Kotzen fiddling away full scale. The song bears the typical ingredients of the RK sound, fine tuned by the Sheehan and Portnoy's knowhow on songwriting.
"You Saved Me" perhaps is one of the best songs to be released in 2013. Slowly building up over sweep picking guitar and bass, it blooms unexpectedly with tremendous power over the slick chorus. The heartfelt and withheld emotion in Kotzen's voice adds up perfectly, as do the introspective lyrics.
Those with an extra dime to spent, might I suggest to order in the Japanese edition with the extra track "It's Criminal"? It's a song strongly rooted in Mr. Big's "What If" record, combining the enthusiasm of that disc with the already typical Winery Dogs vibe. Plus, it features one of Kotzen's finest solo's of the last decade.
"The Winery Dogs" alone is a statue in music. The album stands fiercely and proud overlooking a wasteland of albums failed to launch in 2013. It bears the mark of greatness as do songs all on this remarkable debut. The interaction between the musicians is absolutely magical, virtuosity and musical expertise is top shelf. Instead of losing themselves in freakish unleashed jams with no end, this power trio is focused upon delivering 12 (or 13) awesome tracks, running little over 60 minutes in total! This self-titled debut is one of the best releases of 2013, perhaps even... the very best.
95 / 100
---
RELATED LINKS