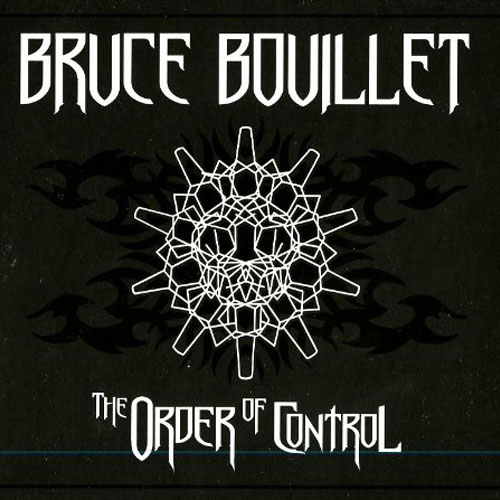 I tend to look at him as 'the one who got away'. Not that he has been out of the music scene, but he is the only one who kept a low profile after his groundbreaking work with Racer X. After the break up Bouillet started The Scream, but refocused upon their split. Bruce started mixing, engineering and producing albums leading him to fame in the scene, and eventually even a Grammy (Motörhead). His successful career as one of metal's top engineers never wiped out his love for the instrument and songwriting, luckily. Reporting back with "The Order Of Chaos", Mr. Bouillet reinstalls himself on the top ranks of shred!
Man, did I enjoy those Racer X CD's!
At the heydays of the Shrapnel label, sprouting talented guitars and acts by the dozen, Racer X emerged and took the metal scene by storm. Their craftsmanship and sublime technique, took the label to the next level. Powerful drums and bass, raspy vocals and above all, the duo soloing and killer riffs and solos from the tandem Bouillet/Gilbert, an unmatched duo with jaw dropping skills and style. This was a full size band with potency to lead to glory. Unfortunately all came to an end after only 2 studio releases and 2 live records.
But now Bouillet is back on track. "The Order Of Chaos" is an album in line with the best work of his elusive past, combined with the power of the new metal era. It tops his recent releases in order of quality and production by miles. It's eminent that this new release has to mark him real comeback musically and creatively. "The Order Of Chaos" is an epical rendition and comes across much like a concept album. Themes and melodies are inter connected matching one another in emotion and style. Above all; it sounds as a team effort. Bringing in Geln Sobel (Alice Cooper) on drums and Dave Foreman (Alicia Keys, Rhianna, etc.) handling bass, the musical interaction is superb. Sobel provides a solid and powerful base underneath the guitar extravaganza, while Foreman fills the gaps in between. Everything is simply spot on!
Bouillet's fluent style is vividly captured in a powerful production from the master himself. His colorful melodies are still as impressive as in the old days. Scaling tempos and wildly varying intense shreds poured upon us, in large chops.
Check out the bombastic "Blind as we Watched" with it's fluently flying arpeggios, over wild pumping riffs. The solo is impressive, flashy and stylish matching the exact beat of the track. The songs are diverse and the influences come from all over the horizon. It makes the album an extra enjoyable piece of art! "The deafening" is a progressive melodic hammer lingering onwards in the best Friedman-style ("Scenes"), leaning on an oriental phrased structure. An ear mingling melody enrolls slowly and over a powerful drum and bass hook. The song has a piercing guitars solo hitting you full frontal and takes us onto a hectic end with scale variety and dynamic power explosions. "Seeing Through" builds up tension like the best Vai songs tend to do, "Giving up the Ghost" is a slow moving semi-ballad with a fusion feel and sliding notes. Lush guitar chords make you shiver, contradicting with the arpeggio-packed "A Grand Reversal". "Defiant" is an extremely progressive pointed tune with spitting bass drums, thunderous drum breaks and fierce riffs paving the way for bedazzling technical wizardry. String skipping uncountable notes while firing an edgy melody, dash solo. Even though it comes across very hectic, Bouillet manages to have his chords' progression and rise lined up in full harmony with his outrageous solos. It's because of that genius touch that it all combines in slick harmony. Because of that the song manages to grab your attention the entire 8 minutes long. "One Minute Warning" allows to breathe and refocus for the next strike, the title track of the album. "Crowd Control" spits gravel again with scary precision. "The Manipulators" is a scary and taunting song with spawning licks, fluid legato runs and wonderful melodic sensibilities underlined by some sticky solos in almost un-timed for sections of the song. "Breaking the Barrier" is non sticky and needs a few spins, but the last track "Akiko" brings back the thematics from the albums opening. Oriental phrasing and lush solos over a captivating scaled melody.
This album features some of the finest instrumental songs I heard in a long time. It's a compelling and intriguing melodic display of class and finesse, delivered by one of rock's finest players in the field. He combines skill and technique with a wide varied pallet of influences with which he manages to color a piece of art that keeps shifting shape and reveals more of it's beauty with every spin. It is so captivating you don't even recognize the absence of a vocalist, which is perhaps the biggest compliment to an instrumental outfit. Even though the album hints to other great players in the field, Bouillet manages to make worlds and styles collide and mold into his own. All-in all; "The Order Of Chaos" is like a soundtrack without the movie accompanying it… matching the scenes and frames, Mr. Bouillet leaves up to you.
90 out of 100
RELATED LINKS