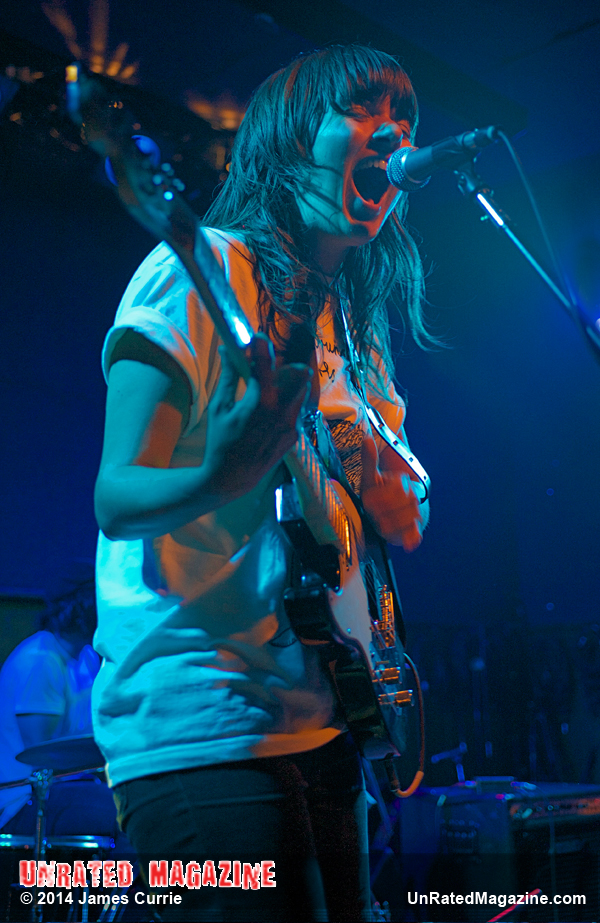 Courtney Barnett played to a sold out crowd at Schuba's tonight for a Lollapalooza After Show event. She took the stage around 10:30PM and rocked the house for about an hour playing tracks from her EP pairing, "The Double EP: A Sea of Split Peas" as well as a couple new songs.
Singer—Songwriter—Guitarist, Courtney Barnett, is Australia's most recent music export. Hailing from Melbourne, the 25 year old may have only been on the scene for a few years, but her natural talent and insanely growing popularity make lack of experience unimportant. She's played with other bands like Brent DeBoer's (Dandy Warhols) Immigrant Union, before breaking out on her own.
Her current band is Courtney Barnett & The Courtney Barnetts, a 3 piece, which is comprised of other former members of Immigrant Union, Dave Mudie and Bones Sloan. In 2012, she started her own label, Milk! Records and released 2 EP's, "I've Got A Friend Called Emily Ferris" and "How To Carve A Carrot Into A Rose." In May of 2013 she released, "The Double EP: A Sea of Split Peas."
Courtney's toured a lot this year and has played Chicago 2 times in the last month with a 3rd date in just a couple days at Lollapalooza.
Some have asked, how is this possible to be where she is with what she's done in such a short time? Something she ponders herself telling the audience, "If you would have told me a couple years ago I would be playing in Chicago twice in one month, I wouldn't believed you. I still don't believe it." But the answer is simple and can be answered in one word. Talent.
Courtney Barnett is Melbourne's Liz Phair. Yes, I said it. Our home town, Indi darling has an influence down under. She's been compared to others as well like Bob Dylan and Kurt Cobain. Nice company to be paired with, but to me, she sounds like Phair from the 1990's. Her loose, seemingly mundane, pop song structure and sensibility, monotone— rambling vocal style and no bullshit, clever lyrics all can be traced to a Phair comparison while still maintaining something original. "Scotty Says", Avant Gardner" and "Lance Jr" could easily been found on 1993's "Exile in Guyville." With subjects consisting of sexual desire in "Lance Jr." with the lyrics, "I masturbated to the songs you wrote Resuscitated all of my hopes It felt wrong but it didn't take too long Much appreciated are your songs" to an asthma attack while weeding, "The paramedic thinks i'm clever cos i play guitar I think she's clever cos she stops people dying" from "Avant Gardner." She's a witty writer, but there's something more than just a similarity. It's something that is all Courtney Barnett and makes her stand out as an artist to be reckoned with.
If you get a chance to see Courtney Barnett & The Courtney Barnetts, do it. They are a great live band, full of energy. Courtney and the Barnett's relate to the audience as a fan. Like they were mates of yours from back home. She and her band bounce off each other. They genuinely seem happy to be here and playing for you. In the meantime, be sure and check out our coverage of the show.
For more information visit Courtney Barnett's website and Facebook page.
RELATED LINKS