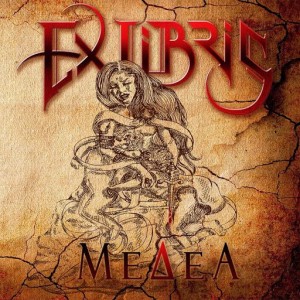 Ex Libris' eye catcher is without a doubt their vocalist Dianne van Giersbergen, who is not related to Dutch vocalist Anneke van Giersbergen (Aqua de Annique, The Gethering, Ayreon). The classically schooled soprano is blessed with an extraordinary voice in both metal as well as its classical falsetto, ranging as wide as 5 octaves. On top of her skills, van Giersbergen has the luck of being backed by a band with ultimate musical skills and finds a varied musical specter to work from.
"Medea" is a classic Greek drama written 500 B.C. by poet Euripide telling the story of Medea, daughter to the King of Aeëtes of Colchis and later wife to Greek hero Jason (from Jason and the Argonauts), seeking vengeance for her husband's betrayal. Her revenge she finds in bloodshed, slaying her two sons as well as her husband and his new wife, Glauce of Corinth.
The story line evolves as dramatically as the music itself, with progressive elements building up tension and drama throughout the album. Ex Libris is not your regular gothic metal band relying on bombastic explosions and dramatized soprano outburst, no; this band managed to compile the best of progressive metal and gothic epical metal into their own unique metal opera.
Razor sharp guitars leading us into the title track setting the outline for what's to expect in the next hour. "Murderess in Me" follows and lures you into the story thanks to the dynamic vocal work of Dianne not relying on her classical skills alone. The power metal sections of the music she stands her ground firmly with a powerful vocalic presentation in the likes of fellow country (wo)man Floor Jansen (After Forever, Revamp & Nightwish). The experimental stop 'n go dynamics in the song explicitly demand such powerful vocals enabling you to keep full focus on the events. A fierce riff binds it all together while guitars unload sharp and blistering arpeggios. Underneath there's a powerful foundation of drums pasted solid by an almost jazzy rock bass. The double bass drums fire away with tremendous power creating the symphonic overhaul the song needs to dramatize the course of the record. "On the Oceans Command" is the first 8 minute running epic track on "Medea" which combines the already mentioned gothic passages with the sharp progressive metal side. Theatrical and pompous it fires away at us with v. Giersbergen shining bright on all accounts. This is the perfect song for her to shine with her wide range. It is especially her tessitura which is most impressive, her vocal comfort zone, so to say. When she hits the high C's and shifts back in gear, it is impressive to hear how organic her timbre sounds. It sounds so natural it becomes frightening at times. The hook line of the song is impressive and effective with blistering guitar work from Paul v/d Broek who's a revelation of his own. His arpeggios are fluent and impressive, shooting up and down the scales, while keyboards are building up tension in the back. A split riff buzzes onwards with pumping bass drums firing away. The sudden steep breaks are absolutely bedazzling and in line with Dream Theater's most impressive outbursts.
"My Dream I Dream" is a piano backed melancholic piece with seductive and impressive vocals fitting the story's atmosphere perfectly. It's a short and well deserved intermezzo offering the listener a little 'sugarcoated' time off from all the drama. "Song of Discord" is the binding factor in the story where Medea faces her spruce Jason in a storytelling interaction, with Jason being played by none other than Threshold's Damian Wilson. The vocal interaction is sublime with theatrical aspirations rising high. "Daughter of Corinth" is another symphonic outburst of passion in which Medea poisons the veil of Jason's new found love. It's that act of betrayal which sets the place ablaze in this dynamic and fierce musical explosion. Dianne pitches her highest C (C6) in fourth part chorale harmony. These ultimate pitches contrast severely with the sudden switch to story lines spoken word as i fit causes her zero to no effort at all. It's this diversity which suits the bands progressive breaks perfectly and makes this such a haunting experience. It paves the way for the short instrumental interlude "A Tale Told..." which leads us into the grand finale "From Birth to Bloodshed", the operatic and dramatized closing chapter. The song is pulled forward by an impressive loud riff back by an impressive rhythm section. Keyboards are screaming and battling with van den Broek's blistering solos and power up the musical interaction furthermore. The song unloads it's drama mid-section with an eclectic and passionate turn of events summarizing the story as well as the album within a couple of minutes only. The track is a 10 minute running piece of perfection with Ex Libris firing on all cylinders.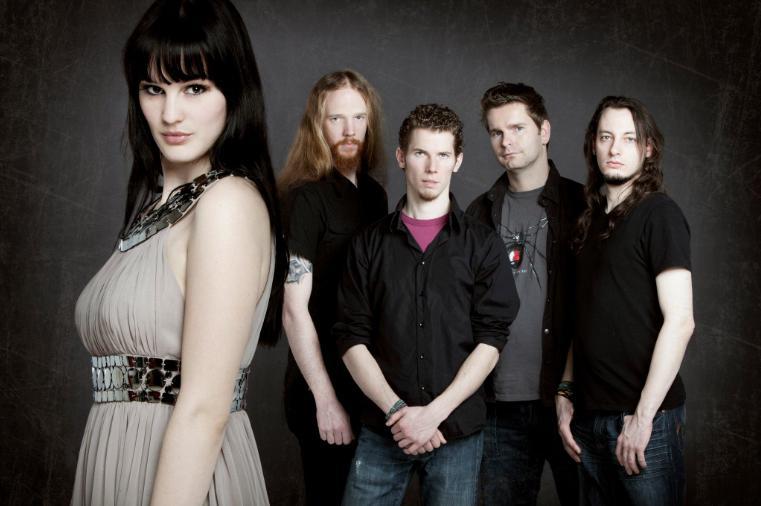 "Medea" is Ex Libris' second album and funded by their fans. It's unheard off that this band is not (yet) signed by a label whose funds would enable it to boost the overall quality by another mile. As good as the album is, and on top the musical perfection offered by the band's members, the production would have benefitted being set up by a label offering an experienced engineer. It all sounds great and crystal clear, but the overall sound could have been better being more cohesive. Still, this is a force to be reckoned with in the future!
89 / 100
RELATED LINKS