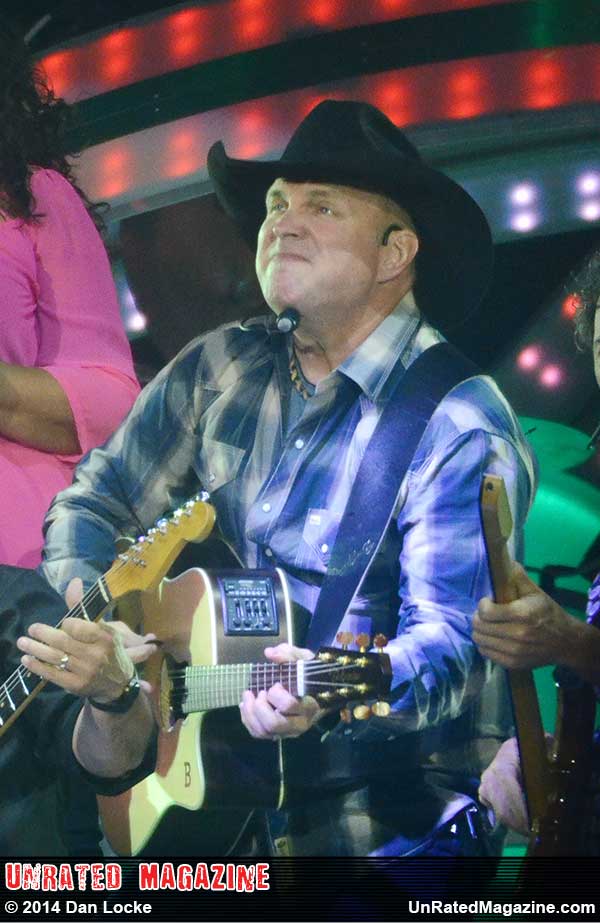 I have to start with saying "WOW." I saw Garth Brooks live in 1996 performing in Lansing, Michigan. He was just as good 18 years ago as he was tonight. The house was packed floor to ceiling. Not one person sitting in their seat. Almost every person knew every word to every song. Garth started out with some old time favorites: Rodeo, Two of a kind, Beaches of Cheyenne, The River, and Ain't going down till the sun comes up. He slowed it down with "Unanswered Prayers" while the entire crowd danced and sang along. Garth would stop singing just to let us all sing for him and we did!!
Garth performed his new single "People loving People" which sends a powerful message to all, stop the fighting, hating, bullying, war and learn to love each person for who they are, not for where they came from, which God they believe in, or how they look.
With a much needed rest from Garth, out came Trisha Yearwood...but first they sang together "In another's eyes." Again we all grabbed the person we came with and sang and danced along.
Trisha Yearwood kept the all whole place going singing some of her top hits, American Girl She's in love with the boy - in which the camera crew with focus on couples in the crowd for an on screen giggle and kiss.
And for this show ONLY, we were surprised with a guest appearance from Kelly Clarkson. Trisha and Kelly sang their new hit "Prizefighter." The place went nuts. Kelly was only there to watch the show but ended up on stage performing. A wonderful bonus for the September 5, 6:00, show. I have to admit, these ladies rocked.
With Garth now rested, he came back loud, singing "Baton Rouge" and just when you thought the place could not possible get any louder, Garth let us all know he would be singing a song that he hadn't sung in years...we all waited in anticipation...and then that familiar tune started to play, not one person was quiet...as Garth sang "Shameless."
Simply amazing.
It was that feeling of a little kid on Christmas Eve, your first crush butterflies in Junior High, the excitement of your first teenage kiss...yes, simply amazing.
It didn't stop there either, "Shameless" was followed by : Friends In Low Places - with the special last verse as well!!; The Dance - Garth Brooks favorite song; and ended with Fever.
He said his "good-byes" and walked off stage, but just like 18 years ago and a funny little feeling I had inside, he came back out to sing "Ireland" and his first hit song from so many years ago "Much Too Young to Feel this Damn Old".
Garth Brooks is a true performer. His vocals, dance and sense of humor entertain the entire crowd. I thought he was unbelievable when I first saw him on stage 18 years ago and I was swept away once again. He has true beauty within, his interaction with different people throughout the show proves out his new lyrics of "People Loving People". Grown men were brought to smiles and tears as Garth singled them out in the crowd and spoke directly to them. He bent down on stage to take cell phone pictures with the lovely ladies in the front row. He was impressed and thanked the crowd for knowing all the lyrics to his old songs with sincere honesty in his voice. But most important, he booked and sold out 10 shows at Allstate Arena, so that so many of us could get a chance to listen to him sing.
I'll say it again, SIMPLY AMAZING!!
RELATED LINKS