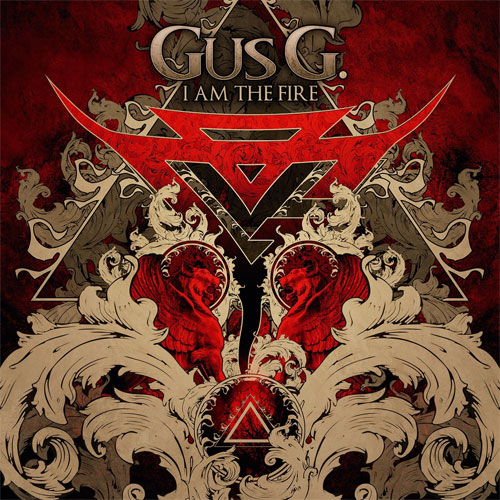 Kostas Karamitroudis is his name, better known as Gus G!
The guitar slinger best known for his work as shredder of Ozzy Osbourne had claimed fame as one of the metal's reigning guitar virtuosos today. His resume includes Firewind, Mystic Prophecy, Nightrage, Arch Enemy and Dream Evil, and now his first solo effort "I am the Fire."
In contradiction to most solo efforts from shredders, Gus opts to focus on quality metal songs rather than guitar exercises, displaying what his fans already know. Much like one of his idols, Mr. Yngwie J. Malmsteen, Gus focused on an overall band feeling on "I am the Fire."
His songs are all excellent displays of his skills as a composer. Firmly build and structured metal songs deeply rooted in the classical metal era, without lacking a modern and sophisticated grandeur. Recognizable melodies, great hooks and marvelous riffs pulling this album forward like a freight train. As always; Gus' wide spread variety of styles is pretty hard to pin down. Versatile, combining major scales and Ionian scales while firing his ear mingling shreds upon us, Gus manages to bring to life a pretty unique pallet of colors. Colors he blends to an interesting collection of songs highlighting his feeling for emotion and style.
Another focal point on this "I am the Fire" release is Mats Léven, who takes the spotlights alongside G, uplifting no less than 4 songs with his powerful vocals and feeling for timing. It's this combination that works excellent proven by the first two songs on this excellent album. "My Will be Done" and "Blame it on Me" are displaying the power of this combination, it's skills and expertise. Top notch metal tracks featuring some fine solo's from the master himself. Gus swings the axe sky-high, solo's sniping and screaming like Vai's most intriguing work, or the under acclaimed James Murphy on his solo albums "Feeding the Machine" and "Convergence." Power chords switching place with some unmatched soloing in fluently delivered songs....
His one step down tuning gives the songs that modern panache and groove. The title track (featuring Devour the Day) instantly links with the perfection of the opening duo. It's highly melodic, with a (slightly) nu metal groove and forceful driving riff. I get warped back into my seat when "Vengeance" bursts out of my speakers. It is a non-compromising outburst of metallic extravaganza in the best Shrapnel vein. Dave Ellefson handles bass duties on this monster which links Gus' style with that of old school masters like Marty Friedman and Jason Becker during their "Dragon's Kiss" and "Perpetual Burn" days. Mid-section the song suddenly hits the breaks to unveil one of the finest solos in metal today. Swirling arpeggios kicking it in fine melodic harmony, much like Uli Jon Roth or DiMeola ("Racing with the Devil down a Spanish Highway") tend to do. It's this wide variety of styles that makes Gus' playing so highly enjoyable. He combines the most fluent melodies with amazing hard and loud riffs, unwillingly creating his own and totally unique (random) style.
Alexia Rodriguez (Eyes Set To Kill) sings lead on the epic lingering melodic metal track "Long Way Down", contrasting day and night with the instrumental outburst in "Vengeance." It also creates the needed time to breathe. "Just can't let it Go" is a slow mover with balladesque intensity featuring Jacob Bunton (Lynam) on vocals. Propelled by a fierce riff and soaring vocals it blooms during a sudden short solo that lingers onwards for a while. It paves the road for another outburst of speed on the instrumental "Terrified" on which Billy Sheehan's playing is nearly as prominent as Gus'. High pace energetic progressive rhythms with harsh breaks make it one monster of a metal track. "Eyes Wide Open" marks the return of Mats Léven handling vocal duties. It is a mega-melodic hammer with hymnic potential. Steel Panther's Michael Starr shines bright on the powerful "Redemption", while Jeff Scott Soto displays his wide range and skills on "Summer Days." "Dream Keeper" stands out with its solo thematics over which Tom S. Englund (Evergrey) throws his gloomy vocals, creating an intense atmosphere. "Dream Keeper" benefits from this awesome and intense interaction which simply breathtaking.
The album is ended with an acoustic opening powering up towards a passionate explosion of melody in "End of the Day." Mats returns to the spotlight to belt this wonderful track. The tune features a bunch of short solo interactions which fit the mood just perfectly.
"I am the Fire" is one heck of a metal album on which Gus G shows his impeccable skills with a focus on great metal tracks. It is not the egocentric outburst and display power one might expect. There is an overall band feel present on this album, which is almost haunting. Underneath the trademark shreds in Gus' playing you feel the presence of passion and perfection as if a ghost is watching. It has a gloomy direction which is furthermore powered up by Englund's interaction with this Greek master.
But in all honesty: I would have liked the songs all to be sung by Léven and see how this metallic fortress' walls are holding up. I think it would have benefitted even more from that approach, much like old Malmsteen records did with Soto and Boals' taking care of business. "I am the Fire" would most certainly land in my top ten of all time faved shred classics!
86 out of 100
RELATED LINKS