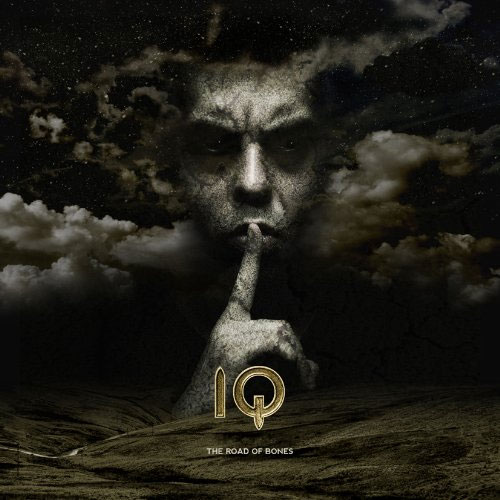 IQ is one of neo-classical progs most highly respected bands. Looking back on their impressive 33 year long spanning career, the band has peaked many times and every album is considered a statement. The bands lush and compelling music attracts fanatics from all over the globe, keenly awaiting a new album.
"The Road To Bones" is the band's 11th studio effort bearing all the trademark ingredients of a classic. It lingers on in silence, colours the musical spectre while rolling onwards. IQ's signature sound is deeply embedded in the tracks, which bloom in musical perfection. Extremely well crafted songs, structured in numerous layers, keenly arranged with an ear mingling and bedazzling melody and hook line. Even though the songs are all slowly enrolling their beauty, they all grip you on the spot. Like no other band, IQ manages to unveil musical variety in dense progressive songs and multi layered settings, within a soothing and accessible outline.
In between the musical perfection, there's silence....
Keyboard and bass interaction by the duo Durant/Esau like you've never experienced before, Cook's drum patterns deeply rooted in jazz rock and old school prog rock in combination with amazing guitar work. Mike Holmes outlines the songs with his wide varied skills, switching acoustic to electric and occasionally throwing in a curb ball with loads of distortion. Over all this musical perfection it's the haunting and bewitching vocals of Peter Nicholls, who always manage to pull in your attention and keeping you up to speed. His warm voice always provides the comfort to return home. But it's the turmoil underneath its thick skin that makes this an outstanding endeavor.
A song in the likes of "Without Walls" (19:15) unveils its beauty halfway thru when it suddenly seems to implode with classical Yes elements and key/guitar outbursts in the most progressive way. The Hammond organ towers up scales with guitars bursting into action. The riff is taunting and drums scatter the sudden musical inferno. The eclectic overhaul is extraordinary and the harsh return to the songs melody line is unexpected as it is surreal, making it one of the best tracks I've heard in years. In the midst of all this shape shifting genius it is always Nicholls remarkable and captivating voice that puts you back on track. He guards the emotional and melancholic balance in the band, almost as the comfort and warmth of a mothers' voice. Comfort also to be found at the end of this story: Check minute 17:00, when the thriving melody is boosted by a classical arrangement, much like choir chanting. An arrangement paving the way for a guitar solo, crisp and clean, steering the song home.
It's those captivating moments, which make this album such a wonderful experience. IQ managed to deliver the classical progressive rock from the old days, but still keep it all sounding fresh. "From the Outside In" and the title track feature all those key ingredients, gripping back to the band's own catalogue occasionally. Lyrics sounding remotely familiar, words weighted in the balance of the band's history.... Much as their songs are all inter connected over their 3 decade spanning career. "Ocean" for instance would have matched the "Subterranae" classic story wise as well as musically, but it also has modern day panache on display. "Until the End" is the perfect track to bring this unique piece of work to an end. The taunting keyboards rolling from your speakers roll into a warm acoustic guitar environment, weaving together the Pink Floydian grandeur with charms of modern day technology. Nicholls again does an outstanding job with his whispering vocals and overwhelming personality radiating from the song. The dense atmosphere is captivating as it propels forward with intriguing keyboard and guitar interaction. Any movie would have benefitted from a musical outline like provided by IQ on this song.
And that's perhaps the best remark to capture the band's intriguing sound and music; a movie soundtrack. Not the sticky sing along tunes from the eighties, but the nesting intense music as composed by Hans Zimmer, James Horner or even the grand master of all: Mr. Morricone. Words only needed to power up the thunderclouds overhead, music that colours a setting or creates a tension to be felt in your chair. The silence speaks louder than words, the musical serenity vividly brought to life by IQ does exactly that... over and over again. Sheer drama and suspense captured in bedazzling musical perfection. It is that what IQ manages without redefining the musical spectre. The cling onto their unique gift....
91 out of 100
RELATED LINKS