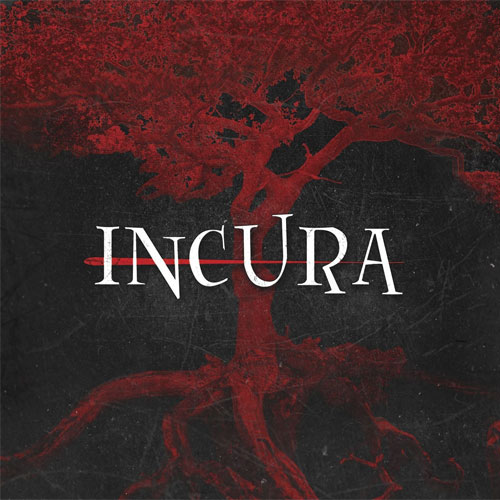 Every once in a while your shook up by an album so captivating and intense, as if it stretches out it's tentacles directly into your subconscious section of your music addicted brain. An album so intense, diverse and driven, it simply is cut throat from the intro tune onwards.
Like Last Crack's "Sinister Funkhouse #7", Tool's debut or the immaculate and underrated Mindfunk premiere. Albums surrounded by an unimaginable mystique and grasping accuracy, it bewitches instantly. Albums which will land in your top 10 of all time right away.
Canadian progressive metal band Incura has that be-hexing debut grandeur. It is complex and captivating, driven and exploring as well as it is balancing on the edge of being over the top. "Get the Gun" opens the album with an intro so intense, it immediately has you hooked. Paws dig deep into your head pulling you closer as the song evolves. A captivating and intense evolution of melody and spawning riffs fired upon you with the most immaculate perfection. Melodies which have a sugar coated touch to it, drifting onto the edge of your very tolerance at times. "I Breathe This" is a perfect example of such.
Shifting shape as it thunders onwards, progressive twists and turns are throwing us off completely, but the song is held together by an amazing hook nesting in your head instantly. It keep tuning up towards the end and right before it tilts over with an almost cliché chorus, it suddenly turns right down neurotic when vocalist Kyle Gruninger shifts shape starts screaming and yelling.
It is that exact unexpected side to the band's music which is immensely captivating. Symphonic passages and close harmony perfection, combined with severely dramatized outburst expending musical boundaries from as wide as KoRn and Tool all the way up to the drama of Queen and new generation gothic (pop) bands in the vein of Evanescance and Within Temptation. In this truly unique and outstanding blend it is the vocalist Kyle who is the binding factor, together with the impressive drum variation brought to the plate by Phil Gardner. His polyrhythmic shuffles are holding together this unearthly cocktail of styles which is furthermore enhanced by some top notch guitar riffs and solos from Royce Whittaker and the Sheehan-esque bass escapes from Jono Olson.
"I'm here waiting" summarizes this intense diversity best, as where "Here You are" highlights the contrasts from the band's neurotic side, heavily dramatized by the captivating vocals and the sudden outburst of dramatic orchestration keenly inflicted by keyboard player Jim McClaren. His classical piano and string arrangements thrive the song onwards with unmatched expression while guitar tune up a notch and pitches high before the next idiotic and manic outburst follows from Gruninger. Pompous and theatrical perfection in slick choruses make this an event, as the entire album is one big exhilarating experience you quite frankly MUST undergo. The diversity in the songs itself only add up to the diversity of styles and musical explorations offered.
"Turning Blue" Has a break in the vein of Linkin Park clinging to you right away. Again the song is held together by a driving riff and extremely recognizable chorus and hookline. "Your Face is turning blue as I suck the life from you" sums up the lyrical expression as it does depict the bands dark side. "Decide" and "The Greatest Con" both are melancholic with an epical and gloomy downside. Both songs are extremely dramatized and theatrical with "...Con" gaining power and expression as it rolls onwards. It's metallic and intense bass and drum interaction provide a rock hard foundation for a fierce and edgy riff reminiscent to malfunctioning buzz saw cutting steel. This in combination with the breaks and intricate rhythms of Gardner give it that extreme kick. It's that classic progressive metal infestation which appeal to me the most and flowers more on the following "Here to Blame", a classic per sé. "I'd give Anything" slides away from that harder approach without losing panache thanks to a captivating ominous undertone.
"Sweat runs Cold" is the last track on this magnificent "Incura" CD which ends the way it started; intense and extremely complex, held together by infectious grooves and it's ear mingling chorus and vocal interaction.
Incura must have been the best kept secret of the Canadian scene, a scene sprouting classic progressive acts by the dozen since it launched Rush. I'm unable to pin down the band by style since Incura operates widely varied, positioning themsleves on the top ranks of progressive metal as well as on the top shelf of melodic hard rock. This impressive eclectic and explosive package is enhanced by a pristine production, focusing on the low end as well as on the superb melodic high end of the band. That melodic perfection is caught onto tape by none other than melodic rock's finest Arnold David Lanni (Sheriff, Frozen Grost) and Harry Hess (Harem Scarem, Hess, Rubber). The overall sound benefits from this unexpected production duo and it becomes crystal clear that Hess has been responsible for the slick and powerful choirs.
Still it is Incura that runs tight as Swiss clockwork throughout the entire album. A captivating piece of work, one unimaginable piece of art house (?) metal.
BUY IT!
94 / 100
RELATED LINKS