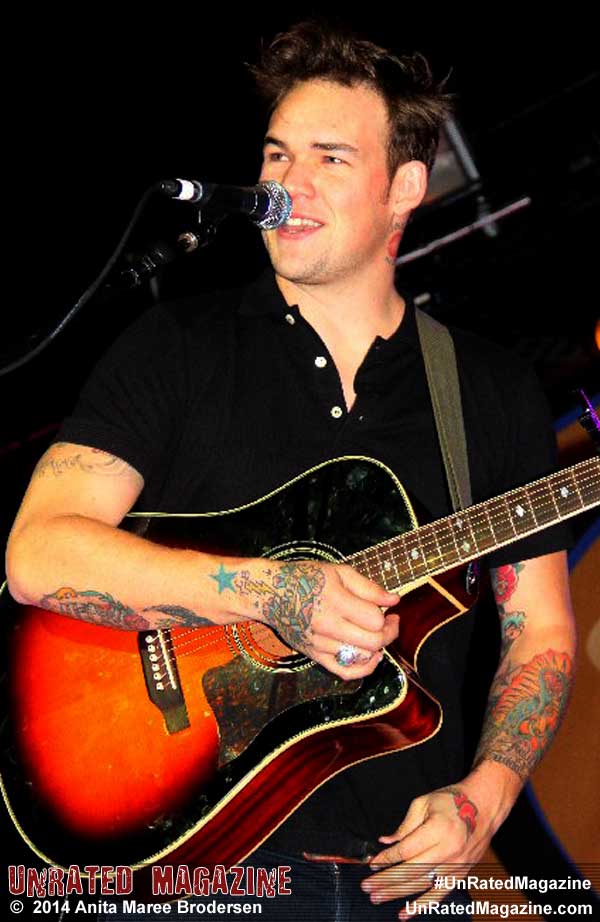 Austin's in Libertyville, IL welcomed back American Idol alumni James Durbin as he rolled into town this time on an acoustic tour performing songs from his debut CD Memories of a Beautiful Disaster and introducing many new songs off his new CD called Celebrate with a release date of April 8, 2014. While the temperatures outside were frigid, Durbin heated up the crowd and as a bonus, Unrated Magazine was granted an exclusive Q&A interview before his show:
James Durbin Interview:
Unrated: Welcome back James for our second interview here at Austin's!
James Durbin: Great to be back!
Unrated: Well, I saw you here a few years ago when you performed your debut album right here at Austin's. The place was packed with hundreds of your die-hard fans. However, tonight you are acoustic. Why acoustic on this round?
Durbin: I have been acoustic for the past five weeks. We have two weeks left on this tour. The shows have been intimate and we have been getting a great response to the new songs. But I love to rock out as you know.
Unrated: What is happening on April 8?
Durbin: My new CD – Celebrate is being released. You can get the first release Parachute right now on iTunes!
Unrated: Tell me about Celebrate?
Durbin: The new CD has a lot of attitude and I co-wrote it. My first CD was recorded in two weeks, but this CD I had plenty of time working with the songs. I have been working on this CD for the last two years. I worked in Nashville with James Michael of Sixx AM; therefore staying with the Motley family.
(James Michael is lead singer of the band Sixx AM – formed by Motley Crue's bassist/songwriter Nikki Sixx. Durbin worked with Motley Crue's guitarist Mick Mars on his debut album)
Unrated: What has the reaction been like to your new songs?
Durbin: This is the first time people are hearing the new songs and they are liking it.
Unrated: (During this time, his die-hard fans are now entering the venue for a meet and greet and some private songs that Durbin will perform just for them)
Unrated: Who are some of your musical influences?
Durbin: Definitively the Beatles, Aerosmith, Motley Crue, Al Green, Michael Jackson, and U2.
Unrated Magazine: Have a super show and good luck with Celebrate!
As James Durbin took the stage, it was time to hear the incredible voice of the 24 year old perform a few news songs like: Children Under the Sun, Fool for You, Louder than a Loaded Gun, and Parachute which is his first release from the new CD. He also performed songs off his debut CD including All I Want, May, and Love in Ruins.
Check out durbinrock.com for more information!
RELATED LINKS