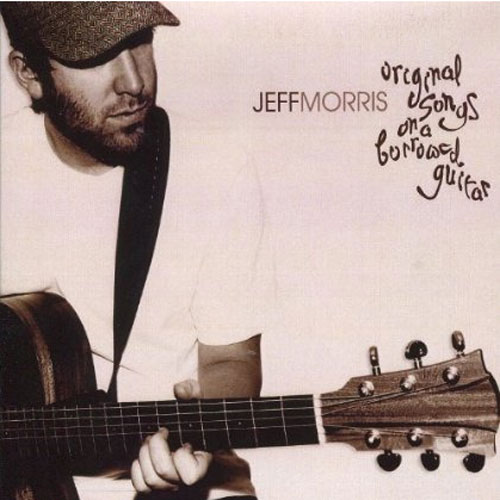 Last summer someone suggested to me to spin an album from a local indie artist named Jeff Morris. I reluctantly accepted having only recently taken a self-imposed break from listening and reviewing unknown artists. I played the album, attentively titled Original Songs On a Borrowed Guitar, a couple of tracks stood out ("Shara's Song" and "Till the Fire Dies"); his voice, vocal delivery and guitar playing were satisfactory and the production was adequate. Essentially, I deemed the record a Jack Johnson or Jason Mraz clone and put it away never really intending to listen to it again.
I was wrong. Dead wrong.
After my initial listens, something did resonate within me long after. The guy does have chops - he can play and sing. The album was nominated for six 2011 Edmonton Music Awards including "Best Roots/Folk Artist" and "Best Album". And his solo performances won him two EMA's, including "Best Live Performance" and "Best Solo Artist".
So it was no surprise that going back to the record months later, I became a fan. Cuts like "Wander On," "How Long," "Blue Sky Falls" "Favourite Lie" and the aforementioned "Shara's Song" and "Till the Fire Dies," all still have that breezy upbeat folk rock vibe, yet repeated listens uncovered more complexities, subtleties and nuances. Like the layered harmonies on the chorus for "Shara Song," the country rock tinged "Blue Sky Falls," which sounded like something more from Ryan Adams or Wilco than Jack Johnson. And "Favourite Lie," the number that fully embodies the album's understated intricacies - the slight chord changes near the beginning, the overall edgier rock vibe and the background use of electronics, which don't distract but add to the stratum of the song.
Morris also shines on the more reflective pieces, though it's too bad that only one cut, "Believe in Time," showcases his piano proficiency. That along with "Waiting For You," and "1:09," switch up the album's momentum a bit giving listeners a breather between the more upbeat numbers.
Music can serve as a snapshot of a specific time period, while good music can break free from the shackles of time, always connecting with new audiences and garnering repeated analysis years or even decades later after its initial release. It's been four years since the release of Original Songs On a Borrowed Guitar and I only discovered it last year. Morris' new CD is currently scheduled for possibly a summer 2014 release date. Let's hope it doesn't take till 2017 for this reviewer to discover that album.
4/5
RELATED LINKS