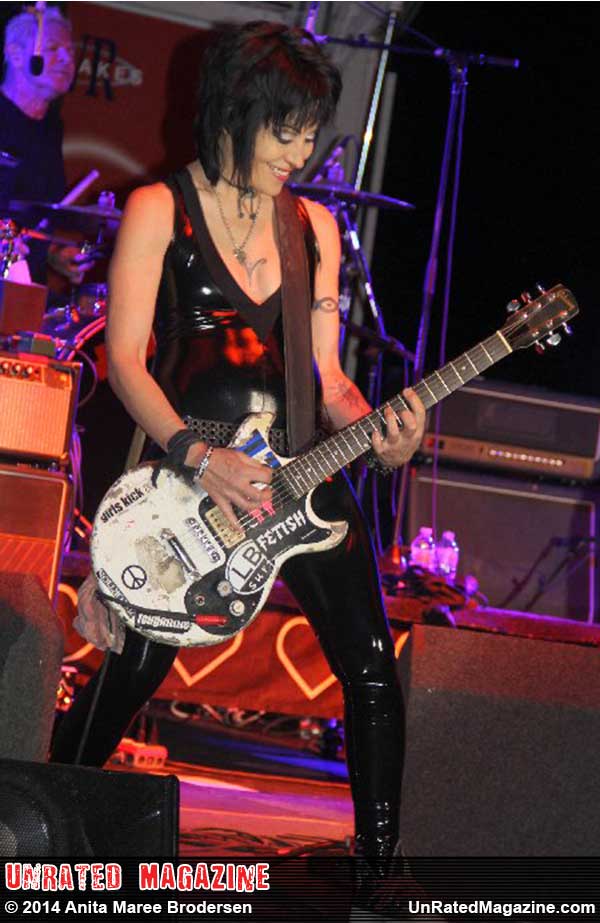 Entering the Great Lakes Naval Base you want to tip your head to all the men and women who are in training and as you drive into the 1,932 acre facility one has to remember that this site was added to the National Register of Historic Places. The grounds of the Naval Base were open to the public for their two day Fourth of July festivities.
Thousands packed the grounds to see the iconic Joan Jett and her band The Blackhearts. The Blackhearts are Dougie Needles- guitar, Acey Slade – bass, Thommy Price-drums, and Kenny Laguna –manager, keyboards and more. Joan came out pumped and blasted right into Bad Reputation followed by Cherry Bomb and then Light of Day. The crowd was thrilled that she put into her set some new songs off her latest CD – Unvarnished. She performed TMI, Any Weather, Make it Back, Soulmates to Strangers, and Fragile. She then jumped back to her classics and performed The French Song, Crimson and Clover, Love is Pain, I Hate Myself for Loving You, and of course the song that put her in the books – I Love Rock & Roll.
As artists come and go in this vast disposable musical wasteland, the true, raw, talented ones will stick around for years. Joan Jett broke all barriers for women rockers and she stayed true to her punk/hard rock driven music style. It sends a chill to hear thousands of fans of Joan Jett singing her hits as they dance and rock out to this rock legend.
Staying true from any effort to soften or disguise ---Unvarnished. Get it?
Joan Jett is currently on tour. For more information go to www.JoanJett.com
To get her new CD visit www.itunes.com
Other sites: Instagram | Facebook | Twitter
RELATED LINKS