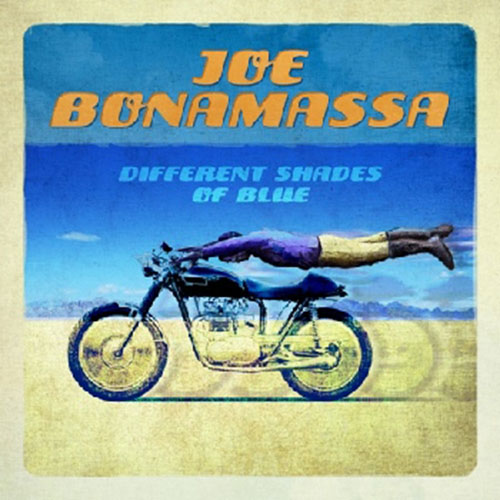 Bonamassa stands synonym for a new generation of blues artists capturing the classic mood and feeling and inflicting it with just enough panache to boost it into the new era. Razor sharp guitar playing and a modern pristine production embedded into classic notes and song structures. The blend at hand is attracting fans from all over the globe. Mr. Bonamassa is an excellent example of persistence, upholding a strict work ethic of touring and recording, which slowly landed him on the top ranks of international music. His new "Different Shades of Blue" is the next chapter in the man's impressive career.
The new album is the first ever Bonamassa record which is written by the artist in it's entire. Instead of falling back on recording a blues traditional, Joe recorded 11 brand new songs under the productional supervision of Kevin Shirley. Focussing on music himself, Bonamassa brought in internationally acclaimed songwriters and lyricists such as Journey's Jonathan Caine, and Nashville stalwarts James House and Jeff Steele this as his absolute masterpiece celebrating his 25th anniversary as an artist. It's because of their mastery that Bonamassa manages to swing his songs in different directions. The albums appeals towards a wider audience and has more chartbusting abilities, opening doors towards new fans and music adepts.
"Different Shades of Blue" brings together the best of both worlds in blues and pop/rock. The organic and traditional style every once in a while erupts with a jam-packed overall feeling, the melodies and lyrics bridge the gap furthermore, empowered by a crystal clear and powerful production. Another undeniable shift in focus is the prominent presence of Reese Wynans' swirling keys underneath Joe's typical riffs and solo's. Wynans clearly pushes the envelope for Bonamassa with his interaction on this new release. It's an interaction which also revives the name of Wynans' previous 'master' Stevie Ray Vaughan as is proven on the typical intro to "Living on the Moon". It comfortly links together Bonamassa's (main) influence on playing and composing with his current approach to composing outside the set boundaries of the genre, without wandering off astray. The addition of a brass section on the song also adds up to the highly enjoyable overall setting in which Joe sounds free and viral as in his debuting days. It's that same interaction which also marks the A-graded slow mover "So, What would I do" with its moaning down tuned melody and soaring solo, crafted in fine harmony with Wynans piano and keyboard swirls alongside the rich string arrangements.
It's that revitalized spirit he radiates in swinging tunes like the remarkable "Love ain't a Love Song" which will be an instant live classic if you ask me. While his guitars pumps a powerful chord forward, the song breaths fire. A spirit which is particularly exposed in the biting "I gave up everything for You, 'cept the Blues", a Bonamassa classic with crunchy riff and ditto solo. The song is a typical twelve bar blues classic with hints to the 60's Jersey sound and doo-wop.
The soulful outburst on the powerhouse ballad "Never give all Your Heart" tilting the scale towards (arena)rock rather than blues, is just magnificent. "Trouble Town" sounds like Joe's ode to New Orleans and is action packed with a freestyle solo and brass bombast, reviving the delta sound instantly.
Another highlight is the rich melodic title track, which has been circulating on the net for a couple of weeks. The "Kashmir" (Led Zeppelin) reminiscent classic rock outburst in "Oh Beautiful!" with its Hendrix-like rhythm scales and psychedelic stop'n go break, which Joe has been playing live during festival season is another dynamic and revolting tune nesting instantly. Both tracks being perfect preview towards what could be expected from this new album.
"Different Shades of Blue" is Joe's most personal album to date. The album combines his fine-tuned talent for classic blues without lacking interest in discovering new territory, hardly ever firing off in unexpected directions. The songs add up perfectly to his catalogue and are a perfect platform to display his muscular and extravagant style as a player. Bonamassa proves to be a true virtuoso colouring his music with his typical rich tone and depth, combined with his wonderful feeling for timing. It all comes together on this "Different Shades of Blue" in the most cohesive and confident way thinkable.
89 out of 100