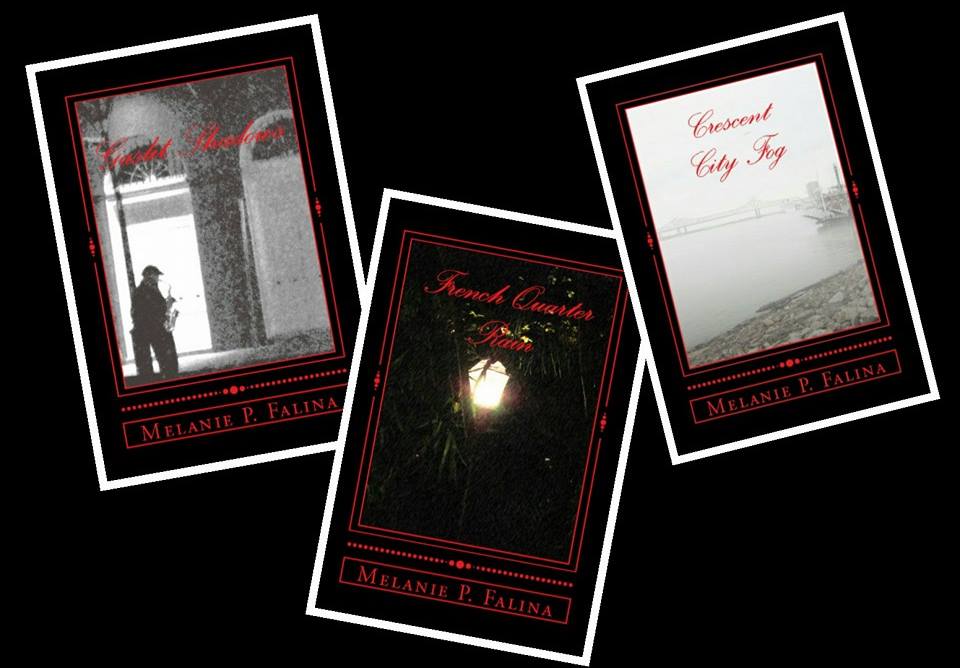 Intriguing, raw emotion, gripping, haunting and a musicality all of its own are just a few words that would describe the artistry and her play on words. In her three collections of poetry "written about, written in, and inspired by New Orleans," Melanie P. Falina captivates her readers by taking them on a seductive and highly emotional journey through the everyday dealings of the city of New Orleans. With a pulse all its own that cannot be duplicated (yet often imitated) Falina transports her readers into the sultry waters of New Orleans. She cultivates her tale of the Crescent City through humor, beauty, nostalgia and grace. With acclaims from those who were born and bred, to those who have yet to experience the majesty of New Orleans, Melanie P. Falina's poetry is the embodiment of all that heart and soul.  These emotions come across whether writing a blurb for Examiner.com on the cultural trends and music scene in New Orleans or within her own books, so when asked to do a Q & A with a poet in a time of high stress in the country, it was a privilege and joy to say the least...
CoKo Blue: What made you focus on all sides of New Orleans in your poetry?
Melanie P. Falina: The answer to that question is easy - love. I love that New Orleans has all these 'perfect' elements. Dazzling history, rich culture, amazing food, and music that not only fits into every aspect of life in New Orleans, but it is simply connected to it all. And I love the fact that the imperfections are just as blatant as the beauty. Sure, you can go to Disneyland and pretend you're in New Orleans in a very sterile way, but what you're missing is the heartbeat and breath of real life. Everything gets old and crumbles, sometimes even stinks - as will we. New Orleans celebrates it all, not just the sparkling but the dark and dirty, not just life but death, and so on.
CoKo Blue: What, if anything, would you like your readers to know about the writing process itself? (Meaning how would one go about starting if they have never written before.)
Melanie P. Falina: Someone who wants to write has to just do it. If you tell people, "I've got a great idea for a story..." then stop talking about it and get it on paper. Start with what you know and love, but love deeply because that passion will be the fuel that keeps the process moving. And take it word by word, page by page. To obsess about page 700 before you've written page seven will do nothing but make you want to give up. Fretting about a literary agent, book publisher, how well your work will be received, et cetera, is simply a knife in the heart of what should be pumping away with adrenalin.  Just write, and read, read, and read some more.  Lastly, never explain your work.  If someone you're friends with or related to wants to know who a character is based on, or what you were thinking when you wrote a particular paragraph, never answer those questions.  Let your work speak for itself.
CoKo Blue: How long would you say you have had this love affair with the Crescent City?
Melanie P. Falina:  It's just always been there. Certain things we simply love as if that love was somehow implanted there.
CoKo Blue: When did it first click that you were meant to write/publish your works?
Melanie P. Falina: I've always known I wanted to be a writer as far back as I can remember. As a young child I would staple pieces of paper together and write a little story on them, illustrate the pages, and then one of my uncles used to buy them from me for a nickel or dime each. So, in a way I was an independent publisher even before I knew anything about the publishing industry as a whole. [Laughs] Again, it's just something that was always a part of me, and it's something I've always done.  Even the art of journaling is important because of what's happening while you do it.  You're not just writing about the day ahead of you, what you'd like to accomplish, and how it made you feel when so-and-so said something to you – you're taking inventory of your thoughts and emotions, and crafting sentences that convey it all.  I've always kept a journal, I've always written – be it poems or short stories.  I think had a chosen a completely different profession – let's say in medicine or science, writing would still be a very important personal factor in my life.
CoKo Blue: You are currently working on a book of children's poetry as well as a fourth New Orleans poetry book, what inspired you to work on poems for children, and what would you say is your favorite children's poem/nursery rhyme if any?
Melanie P. Falina: There are a lot of kids in this world who don't receive the kind of emotional support that they should. Be it that they're growing up in the system or in households where their parents never received it either, or maybe their parents and elders just aren't around much. So my goal was to write a collection of poems that do that to an extent, that tell kids that they can do whatever it is they want to in life, that they matter, how even if things seem bleak now that they'll get better, and so on. Some of the poems focus on celebrating diversity, and others are just silly and fun but they're all positive. As far as my favorite - how can you not love Green Eggs And Ham?
CoKo Blue:  Did you ever think that your works on New Orleans would be as well received as they are now?
Melanie P. Falina: No, not at all. Writing poetry is very personal to the poet, and it has to be. If you get caught up in the question or fear of what others will think then you're not being true to your craft. So in doing that, by exposing your deepest, darkest, most fragile feelings, when someone comes along and likes what you've done, it's a pleasant surprise, to say the least.  I knew there would be some New Orleans natives who would like it because the people who love New Orleans are very passionate about most anything that celebrates New Orleans, but it's wonderful to see that others appreciate it as well.  And a nice bonus is when someone tells you why they love one of your poems and convey what it means to them – and to them it means something completely different than what I meant when I wrote it.  But that's the beauty of art, you take it in and then it does what it will with your own personal experiences and emotions.  My poems are mine in the sense that they're my feelings, my experiences, my hopes and fears, but they can also be whatever anyone else makes of them – and that breathes more life into the words.
CoKo Blue:  Any literary "guilty pleasures" you indulge yourself in?
Melanie P. Falina: Not really. For me, writing poetry IS my guilty pleasure. I've written journalism pieces for so long now with all the 'rules' and unbiased voice, so my poetry is very freeing. It's free-verse and I rarely even use punctuation, each poem is whatever I want it to be, and in a world where we're subjected to following a set of restrictions in every walk of life from jobs to relationships, and of course, the grander aspects of society, it's nice having this one thing that makes me feel truly alive and I can do it on my own terms.
CoKo Blue:Do you feel like you are finally at a place of contentment with the success of your books?
Melanie P. Falina: Well, it's a journey.  There's always room for improvement, always new opportunities to learn and work on your craft. Also, more sales would be nice. [Laughs]
CoKo Blue:When did you first have your eureka moment in which it all seem to fall into place?
Melanie P. Falina: It was this past spring when I suddenly had the idea to put together a collection of poems solely about New Orleans. I don't know where the idea came from or why it popped into my head, only that it was suddenly there. I told myself that my goal was 20 poems, and if I reached my goal then I'd have the collection published. After I wrote 13 I was stuck and even thought, "Well, I tried..." But the block didn't last long and soon I was up and running again.
CoKo Blue:Other than that these poems are all inspired by New Orleans is there anything else we should know about them?
Melanie P. Falina: Each collection kind of has a subtle underlining theme, and that's something that wasn't at all planned it just happens during the writing process. But I like that fact, it's almost like a change in seasons for each book.
CoKo Blue:Why 20 poems per collection?
Melanie P. Falina: Well, as I said that was the goal for the first book. I think it's a good number of poems without being overbearing. Each book is inexpensive enough in both formats, print and eBook, that I think it's just a reasonable number of poems per collection. Maybe after the fourth installment is released I'll put out a compilation of all four and include some of my photographs too.
CoKo Blue:Speaking of photographs, you took the photos and designed each book's cover as well, correct?
Melanie P. Falina: Yes, I love taking pictures in New Orleans, it's such a photogenic city! And it's important to me that the books include one of my own photographs, that makes it even more personal.
CoKo Blue:When it's all said and done, what do you hope your readers will gain from your poetry/writings as a whole?
Melanie P. Falina: In regards to my New Orleans poetry, I just hope that anyone who loves New Orleans can feel a little something when they read my words. Maybe my poems will make people realize that we're all connected in one way or another.  As far as my other works go, my hopes are different for each project.  For my kid's book, I hope that the children who read those poems will feel a certain comfort and acceptance. 
CoKo Blue:Lastly, any words of advice or wisdom you wish to bestow upon your readers when they are still unsure of the direction to take in life?
Melanie P. Falina: I'm still trying to figure that out myself. [Laughs] But I think that life goes by so quickly - even if you live to be 100 it'll go by quickly - so just try to follow and focus on the things that make you happy, let go of negative feelings and memories, and be kind to one another because we're all in the same boat sailing through a world that isn't always very nice.
Melanie P. Falina's poetry series inspired by New Orleans is available online at Amazon and Barnes and Noble, and at select shops in the French Quarter of New Orleans.
Purchase the book at the following stores: Amazon | Barnes and Noble
RELATED LINKS