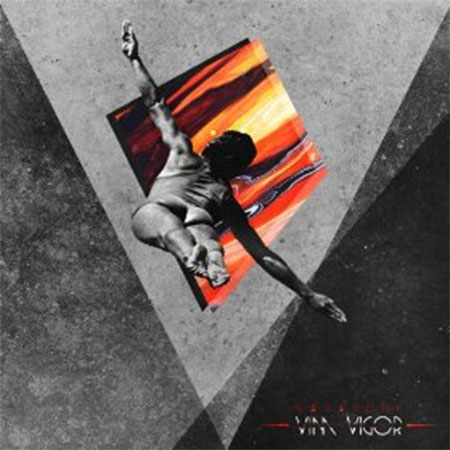 Even though Gene Simmons pronounces rock to be dead and big national radio stations across the globe seem to empower his words, there's so much adventurous music released. Festivals and clubs are unwilling to bow their heads to the statements of Kiss' founder, nor do they adept to the boycott of radio stations, programming up and coming rock bands by the dozen. One of those hard working bands with extreme touring and working ethic is Dutch Navarone. The band releases their second album "Vim and Vigor" which is packed with the energy they unleash at their many live shows.
Unlike the band's debut "a Darker Shade of White," the new album is packed with pointy and powerful rock tunes. The enthusiasm and power is perfectly captured on "Vim and Vigor" and the band showcases their skills as songwriters throughout the album.
Never dull moments while onstage, never a dull second when this CD hits your player. The dynamics of the songs match the early work of Alter Bridge and the most powerful anthems recorded by Kings of Leon. A modern approach to all the ingredients classic rock has to offer. Navarone manages to combine a solid rock sound and steep edged rock riffs with the classic rock vibe from bands from the entire genre. I heard riffs which could easily be produced by such alumni's as Jimmy Page or Richie Blackmore going hand in hand with a nu metal groove and thunderous modern drums. It's this ultimate blend of 'modern' rock which provides the basis for vocalist Merijn van Haren to shine over. His voice is impressive; powerful and emotional, every once in a while reminiscent to Myles Kennedy's colorful rich sound, to unexpectedly shift into Chris Robinson's raw and soulful pallet. Van Haren's captivating performance makes "Vim and Vigor" such a rich experience. His charisma radiates off the edge of the disc and the melodic depth of his vocal work is in fine tune with the spitting guitars of the excellent duo Lewiszong / Huijbreghs. "Leave" and "Bottom Line" are showcases of this amazing timing and musical finesse. The interaction is sublime and always in fine tune with the vocal lines, as where the rhythm section fills in the occasional blanks and provides a rock solid foundation.
When the pointy guitar hooks make way for the roaring wall of sound, the band truly roars loud. "Smash 'n Grab it" is a rumble in a sonic wasteland leaning on an impressive riff and ditto hook, and "Gimme a Shot" also fires on all engines. The impressive sound is enriched with fine and delicate melodies and sudden breaks throwing you off course. Because of these rich tones, even Pink Floyd and Genesis come to mind occasionally. These rich musical patterns and sonic twists all add up to the atmosphere Navarone paints from their musical palette. When the band wanders off into the direction of their more progressive debut like in "Indigo Blue" which opens with rattles and a bluesy undertone. Check out the powerful shape shifting circumstances in "Murder & Misery" with van Haren switching between his anger and his pain. On such songs they still manage to maintain their spot on timing enabling the songs to bloom and feel compact at all times. Even the action packed instrumental "Psycho Vaquero" with its Dick Dale style thriving riff and pace is instantly feeling familiar.
More familiar and loaded with (live show) hit potential are the impressively grooving tittle-track and the wonderful "Wander." Or what to think of the dramatic entrance "Time" and the slick "Brother" which rock like a Swiss clock.
"Vim and Vigor" is a captivating and refreshingly sounding album from a band able to slip the most progressive elements into a song loaded with hit potential. The music feels instantly familiar even though the blend is truly unique, and everything simply falls into place for fans of the entire rock specter. Navarone is able to attract fans from the entire sonic universe and will stun rock fans with this new album. The production is spot on, clear yet powerful, and all lines up to an outburst of passion and power. Mixed by Jack White's trustee Vance Powell, Navarone is ensured a rich guitar sound.
Be sure to check out this impressive piece of art!
91 / 100
RELATED LINKS