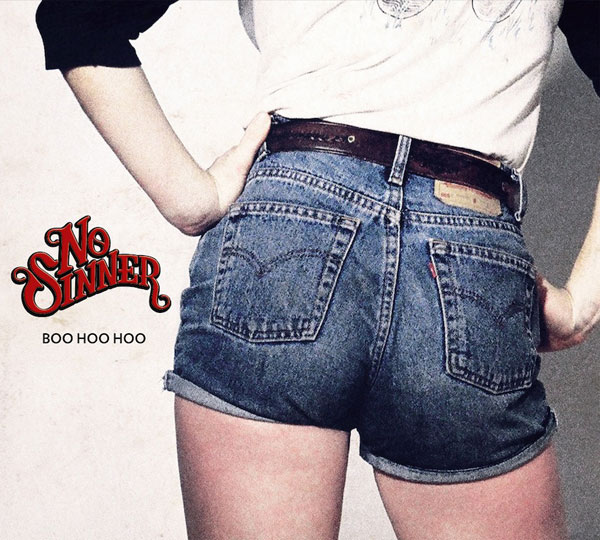 It's becoming more frequently that one is pointed out to a new band or release through social media. I for myself browse the www and twitter on the hunt for new talent, thus do friends of mine. During one of those long nights scrolling down my timeline, I came across a tweet by a remotely known promoter from my past. Things led to another and here I am reviewing the band he hailed in: NO SINNER!
No Sinner is a young Canadian based band around vocalist Colleen Rennison, who's last name spells backwards: No Sinner!
But it's not only the name and the appeal of Rennison that makes this album so noticed. No Sinner delivers an action packed album consisting of classic blues, injected with a rock 'n roll feeling. It grabs you on the spot.
Pitching a fastball with the party packed title track of the album "Boo Hoo Hoo." The songs swings up the joint and rocks forward with high acceleration. Colleen Rennison's soulful and powerful vocals are reminiscent to that of the acclaimed Beth Hart and Dilana Smith. Rough edges around powerful pipes drenched in soul. She shape shifts through the powerful stomping bluesy songs with panache. Whether she's unloading sheer power in "Runnin' or uses her bedazzling skills in lush a slow mover like "If Anything", Rennison manages to belt one of the most captivating performances in blues-rock this year. It's amazing how this 25 year old (!) colours her lyrical world with emotional and heartfelt passionate vocals. It's the depth and diversity uplifting this album from all regular blues releases. "Love is Madness" displays her wide vocal range as it starts up rather slow, unveiling power and raw energy halfway through. And the band?.... the band played on.
Musically it's all concentrated around a steamy groove and whammy riffs that warp you into a smoke filled and packed blues bar in the Mississippi delta. Browne and Furgesson lay down a rock solid foundation with a powerful groove. Eric Campbell can easily match the likes of classic blues giants such as Walter Trout and the late Rory Gallagher. His lush undertone and sudden hard-drive shifts sound reminiscent, but are refreshingly potent. Together with Rennison he might well be one of the new rising names....
No Sinner's rendition of the classic (Nina Simone) jazz track "Work Man" is the perfect example. It oozes perfection until it unloads a Bonamassa-like larger than life guitar ending. "That'd Be The Day" is another one of those delta blues tracks leaning strongly on a guitar pulling it forward.
Check out the gospel rocker "Rise Up" where she throws a vocalic curb-ball you are unable to adept to catching. The harsh upbeat rocker "Devil on my Back" displays her amazing skills as a vocalist as well as a lyricist, peeling back modern day life.
"September Moon" recaptures the volcanic eruption we've been pleased with throughout this record. The song is a moaning tune with a Hendrikx like guitar feeling vividly brought to life by Campbell and the backing rhythm section. Soul and blues are perfectly balanced in the scale of No Sinner and Mrs. Rennison!
"Boo Hoo Hoo" is one heck of an album offering a rare insight in the mind of a young star on the rise. Not only is it a captivating performance delivered by an eager band, it's also an album leaning on spiritual lyrics hitting everyday life spot on. The album isn't over steered by a big production but has that honest and organic feeling of the 60's punched up by modern technique. Drop dead honest, freakin' gorgeous!
Big plus goes to Provogue for releasing another blues giant on the rise. This engagement of talents will lead to another band flying high thanks to the solid backing by this label: I promise you that!
Musicians: Colleen Rennison (vocals), Eric Campbell (guitar, piano), Ian Browne (drums), and Bradley Furgeson (bass)
92 out of 100
RELATED LINKS