It is one of the finest events of the year, the annual Rock Meets Classic event!
Rock Meets Classic is 20 performances in 20 cities in only a 4 week time. Germany, Austria and Switzerland will be enjoying the sublime musical interaction of hardrock's and rock's finest, re-arranged and performed by a full blown classical orchestra together with the Mat Sinner Band.

Sinner himself is one of the driving forces behind the event in which he does not only take place fronting his band, he also is one of the arranging and creative masterminds behind the event, coming up with a magnificent line up, year after year. Luminaries such as Ian Gillan (twice) of Deep Purple, Paul Rodgers (Bad Company, Queen), Lou Gramm (Foreigner), Steve Lukather (ToTo), Bobby Kimball (ToTo) shared the stage with Sinner's band and the Bohemian Symphony Orchestra of Prague. Big names and settled names performing alongside lesser known but cherished idols like Robin Beck, Eric Bazilian (The Hooters), Steve Augeri (Journey, Tall Stories), Jimi Jamison (Survivor, Cobra) and many, many more. It is the blend of melodic rock / hardrock music with the pompous power of a classical orchestra that never seizes to amaze. A fine combination of power and classical perfection which sets ablaze giant arenas, raved upon by enthusiastic crowds.
Not only does this combination bring us an interaction and cross-over of styles, it also attracts lovers of music from both spectrums of the musical universe, uniting them for one night of wonderful grandeur. Here you'll find directors and CEO's of the biggest companies in Germany alongside hardrock fans, cheering and singing along in close harmony. It is here you'll also find kids, teenagers and adolescents together with their parents for a night out enjoying mom and dad's history in a unique cocktail that wins over the heart of any adolescent. Like it crosses over music, it also reaches out and finds its way into the heart of everyone. Rock Meets Classic is a wonderful as the annual Night Of The Proms which focusses on pop rather than rock, but RMC definitely proves that rock and classic are closer to one another than most might imagine.
This year's line-up is one that is even more exciting than ever before. Headlining this year's event will be none other than the master of shock rock, Mr. Alice Cooper himself!
Mr. Cooper celebrates his 50th anniversary as one of rock's most intriguing performers, taking the world by storm since 1964 with the Alice Cooper Band sprouting hit singles by the dozen, gathering gold and platinum records throughout the globe. "Under My Wheels", "Eighteen", "Welcome to my Nightmare" are just of few of his hammer hits, not to mention "How You gonna see Me now" or the elusive "Halo of Flies". Cooper's eccentric and captivating stage performances always ensured a large crowd and when he reclaimed his throne with "Poison" in 1989, a new horde of fans discovered the art and rock of Alice. Alice has been in the spotlights since his debut and will remain in the top ranks of rock forever....
Joining the master onstage will be the extremely gifted Orianthi on guitar; an extrovert and extremely talented guitar goddess discovered by none other than the king of pop Michael Jackson. Though collaborating on the preparation of the This Is It tour, the untimely death of Jackson caused a stir in her life. She amazed everyone with her performance at Michael's memorial, as well as she does on the This Is It documentary. Later she toured with Santana and Eric Clapton.
Speaking of skilled and gifted guitarists, we cannot surpass another legend joining this year's Rock Meets Classic line up. Mick Box of Uriah Heep will be performing his hits together with long serving vocalist Bernie Shaw!
Uriah Heep is one of the longest running bands in hardrock history, performing and touring worldwide since 1970. The English band is one of the most solid pilars in rock today best known for the magic they added to rock in general.
I'm very eager to find out how the lush and fine-tuned emotional playing of Box will line up with the pumped up string section. How bombastic will "Look at Yourself", "Return to Fantasy" or the hammer "Easy Livin" sound, or how enchanting will an orchestrated version of "July Morning" sound backed by strings and flutes.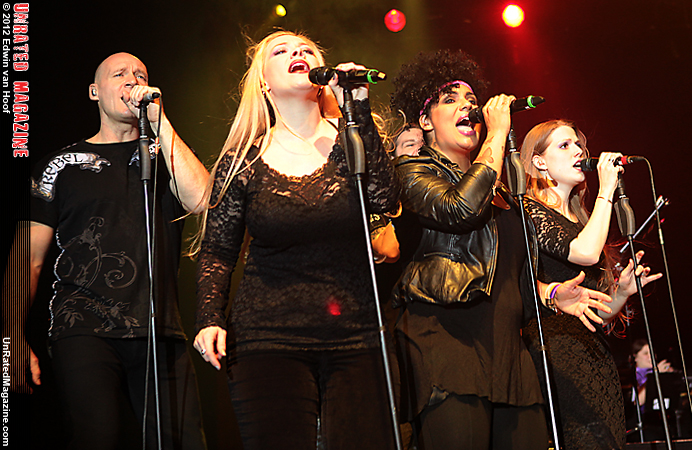 Magic also brought in by one of rock's most acclaimed vocalists of all time; Joe Lynn Turner. Not only is the man known for his work as front man of Rainbow, brought in to fill the enormous gap left by the departure of Ronnie James Dio, JLT also stepped in when Gillan left Deep Purple (1990). After leading two of rock's most challenging bands ever, filling the open slot of two of the most radiant vocalists of all time; Turner joined Yngwie Malmsteen's Rising Force to create another timeless classic. Classics he has sprouted on his many solo records as well as the albums he recorded under the Sunstorm banner.
Joe Lynn Turner is one of the voices you have heard without knowing the man, but he is also one of the voices which have a ring to it making you never forget the moment you first heard it. What to expect is written in the stars, but JLT's performance is the one I will focus on the most because of the unpredictable chances.
Mat Sinner is as eccentric as he is creative and this year he pulled another stunt with the presentation of Ultravox' vocalist Midge Ure. Ure is the charismatic frontman wit hand even so charismatic voice. "Vienna" and "Dancing with Tears in your Eyes" are to be counted as some of the best songs from the eighties. The high-tech pop/rock he presented with Ultravox still attracts masses, proven by the bands sudden reunion a couple of years ago.
Ultravox being the most compelling of his bands, we certainly cannot forget the fact that Ure also was the driving force of another synthesizer pop act from the eighties; Visage. With Visage Migde Ure landed two top ten hits with "Fade to Grey" and "Mind of a Toy", before joining the ranks of Thin Lizzy touring the USA after Gary Moore's departure. Midge Ure later scored another solo hit with "If I Was" and was the frontrunner with Bob Geldof setting up the internationally acclaimed Band Aid single for Ethiopia, as well as the international Live Aid event.
Form that same era is Kim Wilde, the English pop queen who landed numerous hits in the 80's. "Bambodia", "Kids in America" and "Chequered Love" landed in the top ranks of the European charts for many weeks. Although she didn't achieve large success in the USA, Wilde managed to extend her reach further over the globe, from Australia to Japan. Even though her albums shot up the charts, her posters where on every teenager's bedroom wall, Wilde never benefitted too much from her success because she did not tour extensively.
Kim Wilde retired from music to start her own business as an exterior designer and gardening expert, releasing books and hosting a prime time television show for many years. She released several books prior to her return to the international stages as a performer in 2006.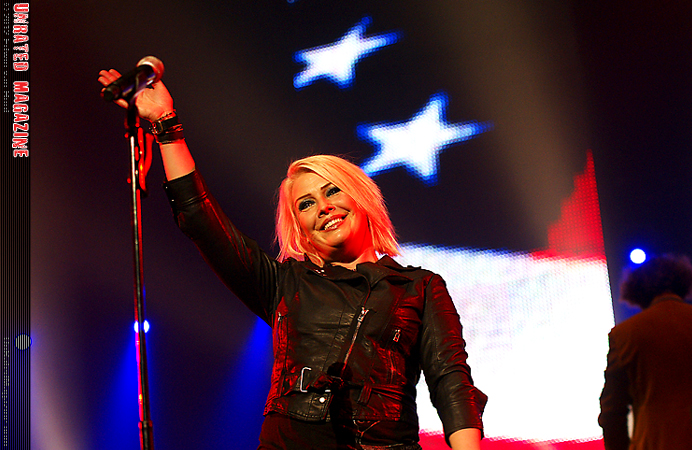 2014's edition of the Rock Meets Classic will be an exciting and renewing event reaching out in more directions as well. With Alice Cooper and Uriah Heep we get presented two of rock's longest running acts, known for their unstoppable creativity and excellent performances. Joe Lynn Turner spices up the line up being able to dig from his extensive catalogue and impressive past collaborations, as where Midge Ure is likely to present hit solo hit and the Ultravox classics which will most certainly benefit from the pompous fuel the Bohemian Symphony Orchestra of Prague will add to the musical fire. Kim Wilde will do the same with her taunting hit single "Cambodia" but will also be one of the faces to look out for. Her energy will light the spark in the heart of us, who were teenagers in the 80's.... Guaranteed!
Rock Meets Classic Tour 2014 Dates:
March 9th – Berlin, Germany @ Tempodrom
March 11th – Frankfurt, Germany @ Jahrhunderthalle
March 12th – Neu-Ulm, Germany @ Ratiopharm Arena
March 13th – Nuremberg, Germany @ Arena Nurnberger Versicherung
March 14th – Wurzburg, Germany @ S. Oliver Arena
March 16th – Passau, Germany @ Dreilanderhalle
March 18th – Mannheim, Germany @ SAP Arena
March 19th – Kempten, Germany @ bigBOX Allgau
March 20th – Munich, Germany @ Olympiahalle
March 21st – Regensburg, Germany @ Donau-Arena
March 23rd – Zurich, Switzerland @ Hallenstadion
March 25th – Strassbourg, France @ Zenith
March 26th – Innsbruck, Austria @ Olympiahall
March 27th – Ingolstadt, Austria @ Saturn Arena
March 29th – Halle-Westfallen, Germany @ Gerry Weber Stadion
March 30th – Leipzig, Germany @ Arena Leipzig


April 1st – Hamburg, Germany @ o2 World Hamburg
April 2nd – Essen, Germany @ Grugahalle
April 4th – Stuttgart, Germany @ Porsche Arena
April 5th – Dresden, Germany @ Messe Dresden (Halle 1)
RELATED LINKS