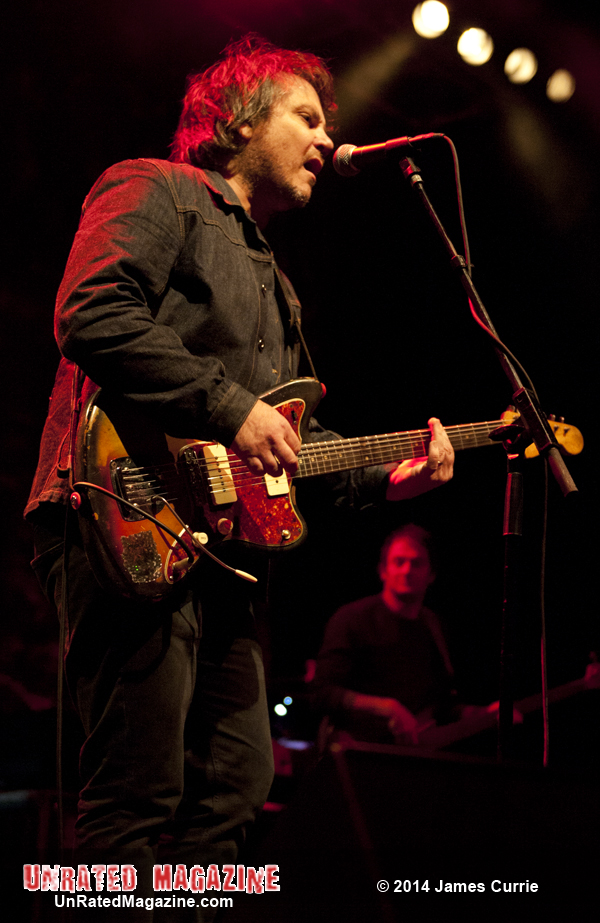 Wilco played 30 songs to a sold out crowd at the Riviera Theatre. Tonights, full moon concert, and live broadcast on WXRT, ran almost two and a half hours long, spanning music from their 20 years as a band. The show was filled with hits and some dusty grooves. This was the second night of a six night residency of their micro tour dubbed, Wilco Winterlude. Each performance completely sold out.
Jeff Tweedy made it clear this was a bitter sweet performance. He was proud to be performing in his home town of Chicago for this 20 year Winter Interlude but sad at the same time. He told the audience that this was the first show he's every played at home without his wife Susie by his side ever. (She has been sick and fighting cancer for some time now).
The first part of the show was 23 songs. They started around 9PM and took a break around 11PM only to come back on stage just minutes later to play two encores. The first encore was 3 songs, the second was 4 more. The second encore was done unplugged. An acoustic set of covers.
After the performance it was hard to not miss the amazing merchandise booth filled with records, shirts for the 20th anniversary tour, posters commemorating each nights Chicago performance, headbands, beer cozies and more. One particularly stand out piece of memorabilia being a Wilco "Riverview" shirt. Something most fans under 50 wouldn't even get.
Set list:
1. Less Than You Think
2. Ashes of American Flags
3. Bull Black Nova
4. I Am Trying To Break Your Heart
5. One Wing
6. Panthers
7. Blue Eyed Soul
8. I'll Fight
9. Poor Places
10. Art of Almost
11. I Might
12. Radio Cure
13. At My Window Sad and Lonely
14. Secret of the Sea
15. What Light
16. Hesitatiing Beauty
17. Box Full of Letters
18. The Late Greats
19. The Good Part
20. Jesus, Ect
21. Born Alone
22. Candyfloss
23. A Shot in the Arm
Encore 1:
24. Dark Neon
25. Red Eyed and Blue
26. I Got You
Encore 2:
27. True Love Will Find You in the End
28. Give Back the Key to my Heart
29. Be Not So Fearful
30. I'm the Man Who Loves You