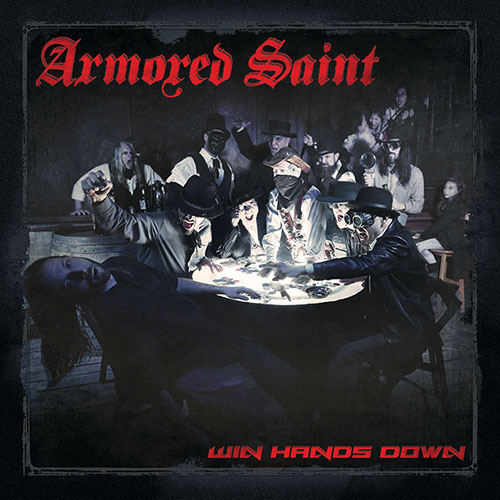 I don't have to state Armored Saint is severely overlooked by many in metal, nor do I have to tell you that this band is operating on the same high level as other front-runners in metal. But I do have to say that I never understood why Armored Saint isn't playing the big league instead of Metallica.
Ow fans, settle down. In all honesty: I love both (as much as Hetfield himself does), but do cherish the uncompromising honesty of the Saint. Armored Saint simply is one of the biggest contenders musically and they keep delivering metallic gems on a frequent base since their reunion.
"Win Hands Down" is their third album since their fruitful reunion and it is by far their best. The album instantaneously warps us back into the bands sublime "Symbol of Salvation" heydays that has been always been kept in the shadows of the bands even more classic "Delirious Nomad" release.
"Win Hands Down" sums up their belief in the band that reenacts on their classic spree with this kick in the ass power trio opening the album. The title track is a magnificent rendition of classic metal with hints of hardrock, delivered with an untamable drive and passion. "Mess" is exactly what the title depicts and is a turbulent mathematic metal track with progressive elements in the vein of Hades. It's energetic and hectic, almost eclectic. In the midst of all this turmoil John Bush belts one of his trademark vocalic performances. Powerful vocals with tons of melody are typical ingredients of his mastery and on "WHD" he pushes the envelope on numerous occasions. When Duncan and Sandoval take us into "An Exercise in Debauchery" we can hear exactly what Bush is able to set off with his charismatic powerful voice. The guitar tandem takes the song forward while fierce riffs are pointy and the guitar shreds are alarmingly present. Also present is the slapping bass of Joey Vera who occasionally steps up to take the spotlight alongside his guitar shredding companions. "Muscle Memory" is a 7 minute long breather offering us time to kick back. It also displays the in between status of the band with their classic American metal being strongly rooted in European patterns. The song is one of my personal faves on this album and settles between the many highlights from the past. Perhaps it's a little out of the ordinary for a metal band like Armored Saint to record a tune like this, but this band manages to surprise even more with the lingering ballad "Dive," a rather psychedelic slow mover with sliding guitars, string arrangements, Floydian vocals and an impeccable (Gilmour like) solo.
Two memorable moments in between hammer hard songs from a band that clearly dug up the mold of their classic sound. Whether it is the storming "That Was Then, Way Gack When" or the diverse mood swings in de duet "With a Full, Herd of Steam," Armored Saint sticks out their head on an instant classic. "Up Yours" would have been a heavy metal sing–along hymn in the eighties or nineties for sure, and it not only hints those heydays.... It revives them to the fullest on "Win Hands Down."
"Win Hands Down" marks the bands return to their raved about classic heydays. The band being in perpetual motion on numerous metal classics makes them one of the finest acts in metal. Armored Saint deserves a statue and this might as well be revealed on the festival ground of the returning Dynamo Open Air Festival later this year!
Armored Saint are: John Bush – lead vocals, Jeff Duncan – guitars, Phil Sandoval – guitars, Joey Vera – bass, and 'Gonzo' Sandoval – drums.
95 / 100
RELATED LINKS