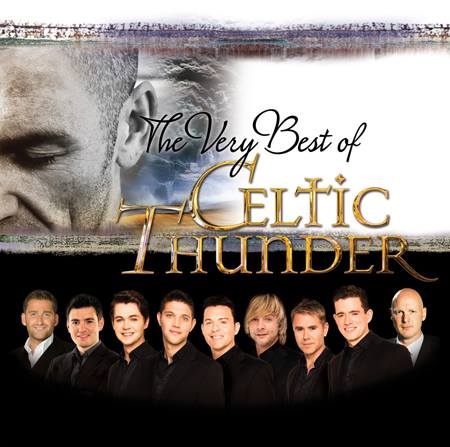 Irish singing group, Celtic Thunder, hit San Diego's Balboa Theater Thursday night.
The original group was formed in 2007 and have released 11 albums, 10 live DVDs and have had 9 public television shows since then. For a nostalgic touch this tour, they used their original stage set used in their first performance in Dublin. A backdrop of lightning and stormy clouds with a center cut abstract square (wider on the left and smaller on the right). This square was used for the video background during the show.
Often scene in PBS concert specials it was a wonderful chance to hear and see them live on stage and many took full advantage of that as this was a sold out two act show.
The Celtic Thunder Band are the first to come out and take their seats on the left side of the stage with Seana Davey on harp and squeeze box, Nicole Hudson on violin, Laura Durrant on cello and Berry Kerr, in a black kilt, on a collection of wind instruments including the bag pipes, guitar (12 string) and a bodhrán (a hand held frame drum of Irish origin).
On the right side of the stage was the full drum set played by Decian O'Donoghue, Dave Bakey, also in a black kilt, on guitar and bass and David Munro-MD on piano/keys.
This tour's line up has Damian McGinty (former Celtic Thunder and Glee star) as Guest Artist and Colm Keegan, Keith Harkin, Ryan Kelly, Neil Byrne and Emmett O'Hanlon.
All of the group come out in black raincoats as the lighting and sound effects are of thunder and lightning and open with "Heartland." The audience cheers and screams as their favorite singers come on. Especially for Damian McGinty and Keith Harkin.
Keith kicks off the first solo song with his guitar on "Mountains of Mourne." The show is interweaved with solo spots, duos, trios and all six singing.
A few songs in they bring out a set of three tom toms and there is a humorous drum off between those, the bodhrán and the full drum set with Decian desperate to win.
Colm sang on "Black Velvet Band" and encourage the audience to sing along on the chorus of, "Her eyes they shine like diamonds/I thought her the Queen of the land/And her hair hung over her shoulders/Tied up with a black velvet band."
"Danny Boy" was then sung by Emmett to a pleased crowd.
Another funny one and crowd favorite was, "A Place in the Choir" with all singing and doing some toe tapping and cajoling.
A few songs later was the hilarious, "Seven Drunken Nights" sung by all with Neil playing an out of control drunk and cracking up some of his song mates as they held him back from fighting. This ended act one.
Coming off a fresh 20 minute intermission, act two starts. Four songs in, they cover U2's, "Still Haven't Found What I'm Looking For." A beautiful rendition.
Other highlights include "Hallelujah" sung by Neil, Keith and Ryan, the moving tribute to deceased group member, George Donaldson, Damian singing the old classic, "Breaking up is Hard to Do' and let's not forget the operatic, "That's a Woman" with Ryan and Emmett.
The last song of the night was, "Irelands Call" which, as their site says, "never fails to bring the audience to their feet" and it did. All six came out in their black kilts.
They're also coming out with a new CD in March 2015, "The Very Best of Celtic Thunder" with the songs from this tour.
If you want to learn more about Celtic Thunder visit their webpage and check them out on their YouTube channel, "Thunder Tube."
RELATED LINKS