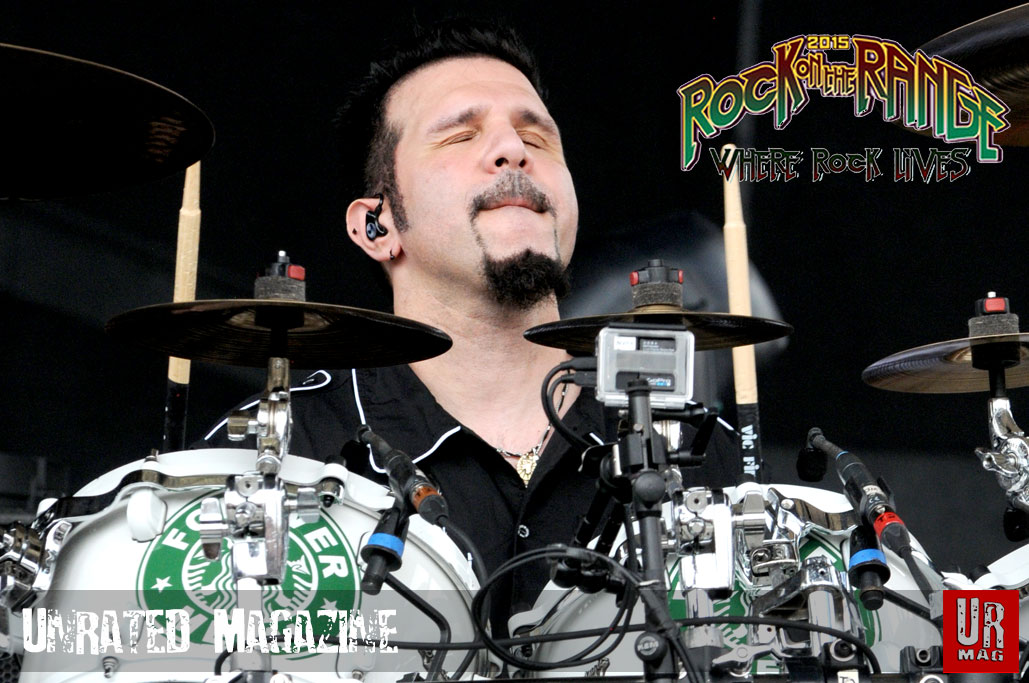 Charlie Benante is an artist in the truest sense. A multi-talented artists who focuses his skills on not only being a drummer but a guitarist, a songwriter, and graphic artist to name a few. He's even known to grace the screen, big and small. This year looks to continue that artistry and even expand into a craft coffee maker.
Benante, most notable for being the drummer of New York Thrash Metal band, Anthrax, is an influential drummer and highly regarded by his peers as one of the best Thrash drummers of all time, credited with mastering the double bass drum beat. Anthrax has proven themselves as one of the leaders of the genre with a co-headlining gig dubbed, "The Big Four" along with Metallica, Slayer and Megadeth. He's been with Anthrax since just about the beginning, since the first record, Fistful of Metal (1984).
I had the opportunity to chat with Benante before the new album release and tour starts. We discussed the new album sound, the upcoming tour, his hand injury that will cause him to miss out on the first few shows, his brand of coffee, being a life long Horror and Sci-Fi fan and his new life in Chicago.
James Currie: How are ya today Charlie?
Charlie Benante: Good thanks. Just getting ready for this tour.
JC: I want to talk to ya about a few things like the new album you guys are working on, the new tour starting soon and some personal things like you living in Chicago now and being a Horror and Sci-Fi fan.
CB: Sure.
JC: Let's start with the local connection. I've seen you out and about around town at various Horror and Sci-Fi conventions and shows. What makes you a collector of the genres? What got you into it?
CB: I'm not sure what really got me into it, I've always been a fan of Horror and Sci-Fi since I was a little kid collecting comic books and watching the movies and whatnot. There's always been this thing that I've loved about monsters and sci-fi, it just seemed to appeal to me.
JC: I've heard that you're a pretty big fan of Jaws.
CB: Ha, yeah, kinda stupid but whatever.
JC: Nothing stupid about that. It was one of the greatest movies of its time. Who didn't jump when those teeth came out of the water the first time?
CB: (laughs) Yeah right.
(side note: Charlie was a part of the Jaws anniversary DVD as part of the extras and commentary.)
JC: Any plans to visit any conventions this year? The Hollywood Collectors show is coming up. I think I ran into you there a couple years back with your daughter.
CB: Yeah, probably. I just hit the C2E2. That was good. The Wizard World is coming soon as well. In August I think. I enjoy that one.
JC: Nice. Now as far as setting up roots here. Any plans to set up shop? Maybe open a studio here or coffee house? Do you see Chicago as becoming more of a home here? Or a second city?
CB: I mean, I'm a New Yorker at heart, but I have set up some roots here. I have my wife and daughter here. I've made some really good friends here. As far as my daughter goes, I'd really like to see her continuing to grow up here. I don't think I'll be going anywhere for a while.
JC: So what brought ya to Chicago anyway?
CB: Well, I got married while back and had my daughter and basically relocated out here. That's basically it. The short version of it anyway.
JC: It's a cool place. I've been here about 15 years now and I like the central location between each coast and everyone just seems to gravitate here at some point.
CB: It's like a smaller, cliqueier New York but um, I think you have a little more violence here than we did in New York, I mean I don't have to go around where that is at least.
JC: That's a shock to hear. I guess we have been in the news a lot more recently with Chiraq references and what not. I guess there is violence in any major city when you look at it.
CB: Yeah.

JC: So how's your hand doing?
CB: My hand is a... it's a problem. It's hard for me to do long, long tours because that's when it gets, you know, f'd up. I have some pain and numbness and I can't really treat myself like that anymore. The wear and tear of all these years has kind of caught up to me. But I did have the operation (carpel tunnel surgery) and it went great. But like I said, it's just hard for me to go out on long tours, its just wear and tear.
JC: That's not easy for a drummer, me being one myself, I can't imagine.
CB: I still play like myself, but after a while, that's when it starts to get worst.
JC: Do you have plans getting back on the road here soon? The new tour starts soon right?
CB: Oh yeah, yeah. I'm joining up. In like a week or so.
JC: Oh are you going to be at the Rock on the Range?
CB: Yep.
JC: And hopefully you'll be at the Chicago show when you guys come through town again.
CB: Yep. I'll be here too.
JC: This new album you guys started recording, was started a while back. Around December of last year right?
CB: Yeah, that's about right.
JC: And how's that been going? How far along are you?
CB: Well so far, so good. I mean, we're not doing the record like we would do in the past were like go into the studio and stay there for like 2-3 months until finished. We wanted to do this, kind of like we did the last record, where we did it in sections. So in December we went in and recorded the first batch of like 8 or 9 songs. Then we worked on those and took a break from that, then we went back in and recorded the next batch of songs. That was back in March or February? So now we're just kind of putting the rest of the instruments on those.
JC: That sounds cool. So what can we look forward to in the new records sound? What style are you going for? Will it be similar to the last record Worship Music or more of a throwback to some of the earlier stuff like Fistful of Metal? Or maybe something completely new? I know it's all new music, but will there be any surprises?
CB: Yeah it's all brand new. I think with this record, we are kind of taking it a bit further. Like if the songs on the last record were Thrashy, well, there gonna be more Thrashy on this one. If the songs we're long on the last record, well they may be a bit longer on this one. It's just the way to record felt and the way it was going you know.
JC: Yeah, I hear ya. Sounds cool. So are you still working with the same producers and label on this one as well?
CB: Yep, Jay Ruston and Megaforce. For me it's all about loyalty and staying loyal. I mean, is something works, continue, continue with that.
JC: Absolutely.
CB: For instance, Jay Ruston, he's just such a great dude and has such a great set of ears and um we're just really lucky. Lucky to have him.
JC: We'll that is true considering what we heard from the last album. It's quickly becoming a new modern classic. We all really dig it here. And if you're going to be producing something along those lines, I can't imagine it's not going to be equally as great. Now as for getting to hear some of that new music, are we going to get a little tease of it at all before it comes out? Like an EP or anything?
CB: The only tease that we've done was for the Game of Thrones game soundtrack, Mixtape. That's about it so far. There's a lot of different colors on the new record. Some of the ones on the new records are kind of really Thrashy, like ol skool Thrashy, but done in a modern way. I think when people hear it, they're going to be really happy. Because we didn't really go off track here from what the fans want, but really what we want.
JC: And I understand that you recorded the parts all over, in some of your favorite cities including Chicago, but the studio in LA is your favorite for recording the drum tracks. Is that right?
CB: Oh yeah. Awesome room and really comfortable there. So we decided to go back there and do it again. It was just great. A good vibe. And it was a good break to get away from this weather (in Chicago) you know. It's not the best.
JC: Well you've got that right. Chicago weather isn't always the best or easiest to take it. As they say, you can have all 4 seasons in one day here. Now for Chicago itself, do you guys have a studio here?
CB: I have a studio in my house that a lot of the stuff from Worship Music was done right here. The demos where done here and I was just going to send out the demo's to the guys and say, OK here it is. Here are some of the songs that I'm thinking. Here's how it went. What do you think?
JC: Sounds like that's working pretty well.
JC: One of the other many talents you possess is that of a graphic artist. You've designed some of the iconic Anthrax images and artwork throughout the years. I was wondering if you plan on designing and releasing any special edition vinyl or other artwork for the fans? Especially with the resurgence with vinyl again and people clamoring to get the rare unique releases from their favorite bands. Can we expect anything from you on the next release?
CB: Well, with the last record, one of the goals was to do a different colored vinyl releases. First we released one color, then more followed. hat's the thing with record collecting fans that a lot of others don't get. Those record collecting few who enjoy that vibe like we did growing up. That's my goal is to make it fun for that record collecting few who still enjoy it as much as we do. I mean, they are the die hard fans that get it more that some other kids do.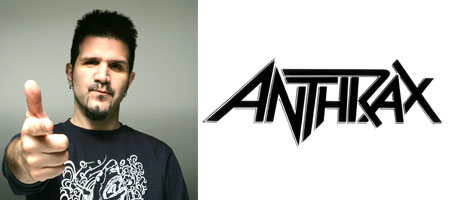 JC: We'll I can say from that side of it, I'm still one of those die hard fans of music that still collects records and look forward to each conventions as they come. So thanks for doing that.
CB: It's sad what's happened to the music industry when you think about it. You do what you can.
JC: You keep busy all the time. You are not only a true musician but a true entrepreneur as well. You've also started your own coffee line, Benante's Blend, is that true?
CB: Yeah the coffee thing was something that I spend a lot of time and effort into it. It's something that I'm just kind of passionate about and I enjoy it. I mean I don't think that anyone's going to get rich from this, (chuckles), but more of a labor of love for me. I just really wanted to do it. I did it a of couple years back and I just said, I want to do it a little differently this time, so that's what I'm doing.
JC: So are you heavily involved in the process? I know you did the design work for the packaging, but how in depth did you get into creating Be All End All and Forever Metal?
CB: 100%. Everything down to what beans get picked for the blend and all that stuff. I worked with the roasters in how I wanted it. You see because there are other people, who put there names on things and just sell it. They don't even get to see what there doing. But for me, it was a totally different vibe. It's not just your typical thing. I really worked with them on finding that flavor and aroma. It's not just your typical Arabica bean it's made up of beans from everywhere like Brazil and Ethiopia. So we worked on blends and found the one I liked. For me I like the ones with a kick to them and this was it.
JC: Sounds like you definitely found another calling. You also like other beverages. You've been known to enjoy the taste of a few warm up beverages before going out on stage and playing live. Would this be a precursor to something a bit more heavy down the road?
CB: (laughing) That would be a good idea I'll have to remember that. We did have a whiskey and about to put out another one soon too. But after I launch this, I'm going to start doing other things where this is how I do it. Like I'll add other flavors to my coffees like vanilla or agave and put it on ice or refrigerate it for a while and it will just have this sweet, new flavor and it's just like awesome.
JC: So now in 2015, I know you are a movie fan, a music fan and convention fan, what are you looking forward to? New albums from other artists? Movies you want to see? Collectables you want to get?
CB: There's a couple things I wanna do this year and a couple things I'm looking forward to. I looking forward to this new Refused record, the Ghost record, the new Mumford and Sons record because I love that stuff, but I'm also, like everyone else, looking forward to the Star Wars things. The movies and whatnot. When I saw the new Star Wars trailer, I was like, WOW, I didn't expect that. I kinda got a little choked up at the end it was just such a great way to end the trailer. I was like, whoa, did I just see my life pass before me? It was done very smart. Whoever cut that trailer really did a good job.
JC: I agree. Abrams is on it. I think he knows what the fans want and he's going to deliver. Much like you guys with the new album.
JC: Well Charlie, thank you for your time. I really appreciate it. I'll let you get back to it, but thanks and really looking forward to the new record and some tasty coffee this year and maybe I'll catch up with ya at one of the conventions around town.
CB: Yeah. Cool. Thanks bro. I appreciate it.
For more about Anthrax, the new album, the tour and much more:
Anthrax.com | Facebook | Twitter @Anthrax
For more about Charlie's coffee, artwork and events:
http://charliebenante.com
RELATED LINKS