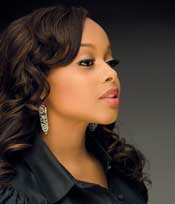 Chrisette Michelle concert at City Winery, March 27th was exciting. The beautiful venue, City Winery, a perfect setting for Chrisette's steamy original love songs. I've been a long time fan of her recordings, but seeing her live was even better. Her band consisted of keyboards, guitar, bass, drums and two female singers. Chrisette has a smooth yet gritty voice, that I would describe as "liquid caramel."
Performing all original material, with an exception of "Summertime," she proceeded to give almost a life history of relationships along with a somewhat humorous banter of her past mistakes. Her songs frequently spoke of a woman rising above bad relations but finding love again, even if it's within oneself as in "No Way Love Forgot Me." Chrisette is a very original singer who pushes genre boundaries that include R&B, gospel, jazz and even opera, as she broke out on "Summertime" with an operatic, 'Porgy & Bess' vocal version! She is a very skilled singer and songwriter. She soared above her back-up band which was good but a little bad at times.
City Winery vibe was very friendly, the sold out crowd was enthusiastic, and for such a large venue, with tables so close together meeting other people was easy. The club was surprisingly intimate. Chrisette made reference to her jazz influences: Art Blakey, Ella Fitzgerald, and Charlie Parker. Her jazzy style was evident as she "scatted" many passages within her R&B tunes. I would love to see her again!
RELATED LINKS