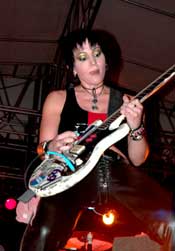 Cleveland's Rock 'n' Roll Hall of Fame has announced its nominees for its 2015 inductions. Nominated for their third time, Joan Jett and the Blackhearts are once again included along with, The Paul Butterfield Blues Band, Chic, Green Day, Kraftwerk, The Marvelettes, N.W.A., Nine Inch Nails, Lou Reed, The Smiths, The Spinners, Sting, Stevie Ray Vaughan, War and Bill Withers.
"Give me Joan Jett with a shag haircut and black eye" states Sandra Bernhard in her 1999 DVD, "I'm Still Here…Damn It!" going off on how she can't take the waifish alternative singers anymore. Well, it's 2014 and those waifers are still around but, so is Joan Jett. In fact she has never left. She's been touring and performing consistently since her start at the age of 15 with, "The Runaways", her first band of the 1970's (Classic line-up: Cherie Currie-vocals, Joan Jett-rhythm guitar, Lita Ford-lead guitar, Jackie Fox-bass and Sandy West-drums). The Runaways' story was also told in the 2010 biopic, "The Runaways."
The Runaways went through a revolving door of bass players and after singer Cherie Currie left the group, Joan took over the vocals. Disbanding in 1979, Joan placed an ad in L.A. Weekly stating she was "looking for three good men" and formed Joan Jett and the Blackhearts with counterparts, Gary Ryan (bass), Eric Ambel (guitar), and Danny O'Brien (drums). O'Brien was replaced with Lee Crystal and later, Erick Ambel with Ricky Byrd. Current line up is long time drummer, Thommy Price, long time lead guitarist, Dougie Needles and bassist, Acey Slade.
Their first album entitled, "Joan Jett" was rejected by 23 major and minor labels so, Joan and Kenny Laguna (her manger and writing partner) started their own label "Blackheart Records" using their personal savings to press and distribute the record, sometimes out of the back of Kenny's own Cadillac. The album was later rereleased on Boardwalk Records as "Bad Reputation" with a favorite tune of the same nomenclature.
The next album, "I Love Rock 'n' Roll" produced one of Billboard's #1 top songs of all time, "I Love Rock 'n' Roll." It rocketed Joan and the boys to the top. Lasting seven weeks on the charts this was a song original by The Arrows that Jett first tried to bring to her bandmates in The Runaways to no avail.
Jett's hits also include a Tommy James and the Shondells cover, "Crimson and Clover," Gary Glitter's, "Do You Wanna Touch Me (Oh Yeah)," Â "I Hate Myself for Loving You" and an amalgam of other originals and first rate covers Jett has definitely earned her place in rock 'n' roll history.
With her raw, raspy voice, anthemic music and loyalty to her rock 'n' roll roots she has been often referred to as the Queen of Rock. Deservingly so.12 albums, multiple acting roles (let's not forget her movie," Light of Day" with the great Michael J. Fox), compilation albums, collaborative albums, a multiplicity of songs about her, references to her in books, film, TV, music and stand up routines, accolades and awards, induction to Long Island's Music Hall of Fame, and own record label, she's worked and influenced a superfluity of musicians and fans too numerous to name. Joan Jett loves rock 'n' roll, lives and breathes rock 'n' roll and is rock 'n' roll. Against all odds Jett and company have prevailed in this male dominated industry and who can be more deserving to be inducted to the Rock 'n' Roll Hall of Fame than a self-proclaimed lover of rock 'n' roll, a poster child of rock and true Rockstar? Will Joan Jett and the Blackhearts finally be inducted? I'm curious to know who will do the inducting if so.
RELATED LINKS