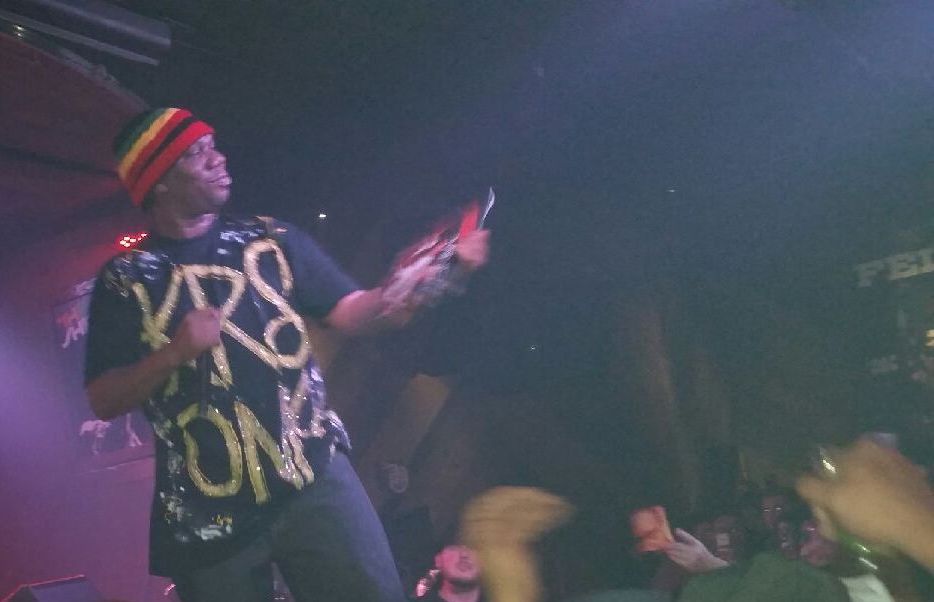 A high level of energy descended upon Chicago's Shrine nightclub in anticipation for the arrival of the legendary KRS-ONE.
PNS (Molemen) commanded the turntables and kept the crowd at a feverish pitch playing golden era Hip-Hop and an onslaught of Reggae and Dancehall tunes while waiting for the show. Then, around 12:30 a.m., The Blastmaster aka The Teacha aka I Am Hip-Hop took command of the stage like Moses holding the Ten Commandments. A controlled chaos ensued as the 50 year old emcee and 28 year Hip-Hop veteran, Lawrence Parker, aka KRS-ONE, gave an adrenaline-charged 40 minute performance.
He kicked things off with a bundle pack of old school classics from albums Criminal Minded (1987), By All Means Necessary (1988), Edutainment (1990), Return of the Boom Bap (1993), KRS-ONE (1995), and I Got Next (1997). After about 15 minutes ripping the mic non-stop, KRS-ONE declared "Now I am ready to start the show". KRS-ONE saw a fan in the crowd holding up a piece of paper which said Invaders; a Mexican empowerment anthem released in 2013.
From breath control to freestyle skills, crowd command, stage presence and song selection, his simple yet awe-inspiring performance was 100% on point. KRS-ONE frequently broke into off the dome freestyles which came effortlessly to him. KRS-ONE never lost the full attention of the crowd or the electrifying momentum that he had built on stage. The only down side about the performance was that it was only about 40 minutes long and that he and the DJ (PNS) did not seem to be on the same page when it came to the sound levels. Also he ended the performance rather strangely... he went to sign a fan's album cover and just ran off stage. The fans were puzzled and did not know if the show had ended or not. The host came out and said that the show was over and about 5 minutes later KRS-ONE came into the crowd to take pictures and sign autographs.
KRS-ONE's high power performance would put 98% of these so-called rappers to shame. I have been to a lot of rap show/concerts and the only other crew that I have seen equal and/or surpass the energy of a KRS-ONE performance is Public Enemy.
Overall the performance was an "A+". Although the two and half to three hours of waiting in a packed shoulder to shoulder crowd... for a 40 minute performance with an abrupt ending was a "D-".
RELATED LINKS