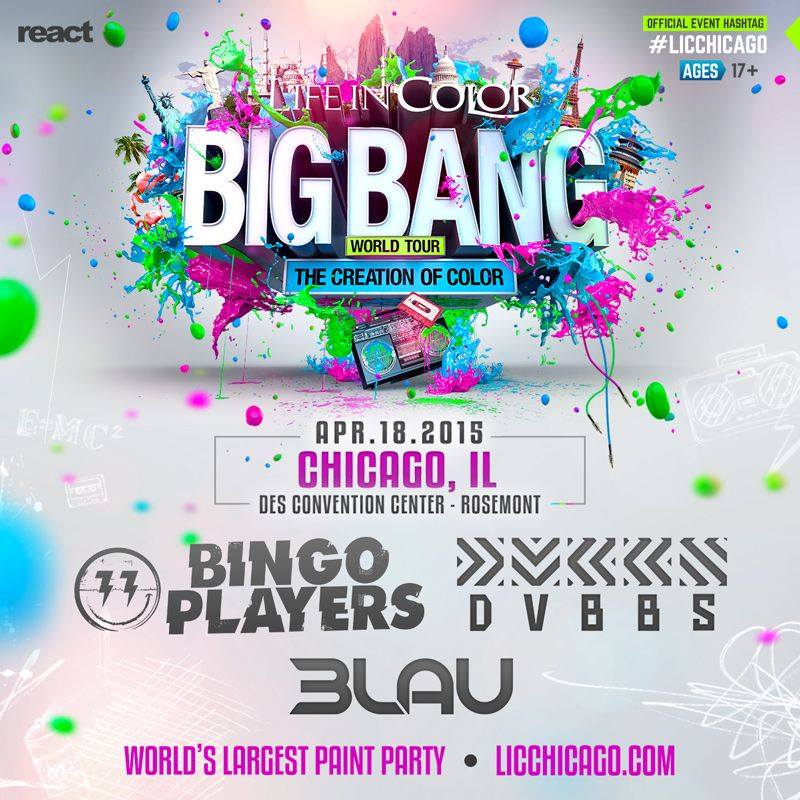 This is the first year I went to Life in Color Big Bang World Tour The Creation of Color Chicago 2015, I always kept hearing great things and when I heard 3LAU and Bingo Players were coming I didn't even hesitate I bought my ticket because I knew it was going to be a good show. Let's just say by the end of nigh when you got home to take a hot shower after one of the greatest paint rave tours, you can look down and the bath water will be swirling with blue, pink and green colors. A few hours earlier before all the colors are being splashed on you, Life in Color toured and on Saturday, April 18th it was Chicago's time to rage. This was the first time Life in Color had age restriction of 17+ compared to last year which was in Milwaukee.
By around 7pm, Rosemont was packed with a huge line of ravers wearing their white apparel and ready to be splashed with those neon colors. Porn and Chicken started the night off and dropped the Life in Color's anthem, "The Big Bang" at the beginning of the paint countdown to start off the night. When the countdown struck zero and the lights went haywire the crowd started to scream in anticipation. Everyone started to jump up and down, and you can feed off the energy of the entire crowd. Then out of nowhere the paint cannons exploded. After the first paint blast, everyone was taking in the music.
3LAU blew my mind, from the moment he stepped into the 3LAU's house. 3LAU showed us a phenomenal time from the first beat that they dropped until the last song. I felt like my soul was shaking with the bass and the lights ended up taking me to another world. There was such a variety of lights that when they collided you can see an image of a cloudy sky being formed right above everyone's heads. Bingo Players did an amazing job with blending older tracks with some of the newly released tracks that have some pretty sick drops. There was performers in light up suits which made them look like transformers. Unfortunately, DVBBS who was the last headliner couldn't make it due to their flight being delayed because of storm warnings. But overall all the artists performed with such an energy and throwing those sick bass-thumping beats with electronic riffs.
By the end of the night, everyone was breathless and soaked in paint. Sadly all good things have to come to an end. I was dripping in paint since I made it the front row. I felt like the kids from Nickelodeons who would get green slime all over them. Luckily I didn't have to take the train home, I wonder the looks I would of received walking down the street but I wouldn't even care I had such an amazing night but let's just say my night was barely starting because I was heading to Concord for the after party with 3LAU and Milk n Cookies, all I needed was to clean up and party some more.
This might have been my first time at LIC, but I am very certain it won't be my last. The ability to just get lost with the crowd because of the music and dancing like no one is watching is always a state of mind where I feel like I'm just in the right place. I think this is an experience someone should at least try once.
RELATED LINKS