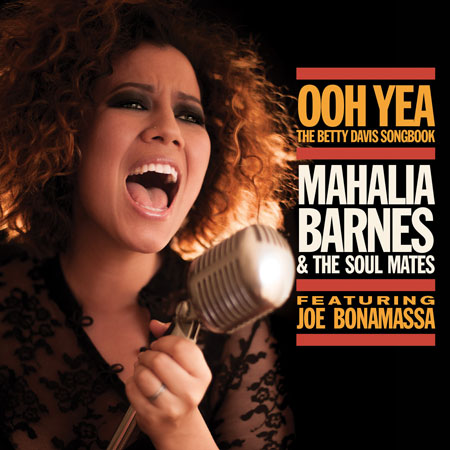 Insiders will most likely know the story about the iconic yet controversial sexy Betty Davis who was married to Jazz legend Miles Davis. Not only was she one of the great voices of funk herself, she also paved the way for many bands by breaking the boundaries of the genre inflicting it with soul and blues as well as more psychedelic structures. By doing so she introduced her husband to new sounds and established herself a solid name by musicians all over the world and in every musical genre. Albums such as "They Say I'm different" and "Nasty Girl" stood the test of time and are still cherished by many. Milestones in music which must have influenced Australian Mahalia Barnes, who recently impressed with her powerful vocal performance on her father's (Jimmy Barnes) "Hindsight" album.
Much like her renowned father Mahalia is blessed with an impressive set of pipes, roaring loud and powerfully. The charismatic Aussie has the ability to bend Davis' classics out of shape just enough to give them new bravado and warp them into the presence.
To do so she managed to lure in none other than Joe Bonamassa alongside her band The Soulmates spectacularly reproducing the cross over Davis tracks while Kevin Shirley turned the knobs and pushed the buttons, ensuring the best possible sound. The outcome is a vivid and inspired collection of songs, which is nothing short of spectacular.
Hammering away with tons of enthusiasm Mrs. Barnes managed to revive the roaring blues-o-tauris that has been tugged away recently inside of Bonamassa. Joe throws around his wild riffs and blues chops from the old days with such panache that it must awaken his raw blues feeling for the upcoming tour. The opening powerful hammer "If I'm in Luck I might get picked up" instantly creates the wave needed to stir up the silence. Loud hammering drums, pumping bass and Joe ripping it up to launch Mahalia into orbit. The song keeps up the pace and has a jam feel which empower the songs on this album even more. Check out the funky piano rocker "Steppin' in her I. Miller Shoes", a ¾ paced stomper with Barnes pitching it up high and raw. It's that pace that slams you backwards for over 50 minutes, it's Mahalia Barnes' voice that grips for the same amount of time. "He was a Big Freak" grooves heavily keeping Davis' well known punk funk vibe alive. Undistorted guitars, funky drum shuffles and the bass slaps away wild. It's that same slapping bass playing a leading role announcing "Your Mama wants to Rock" making way for some fine vocal interaction between Mahalia and the choirs over the ear mingling chorus. "Game is My middle Name" grooves further onwards and has the same lush and sexy vocals which made it beloved by fans of Davis. Barnes manages to inflict it with a ton of soul and lifts the powerhouse soul chorus to bedazzling heights. "Nasty Girl" is propelled by grim vocals kicking it up as intended. The song upset the scene in the mid 70's thanks to the sexual controversial attitude of both, the song and the performer, having it boycotted on radio and tv. The loadmouthing lyrics add up to Mahalia's vocal approach, which is as sexy as it is anger-laden. "Ooh Yea" is the typical funky 70's outburst which sounds recognizable \ due to the Isaac Hayes reminiscent vocals which are deep and soulful. Towards the end the song suddenly comes alive and swings away with a tremendous drive, contrasting severely with the following free wheeling "You won't See Me in the morning" and the soul funk "Anti-Love Song."
Absolute highlights are to many to mention, but the soulful "In the Meantime" is certainly one for the books. It swings slowly and has the vocalist exploring her wide range in optima forma over lush Hammond tones and an drama oozing solo from Bonamassa.
"Walking up the Road" is another memorable tune with Jimmy Barnes joining forces with his eldest. Together they scream and shout out their lungs revealing the anguish and joys of life's road to travel. Mahalia clearly inherited the vocal power from her father but is blessed with a much wider range and much more warmth displayed on this track.
The album is closed by the amazing funk ballad "Shoo-B-Doo and Cop Him" leaning on the lush guitars and excellent choirs making it end up all sexy and soulful.
"Ooh Yea – The Betty Davis Songbook" is the perfect launch board for one of Australia's most powerful and charismatic voices today. Mahalia Barnes revives the Betty Davis classics with such enthusiasm and power that the songs bloom 40 years after their original release. The outcome is an excellent soulful album with punk funk power and slamming rock outbursts, outlined in shiny gold by Barnes' inspired powerhouse vocals and jaw dropping performance. This is likely to be one of the best releases of 2015!
98 out of 100
RELATED LINKS