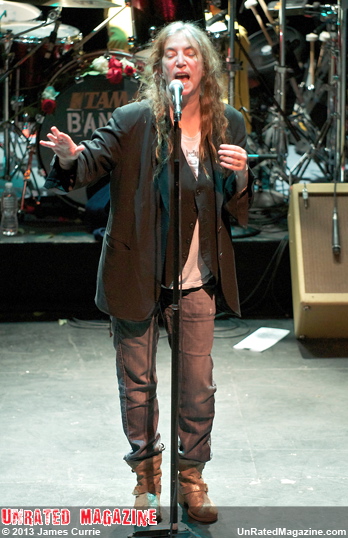 The last time Patti Smith was in Chicago, last November, it was to receive the 2014 Chicago Tribune Literary Award a lifetime achievement award for the scope and significance of her body of work as an author and its impact on American society. So it comes as no surprise that her concert tonight showcased her latest poetry lovingly mixed with a selection of her hit songs. Her band gathered on stage and the minute she appeared the Chicago born icon was greeted home style, she beamed smiling and said, "Glad to be back."
With that warmth Patti started the 1st of her 3 sold out shows at the intimate and acoustically ideal OTSFM's setting for her concert Spring Awakening, a Celebration of Poetry & Song. She began appropriately with her song April Fool and then led into one of her classics Redondo Beach with appreciation for arriving into a sunny Chicago after a long snowy winter out east where she lives in New York. I felt lucky to see this show, for its level of intimacy, so confidential and comfortable, like sitting down with an old friend where no matter how long its been since you've seen her, the closeness remains natural and strong. Patti kept her warm smile and mischievously sparkling eyes throughout her show infectious with love and spellbinding her audience as no other can. The rest of Patti's tour takes her to Europe playing songs from her debut and all time favorite album Horses (1975).
I had noted the demographics of the audience with mostly decades long time fans of hers interspersed with 20, 30 and 40 year olds. My curiosity had me chatting with Abby asking her how she came to be a fan of Patti's and she told me it was reading Patti's Just Kids in high school that turned her on to Patti Smith, that and discovering her love of her music with the Horses album.
She dedicated Dancing Barefoot by recognizing the birthday of her friend and poet Anne Waldman, whom she said gave her and Lenny Kaye their first jobs. Patti delighted the audience with her ironic, yet humble humor all that while reading from her poetry collection that showcases the depth and talent of this high priestess of rock and word. She sang Farewell a song she wrote when her daughter Jesse was 4. Her daughter Jesse Smith (piano) and her son Jackson Smith (guitarist), were part of the 4 member band along with guitarist Tony Shanahan. They celebrated spring with George Harrison's Here Comes the Sun, then launched into the raw and revealing Summer Cannibals written by her late husband Fred 'sonic' Smith and Patti. The song caused Patti to reminisce about her and Fred's writing it as a metaphor for DaVinci's painting The Last Supper and we followed her stream of thought into her description of seeing the original in Milan as a faded and delicate ghost of itself.
The energy onstage and in the hall surged as they played Pissing in a River and Because the Night to finish their show, but Patti could not resist the long standing ovation and they came back out for an encore of two more songs. Patti inspired the crowd finishing with her optimistic, People Have the Power, challenging us all to exercise that power in every way politically, socially and personally.
RELATED LINKS