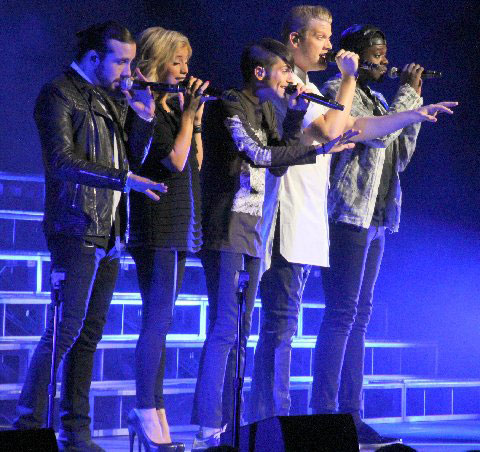 Pentatonix - also known as PTX - brought the warmth to Chicago with two sold-out shows at the Chicago Theatre. The five member a capella group hails from Texas. It is no wonder why this band was presented a Grammy for best arrangement, Instrumental or A Cappella. Signed to RCA, Pentatonix caught their first glimmer of fame when in 2011 they won "The Sing Off" competition which features a cappella groups on NBC TV.
The Pentatonix founders are Scott Hoying, Mitch Grassi, and Kirstie Maldonado. By adding Avi Kaplan and Kevin Olusola they rounded out their unique sound. The band has four EPs released with their PTXmas EP (Christmas songs) going platinum and it was the fourth best selling album in 2014.
As the lights went out at the Chicago Theatre, the five members took stage and launched into a stellar 90 minute show performing songs including "Problem" (Ariana Grande), a Beyonce' medley, and "Telephone" (Lady Gaga). During the show the band thanked their large fan base numerous times and also told the crowd they now reached eight million subscribers on their YouTube page. During the Rihanna cover "Four Five Seconds" the band took a stroll and walked thru the Chicago Theatre high fiving fans and posing for selfies and they never missed a beat singing every note of the song. One of the crowd's favorites was "Evolution of Music" where the band starts at the 11th Century of music and winds up in 2015 performing top hits within four minutes. While the band is very interactive with the crowd at each city they select one female fan to come on stage and the band serenade's her with the Marvin Gaye hit "Let's Get It On". The woman on stage was having the time of her life as she swung her leg up to Avi and tore off her jacket when Scott started serenading her.
In a time when bands are relying on double-tracking and auto tuners to inhance vocals, it is pleasing to know that Pentatonix can look the other way. This band is that good. This summer they announced they are touring with Kelly Clarkson. For all the latest PTX news and tour schedule check out www.PTXofficial.com.
RELATED LINKS