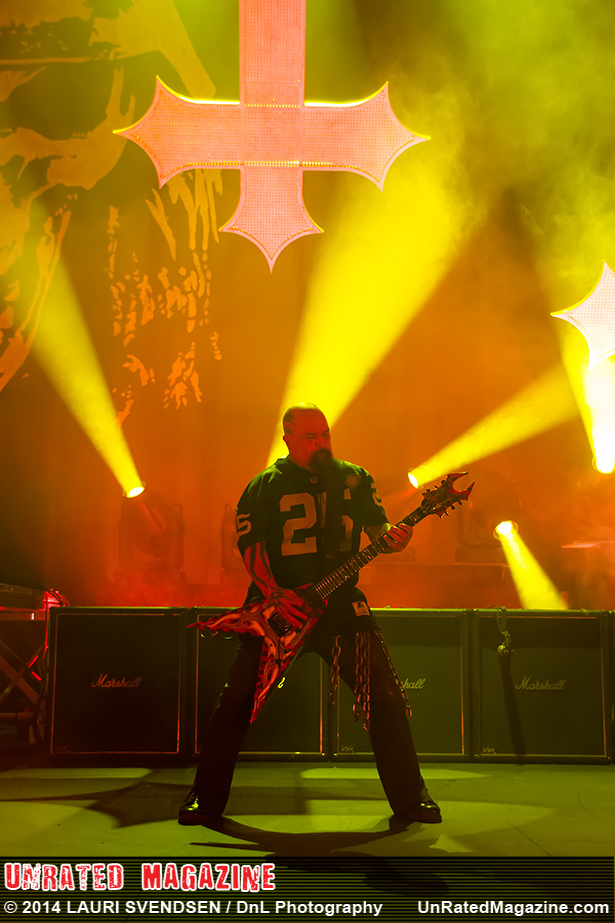 A curtain draped over the stage at the Comerica in Phoenix was glowing in red as the members of Slayer took their places behind it. When the curtain came crashing down the band showed they were ready for war with the set opener World Painted Blood. The usual pentagram and giant upside down crosses hung from towards the back of the stage.
Pits raged and sweat flew as the band — barely stopping between songs — churned out Postmortem, Hate Worldwide, Die by the Sword, Chemical Warfare, War Ensemble and Mandatory Suicide. Except for songs like Seasons in the Abyss, the band never gave you enough time to wipe the sweat from your head. Everything you would expect, and want, from a Slayer show.
During the last two encore songs, South of Heaven and Angel of Death, there was a touching backdrop tribute to the late Jeff Hanneman of a giant Heineken logo that read "Hanneman 1964-2013, Angel of Death Still Reigns."
Setlist:
World Painted Blood
Postmortem
Hate Worldwide
Die by the Sword
Chemical Warfare
War Ensemble
Mandatory Suicide
Necrophiliac
Spill the Blood
Hell Awaits
At Dawn They Sleep
Altar of Sacrifice
Jesus Saves
Disciple
Seasons in the Abyss
Snuff
Dead Skin Mask
Raining Blood
Psychopathy Red
Encore:
South of Heaven
Angel of Death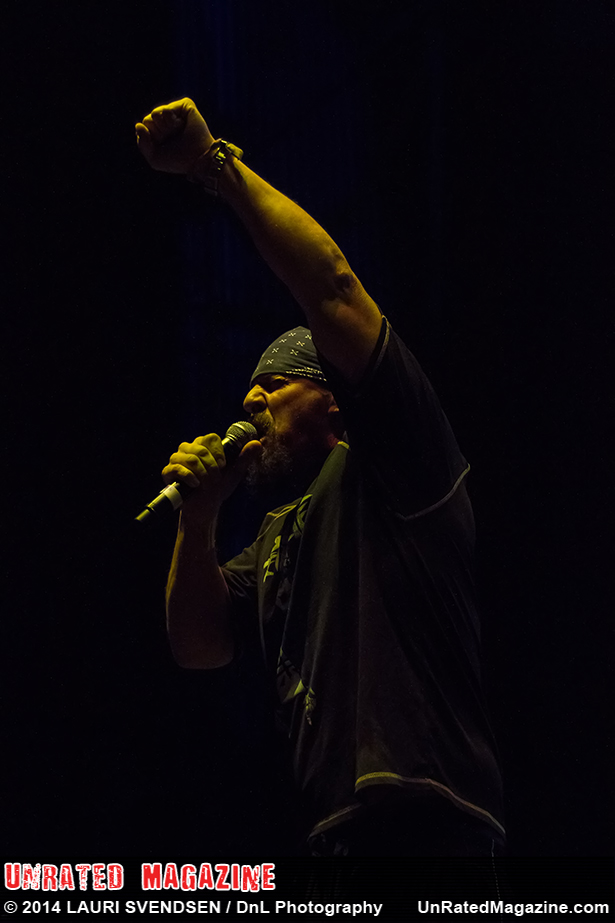 Exodus opened the show, on tour to support the new album Blood In, Blood Out with vocalist Steve "Zetro" Souza, and crushed with a short but brutal set. The crowd went nuts when the band delivered such gems as Blood In Blood Out, Bonded by Blood, Strike of the Beast and Blacklist. And how can you honestly not go nuts to The Toxic Waltz?
Suicidal Tendencies leant direct support with an adrenaline filled performance that saw first pumping the air during You Can't Bring Me Down, Freedumb, War Inside My Head, How Will I Laugh Tomorrow and Pledge Your Allegiance. It seemed that the band was racing around as much as the pit was.
RELATED LINKS