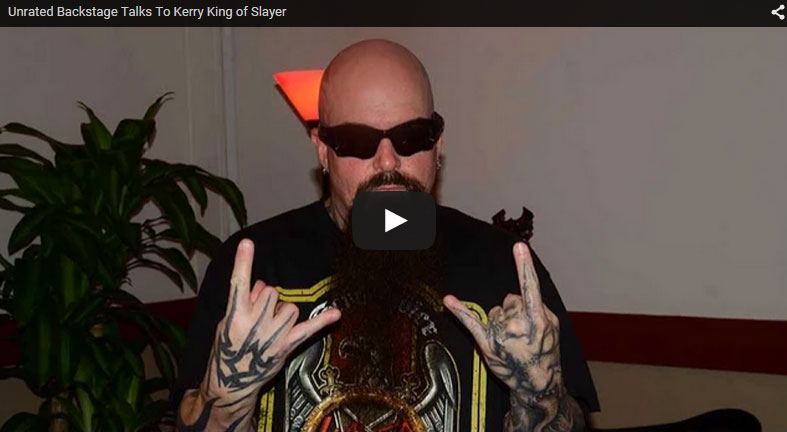 Slayer: Kerry King Discusses New Album and Tour
Interview conducted on July 12, 2015
The 2015 Rockstar Energy Drink Mayhem Festival - July 12, 2015 (First Midwest Bank Amphitheatre in Tinley Park, IL) Interview by Dan Locke
Guitar metal icon Kerry King sits down to discuss the upcoming album, "Repentless" due out in September this year.  Sitting backstage doing interviews, King wearing his dark sunglasses and being the most respectful. He was very open and even gives us some truth of his thoughts about the Rockstar Energy Drink Mayhem Festival 2015.
How was it winning a Grammy? "One of the most retarded things ever. Anyone involved with the Grammy's has no idea anything about metal, let alone hard rock. The first time a Grammy was awarded was to Jethro Tull, are you serious? Last year Tenacious D they're a focus joke band." King continues, "I think it's cool for my parents because they understand what a Grammy is, but they do not understand the bullshit involved."

 

How has metal changed in the past 35 years? "For us not at all. We were the same band when we put out "Show No Mercy." Older and wiser, and hope my lyrics are more intellectually sound than when I was 19. We had a big wave up to the early nineties till Grunge came and killed every music on the planet." Kerry further discussed after the Grunge era. "You just had to wait around for the next surge of people who wanted metal. For me it started happening around 2000 or 2001. Slayer was re energized, and it seems like it took off again. For us it was the same all the way through. I refer to it as that weird phase of the 1990's."

"Grunge... I refer to it as that weird phase of the 1990's."
Kerry King continues to discuss the production of the new album, "Repentless" to be release on September 11, 2015 by Nuclear Blast Records. King cannot wait for it to hit the public.
Kerry King's travels with about 10 BC Rich's guitars, with the favorite being the one with the fire with the tribal above it. What he does not carry on tour is his Mockingbird guitar from the first two Slayer records (1977). King is not positive but the guitar may have been played on the new record. King continues describing his vast guitar collection that he carries on tour including his 25th Anniversary Reign In Blood where only 25 were produced by BC Rich. King does not feel right carrying the first guitar of the series so BC Rich produced one additional guitar, so they actually made 26 and he has two (the first and last).
"It's unfortunate that the price retails over $9,000." …referencing the 25th Anniversary Reign In Blood guitar, "I image they go up in value, but I'm not a collector."
Listen to the complete interview at UnRated Magazine Youtube Channel.  Thanks Kerry King and Slayer.