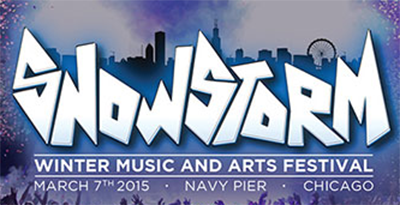 This was Chicago's first ever Snowstorm Fest with an electronic flurry of music's talented electronic artists. In just one day there was two stages and 11 electronic artists. The main stage was in the grand ballroom where Moby DJ was the headliner and in the second floor we had Zimmer in a more chill out lounge stage. There was paper snow that was being poured in the grand ballroom, while there were lamps and tables that were meant to look like ice sculptures. The VIP section had a sign that was labeled as 'Luxury Igloos' where you had a reserved tables and a great view of the main stage while having a few drinks. Everyone was asked to wear white and for most part, the people who went to the festival were rocking out their white outfits.
We were celebrating the end of a very long winter. The stages were broken into two, a 'chillout lounge' which was located upstairs in the second floor and the main stage on the ground floor. As any other festival I've been too, everyone was welcoming as in other summer concerts or even more since I saw way more older people around my age. I was able to drift between stages like nothing. Many of the artists who were upstairs came from Chicago. Win + Woo were two guys who are from around here and played some deep house grooves with a sample of Kanye West's 'Bound 2.' They finished their set with some 90s hits and many of us will be able to relate with the song that came out in Mean girls 'A Thousand Miles' by Vanessa Carlton.
I was super excited to see Trippy Turtle because I heard things about him. He knows how to perform and mix it up with his song selections. He was wearing his turtle onesie. He played some '90s and when he played his mix of Spice Girls 'Wannabe' everyone went crazy. What I loved the most is when he played some Romeo Santos and Usher. It was an obscure delight with the picks he made, was such a delight to hear all those songs in big while everyone else was jamming with you. When Trippy Turtle played 'Lemonade,' a bunch of PC Music fans just lost control. He was going hard with his turtle onesie, and the entire set was very joyful. He knows how to keep people up and going. He is one hell of a front man. I enjoyed every second when he was on the set.
You have to realize that not everyone who makes music can be a performer. RJD2 came out with some of his original sets and everything sounded methodically all together with the LED screen lighting. The visuals were intense with the red and blue flickering over everyone that was in the crowd. He scratched some of his record. But let me talk about Moby! Moby made it just all one. Moby is the type of DJ that can play some of the sad and weird tunes that come out in the radio when you're driving home from the longest night ever. He makes you connect with the music. Moby is a performer like no other, he makes you rock out like in the '80s rock concerts. Since Moby is a small guy, you could barely see him over the table but he stood up on top of the speakers where he stood reaching his arms wide open. He pumped his fists while the deep cuts he picked played in the background. The music was heavy and driving and changed quickly, it would go from one melody to another and those melodies were something you would want to keep hearing all night long. He started his night with 'Natural Blues' and ended with 'Where's Your Head At.' Moby is the type of guy that tells us a story with his music. All I can say, it was one crazy night, where many of us will want to remember.
RELATED LINKS