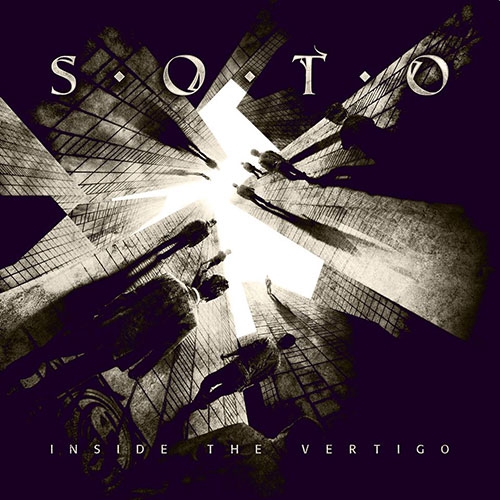 S.O.T.O is the name band from name giver Jeff Scott Soto and marks his return to the music that made him famous in his debuting days. With Yngwie J. Malmsteen he recorded some of the most groundbreaking new styled metal songs and his star was rising. Joining forces with metal greats such as the talented shredders Kuni and Axel Rudi Pell enforced his name in the scene. His passion for melodic rock also made him work on classics such as Eyes, Takara and Talisman, the latter of which he was a founding member together with Marcel Jacob (R.I.P).
Over the last decades Soto has kept building his name as a performer and (solo) recording artist and has become one of rock's most celebrated vocalists recording and touring with alumni's such as Trans-Siberian Orchestra, Lita Ford, W.E.T, Steelheart and the great Journey.
With Soto he brings together the sounds of his long spanning career.
After the first couple of spins I have to admit that Soto has benefited from JSS' past. The songs combine the best of styles and are molded around the excellent and powerful voice of Jeff himself. "Inside the Vertigo" displays a side of Jeff we haven't heard in a long time and brings back sweet memories from his metal days with Pell and Malmsteen. One name also pops frequently, and that's the name of the underrated Panther album he recorded back in 1986.
The songs balance on the fine line between (heavy) metal and melodic hard rock with groove laden huge guitar walls and a slightly progressive undertone. "Final Say" instantly rips away with a face-melting riff and the wall of sound hitting you is a thick one. Multi layered guitars and vocals, which pull the song, forward and create a great foundation for Soto's powerful vocals. It's a constant high pace maintained by the outfit delivering some great melody driven tracks such as the Gus G song "Wrath" and "Break" with Kamelot's Casey Grillo pounding the skins.
Though Soto will be a real band as intended, Jeff relayed on his musical network for writing and performance of this album bringing in well-known and lesser known fellow musicians to work and co-write the material. Though one might frown upon that idea, the Soto sound is consistent and recognizable instantly with Jeff hitting it up loud and wild.
An absolute highlight is the amazing 9-minute epic "End of Days" which is powered up by orchestral sections and the powerful guitar work of Jorge Salan. The towering keys and brilliantly integrated string section make this one of the best tunes I've heard from Soto's hand.
Now that last statement is not to be taken lightly because even though I consider JSS one of the finest vocalists in the field, I also frown upon most of his solo releases. His solo efforts never managed to strike me. The material always seemed inconsistent and widely varied whilst the vocal lines also stayed behind. Passionately he pens his tunes, but only a few tunes really gripped me over the years and his albums always ended shelved to collect dust.
With Soto however he moves in a direct outlined direction leaving no room for funky outbursts or unexplainable choices. It hits full frontal and the songs move onwards like a freight train on course. The immense power and drive even takes away my focus from the somewhat tacky vocal melodies ("The Fall," "Break," "Jealousy"), which almost ruined it for me. Almost....
Songs like the futuristic title track and "Trance," the semi-ballad "When I'm Older," and epic "End of Days" however are too good to be true, too good to be discarded by fans of metal as well as melodic rock. And what to think of Jason Bieler's (Saigon Kick) "Karma's Kiss" which features the typical taunting trademark riffs by Bieler combined with a sticky melody that could easily be featured upon "The Lizard", without lacking the identity of this SOTO album.
"Inside the Vertigo" is the debut of SOTO the band, evolving around a real band starring Jeff Scott Soto on vocals. This is a wise move by JSS who delivers a great and powerful rock album, planting the seed for a new chapter in his illustrious career. Maintaining the momentum and closing the ranks in terms of songwriting as a band will be the key to a glorious new album.
I have high hopes.
79 out of 100
RELATED LINKS