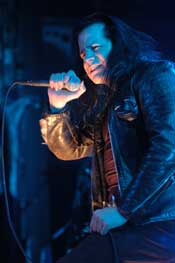 "Mother" was the final tune that The Demon, Glenn Danzig, belted out on the evening of October 10, 2005 at the Chicago House of Blues. His final Hoorah, you can say, as Glenn Danzig prepares for a new chosen journey of life from being the rock legend he is. Movie director, producer, concert promoter, give this man a name. If any song sung , "Mother" is the song that every one knew. Most likely popularized by the video which played non-stop (from what I remember) throughout the 1990's. "Mother", we all know the words, Danzig fan or NOT.

As some fans always seem to exit during the last songs, (I could never understand why, if you pay for the ticket; I want my full value) Danzig and the rest of his crew came out to give us 2 more favorites including "I'm The One" and Misfits classic "Die, Die My Darling" with none other than special guest star on the tour, Doyle Wolfgang von Frankenstein. This is where it got exciting once more, but not as far as a song or two before, Last Caress. Watching the frenzy below really makes excitement, as all people become one wild bunch of moshers. This in itself was worth the price of admission.

The majority of fans that came out this night to the House of Blues for Danzig's project "Blackest of Black" were full of anxiety. A very special moment was when several sets were all about the "Mistfit" with Doyle. "Reunion", not entirely; but needless to say, it was the music by the Misfits with the one who had the right to play and sing --- Danzig and Doyle. It was a time machine for several fans in the audience, who probably were there during the infancy of the band, "The Misfits."

On this same stage a few weeks earlier, another punk rock legend, Social Distortion's Mike Ness, voiced, "Back then it was dangerous to be a punk rocker." Doyle brought something to this audience, as adrenaline poured out of the old and the young; security holding back this base of fans that just let everything go. Doyle was there, muscle-bound and a huge presence on stage, with Danzig on his side from the days of old, when PUNK ROCK was dangerous. This complimented Danzig and the rest of his band, which was the Misfits for about 20 or 30 minutes of the early stuff (for many of us just images from magazines and old film strips of what these 2 legends were back in the day) as classic Misfits punk rock music played.

"Last Caress" was the tune that put everyone into the most aggressive frenzy, which I have not seen for quite a while. Before Glenn Danzig sang one word or one chord was played, Danzig voiced, "You might have heard another band played this song", while continuing to shout his monologue, "Well, I did not like it!"....Boom!.... First note and the pit at this venue, and most on the floor, ripped out and thrashed. Everyone voiced, "I killed your baby today, And it doesn't matter much to me...". Sometime back, Metallica produced the hit single and their version of this Misfit's classic in what is now a Metallica classic, "Garage Days Revisited". Most likely the reason this song has so much mass appeal and popularity as one of the vault classics of metal punk music.

The fans were thrashing, bodies were slamming and surfing, and as always the security at the House of Blues had full control; keeping them all safe from harm. What surprised me this night, and brought the House of Blues to a huge roar was one body surfer, shirtless and larger than most of the fans, who was carried to the front of the stage, high in the air, and security was barely able to bring this big dude down, but they did --- and safely.

This crowd came together and showed that everyone has a part in the mosh pit.

This is considered Danzig's last tour, so if you still have a chance to catch the "Blackest of Black" with Danzig, get your ticket and get out there. You will walk out with the ultimate of fulfillment and your small slice of history!
---
RELATED LINKS:

Blackest of Black
DANZIG - VEROTIK
Official DANZIG Fansite
The Misfits
The Unofficial Doyle Wolfgang