!link rel="stylesheet" href="/css/normalize.css"> <!link rel="stylesheet" href="/css/style.css">
BEHEMOTH To Kick Off North American Tour With Special Guests At The Gates And Wolves In The Throne Room This Weekend
Polish black/death overlords BEHEMOTH will return to North America this weekend for their long-anticipated headlining tour. Set to run from October 20th through November 24th, support will be provided by At The Gates and Wolves In The Throne Room. Tickets can be purchased at: behemoth.pl. See all confirmed dates below.
BEHEMOTH will be touring in support of their I Loved You At Your Darkest full-length, released earlier this month via Metal Blade Records. Produced by the band, with drum coproduction by Daniel Bergstrand (Meshuggah, In Flames), mixed by Matt Hyde (Slayer, Children Of Bodom), and mastered by Tom Baker (Nine Inch Nails, Marilyn Manson), I Loved You At Your Darkest is a crushing salvo of black metal majesty replete with hellish riffs, thundering drum cannonades, and soaring liturgical choirs reminiscent of classic horror cinema. To preview and purchase I Loved You At Your Darkest, visit behemoth.lnk.to/ILYAYD.
BEHEMOTH w/ At The Gates, Wolves In The Throne Room 2018 Fall Tour
Behemoth announces Evangelia Amerika Tour 2010
The mighty Behemoth will once again be returning to North American soil in 2010! This is their first tour in the region since their massively successful summer with the Rockstar Energy Mayhem Fest. Following Mayhem, Behemoth's Evangelion reached enormous heights, coming in at #56 on the Billboard Top 200, #61 on Canada's Top 200, and three weeks straight at #1 in Poland before being certified gold in their home country.
The fans have spoken and Behemoth's return to North America will be a triumphant conquest presented by Revolver Magazine in association with Affliction, ESP Guitars and with on-line media partners KillerTours.com and VampireFreaks.com. Supporting Behemoth on the Evangelia Amerika tour will be Septic Flesh from Greece and Shining from Sweden.
Tickets will go on sale beginning on November 20th, 2009
---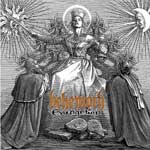 Extreme black/death metal powerhouse, Behemoth, has done it again! The band's newest masterpiece, "Evangelion", premiered in Poland, August 7th, 2009, through Mystic Productions, but was released to the rest of Europe, August 9th, 2009, on Nuclear Blast Records. Although at the time of its European release, Behemoth was busy playing in the U.S. with such names as Slayer, Marilyn Manson, Cannibal Corpse, and Black Dahlia Murder on the Rockstar Energy Drink Mayhem Festival Tour, "Evangelion" made quite an impressive showing in Europe, entering the charts in Finland for the very first time at #17, Austria at #45, Germany at #59, Switzerland at #88, and in the Netherlands' indie charts at #5. In fact, currently, "Evangelion" is the #1 best selling album in Poland, Behemoth's country of origin. Following its release in the U.S., August 11th, 2009, on Metal Blade Records, "Evangelion" entered Billboard's Top 200 Chart at a noteable #56, took the #5 spot on Billboard's Hard Music Albums Chart, and grabbed #6 on the Billboard Independent Albums Chart. The reason for the success of Behemoth's latest effort perhaps lies in a quote from the band's vocalist/guitarist, Adam "Nergal" Darski, who simply states,
"Well, we have never been in this band for awards or charts. It's always been about the most honest music we can deliver...."
Indeed, "Evangelion" comes to us all with the same honest intensity found in Behemoth's eight other full-length studio albums. As one listens to "Evangelion", it is incredibly clear that making music is not just a business for these guys. It is their life's work, and their chosen method of self-expression through art. As irreverent as ever, Behemoth gives the true metal conoisseur everything he or she could ever want with such tracks as Daimonos, Shemhamforash, and Ov Fire and the Void, all of which are laden with scorching, Nile-reminiscent guitar riffs, face-melting vocals, and all the rhythmic and lyrical complexity we've come to expect from these metal giants. Don't wait another day to get your copy of "Evangelion". This is one you won't want to miss!
Review by Azlana Darque ©2009
---
BEHEMOTH announces title of upcoming album
(Los Angeles, CA) April 15, 2009 – Polish extreme metalers BEHEMOTH have set Evangelion as the title of their 9th full-length studio album due out this summer. Evangelion marks the follow up to the bands extremely successful 2007 release The Apostasy; a release which saw BEHEMOTH acquire the supporting slot to second stage headliners Hatebreed on Ozzfest which also featured Lamb of God, Lordi, and Nile just to name a few. Following Ozzfest, BEHEMOTH co-headlined the Radio Rebellion Tour with Job for a Cowboy with support from Gojira and Beneath the Massacre with the band's final North American tour being a direct support slot to Norwegian legends, Dimmu Borgir. After a short break for writing, BEHEMOTH entered Radio Gdansk in Poland to begin recording. Evangelion see's BEHEMOTH, Daniel Bergstrand and Woytek and Slawek Wieslawscy as producers with Colin Richardson (Machine Head, Slipknot, Napalm Death, Carcass) set to mix the album.
Here's what frontman Nergal has to say; "I've had this title in my head for almost a year now and it grew on me. It sounds nothing but powerful and epic which perfectly mirrors the essence of the new album. Evangelion comes from a Greek word 'Spreading the word of God' or 'spreading the good news'...oh well, you already know that we love to play with the meanings and symbolism. We're here to show you our interpretation of what Evangelion really is."
In support of the band's 9th full-length studio album Evangelion, BEHEMOTH will be touring on what is sure to be this summer's largest and most bone crushing metal festival; the Rockstar Energy Mayhem Festival. BEHEMOTH will be conquering the Hot Topic stage alongside label mates Cannibal Corpse, The Black Dahlia Murder, Job for a Cowboy and Whitechapel on over 25 dates this summer so make sure to catch the masters of blackened death metal live when they come to a city near you.
Details on Evangelion's packaging, artwork, track listing, and pre-orders will be announced over the coming months so be sure to keep an eye on the band's sites and Metal Blade's sites for further information.