!link rel="stylesheet" href="/css/normalize.css"> <!link rel="stylesheet" href="/css/style.css">
Kiss: End Of The Road World Tour After an epic and storied 45 year career that launched an era of rock n roll legends, KISS announced that they will launch their final tour ever in 2019, appropriately named END OF THE ROAD. The initial announcement was made a month ago on NBC's America's Got Talent which sent the internet into overdrive with fans hoping their city would get one final KISS show. The band announced today the first set of dates and cities in North America, produced by Live Nation. International markets were also announced simultaneously today. Tour itinerary detailed below; KISS will be offering VIP experiences and special KISS Army fan presales.
KISS Meet & Greet Experiences will be available beginning Tuesday, October 30th at 10am local time through kissonline.com. KISS Army fan club presales will begin Wednesday October 31st at 10 am local time also through www.kissonline.com. Citi is the official presale credit card for the End of the Road World Tour. As such, Citi cardmembers will have access to purchase U.S. presale tickets beginning Wednesday, October 31 at 12:00pm local time until Thursday, November 1 at 10:00pm local time through Citi's Private Pass program. For complete presale details visit www.citiprivatepass.com. Tickets to the general public will go on sale starting Friday, November 2 at 10am local time at LiveNation.com.
Known for their trademark larger-than-life blistering performances, KISS has proven for decades why they are hands down the most iconic live show in rock n roll. The Rock & Roll Hall of Famers who have sold more than 100 million albums worldwide have said this tour is devoted to the millions of KISS Army fans.
"All that we have built and all that we have conquered over the past four decades could never have happened without the millions of people worldwide who've filled clubs, arenas and stadiums over those years. This will be the ultimate celebration for those who've seen us and a last chance for those who haven't. KISS Army, we're saying goodbye on our final tour with our biggest show yet and we'll go out the same way we came in... Unapologetic and Unstoppable," said KISS.
TOUR ITINERARY Date City Venue
January 31, 2019, Vancouver, BC, Canada Rogers Arena
February 1, 2019, Portland, OR Moda Center
February 2, 2019, Tacoma, WA Tacoma Dome
February 4, 2019, Spokane, WA Spokane Arena
February 7, 2019, San Diego, CA Viejas Arena
February 8, 2019, Fresno, CA Save Mart Center
February 9, 2019, Sacramento, CA Golden 1 Center
February 12, 2019, Anaheim, CA Honda Center
February 13, 2019, Glendale, AZ Gila River Arena
February 15, 2019, Las Vegas, NV T-Mobile Arena
February 16, 2019, Los Angeles, CAThe Forum
February 19, 2019, Corpus Christi, TX American Bank Center
February 20, 2019, Dallas, TX American Airlines Center
February 22, 2019, New Orleans, LA Smoothie King Center
February 23, 2019, Memphis, TN FedEx Forum
February 26, 2019, Oklahoma City, OK Chesapeake Energy Arena
February 27, 2019, Kansas City, MO Sprint Center
March 1, 2019, Milwaukee, WI Fiserv Forum
March 2, 2019, Chicago, IL United Center
March 4, 2019, Minneapolis, MN Target Center
March 6, 2019, Sioux Falls, SD Denny Sanford PREMIER Center
March 7, 2019, Omaha, NE CHI Health Center Omaha
March 9, 2019, Grand Rapids, MI Van Andel Arena
March 10, 2019, Moline, IL TaxSlayer Center
March 12, 2019, Louisville, KY KFC Yum! Center
March 13, 2019, Detroit, MI Little Caesars Arena
March 16, 2019, Columbus, OH Nationwide Arena
March 17, 2019, Cleveland, OH Quicken Loans Arena
March 19, 2019, Montreal, QC, Canada Bell Centre
March 20, 2019, Toronto, ON, Canada Scotiabank Arena
March 22, 2019, Long Island, NY NYCB LIVE's Nassau Coliseum 
March 23, 2019, Uncasville, CT Mohegan Sun Arena
March 26, 2019, Boston, MA TD Garden
March 27, 2019, New York, NY Madison Square Garden
March 29, 2019, Philadelphia, PA Wells Fargo Center
March 30, 2019, Pittsburgh, PA PPG Paints Arena
April 2, 2019, Quebec City, QC, Canada Videotron Centre
April 3, 2019, Ottawa, ON, Canada Canadian Tire Centre
April 6, 2019, Raleigh, NC PNC Arena
April 7, 2019, Atlanta, GA State Farm Arena
April 9, 2019, Nashville, TN Bridgestone Arena
April 11, 2019, Tampa, FL Amalie Arena
April 12, 2019, Jacksonville, FL Jacksonville Veterans Memorial Arena
April 13, 2019, Birmingham, AL BJCC
About Live Nation Entertainment Live Nation Entertainment (NYSE: LYV) is the world's leading live entertainment company comprised of global market leaders: Ticketmaster, Live Nation Concerts, and Live Nation Media & Sponsorship. For additional information, visit www.livenationentertainment.com.
Rock 'n' Roll legends KISS celebrate 40 years as music icons with their first-ever residency, KISS Rocks Vegas, at The Joint inside Hard Rock Hotel & Casino Las Vegas starting Wednesday, Nov. 5 through Sunday, Nov. 23. Show time is 8 p.m.
"What happens in Vegas will not stay in Vegas, not if we have anything to do with it. We intend to blow the roof off the Hard Rock Hotel & Casino," said Gene Simmons, founding member of KISS.
Four decades after beginning its exemplary journey as one of the leading rock 'n' roll bands in the world, KISS continues to make waves with one of the loudest, most over-the-top, non-stop parties at The Joint. Designed exclusively for The Joint in partnership with AEG Live, the chart-topping band will unleash its signature elaborate set designs, jam-packed set list, intense pyrotechnics and much more for nine of the biggest shows in KISS performance history. With 28 U.S. gold albums as well as 40 million U.S. album sales and 100 million in world sales, Gene Simmons and Paul Stanley together with longtime members guitarist Tommy Thayer and drummer Eric Singer continue to grow their legacy, year after year. Along with an incredible recording career, KISS received a long-overdue induction into The Rock And Roll Hall of Fame in April 2014. In addition, KISS' new two-disc anthology, KISS 40, was released this past May. KISS 40 features one track from each of the band's studio and live albums as well as tracks from each of the original band member's 1978 solo albums and compilation cuts.
"KISS Army, get ready! America's most iconic band is coming to America's most exciting city. Rock and Rock Hall of Famers KISS are bringing their show to Las Vegas for their first-ever residency. For 40 years, KISS has been putting on some of the most exciting shows in music and we finally got them where they should be 'Las Vegas' at The Joint. We couldn't be more excited to see what they're gearing up for!" exclaimed Bobby Reynolds, vice president of booking for AEG Live Las Vegas.
KISS Rocks Vegas dates:
Wednesday, Nov. 5
Friday, Nov. 7
Saturday, Nov. 8
Wednesday, Nov. 12
Friday, Nov. 14
Saturday, Nov. 15
Wednesday, Nov. 19
Saturday, Nov. 22
Sunday, Nov. 23
*show time is 8 p.m.

Ticket prices for KISS Rocks Vegas start at $49.50 (plus applicable service fees) and go on sale on Friday, July 18 at 10 a.m. To purchase tickets or for more information, visit the Hard Rock Hotel box office, www.axs.comor charge-by-phone at 1-888-9-AXS-TIX. VIP ticket and room and show packages are available at www.hardrockhotel.com.
About KISS
KISS remains one of the most influential bands in the history of rock and roll. As one of America's top gold-record champions, KISS has released 44 albums and sold more than 100 million albums worldwide. Decades of record-breaking tours around the globe have included high-profile appearances at Super Bowl XXXIII, the Winter Olympics in Salt Lake City, the Rockin' The Corps concert dedicated to our troops in Iraq and Afghanistan, and special guest appearance on the 2009 American Idol finale that boasted 30 million viewers and a 2010 Dr. Pepper Super Bowl commercial and advertising campaign in support of their Hottest Show On Earth tour. KISS is currently featured in a major advertising and marketing campaigns for John Varvatos and Google Play. This April KISS launches their inaugural Arena Football League Season with the LA KISS Football team bringing professional football back to Los Angeles. This summer AMC will begin airing a new reality series in prime time about The LA KISS first season. The KISS legacy continues to grow, generation after generation. The unparalleled devotion and loyalty of the KISS Army to the "Hottest Band in the World" is a striking testament to the band's unbreakable bond with its fans. This year KISS will be celebrating two major milestones, their induction into the Rock and Roll Hall of Fame as well as the band's 40th Anniversary, along with a new compilation release, KISS 40, a 2 CD set featuring 40 tracks spanning KISS's incredible forty-year career.
Source: KissOnline.com
It's been more than a decade since KISS' last studio album. Eleven years is a decent chunk of time on most scales - but for KISS fans this has seemed an eternity.
Recent solo albums by both Gene Simmons and Paul Stanley helped to ease the pain somewhat, but then also had some KISS fans wondering, 'Well, why not a new KISS album?'
When KISS announced they were to begin working on a new album excitement spread like wildfire through the KISS Army, but there were those who skeptically held the stance that they'd believe it when they saw it - or, in this case, heard it.
Well the wait, the wondering, and the disbelieving is about to come to an end on October 6. Produced by KISS' own Paul Stanley, Sonic Boom is on its way.
The most recent musical products we've had from these guys were Paul Stanley's solo release Live To Win and Gene Simmons' solo album Asshole. Stanley's was emotion, Simmons' was fun - and now with Sonic Boom those influences bond and yet include so much more.
Sonic Boom is a sexy album packed with good quality songs that incite repeat listening. It's a great blend of old KISS, modern KISS, and even - - - dare it be said? - Some brand spanking new KISS sounds as well.
KISS, in their 35 years, has gone on an amazing journey and has a rich, full history. And some KISS fans are devoted, almost cult-like followers, but then there are some who will vehemently dislike any new release simply because it's not a repeat of Destroyer or KISS (the 1974 self-titled debut release). No one can make everyone happy, but Sonic Boom delivers the goods that most KISS fans will receive quite warmly.
"Modern Day Delilah" - the only song thus far available to the public - it can be heard on KISS' Official Website. Paul Stanley takes the vocal reigns on this one. "Modern Day Delilah is bold and brassy, a great rock tune with a heady groove and exciting guitar solo. This song is simply infectious, and was the perfect choice as the album's first release.
"Russian Roulette" - features Gene Simmons on vocals and has got a bass line that is sexy and gritty. Simmons' vocals are clear and naughty and the chorus is catchy. With the driving rhythms in "Russian Roulette" it's a great song to strip to if you're so inclined.
"Never Enough" - hands the lead vocals duties back over to Stanley. This is the quintessential rock anthem song. Total KISS, total Paul Stanley, total feel-good, and nothing but good feelings with an aggressive guitar solo.
"Yes I know (Nobody's Perfect)" - a classic 70's KISS sound and classic Gene Simmons feel to it. Nice groove.
"Stand" - a little unexpected. "Stand" is catchy but showcases a different style from the other songs on the album.
"Hot And Cold" - is a whimsical and upbeat tune that is perfect for Gene Simmons.
"All For The Glory" - features vocals by drummer Eric Singer and is one of the highlights of this album. Singer's slightly raspy and rocking vocals accentuate this song really well.
"Danger Us" - a fun play on words for this Paul Stanley lead song. "Danger Us" has got a solid rhythm throughout and nice guitar work.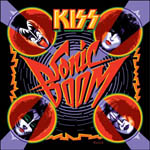 "I'm An Animal" - a larger than life, big rock and roll sound. Perfect for 'the Demon.' If this song was a person no one would mess with it.
"When Lightning Strikes" - is guitarist Tommy Thayer's vocal contribution and another highlight of the disc. "When Lightning Strikes" has got a sultry groove and Thayer is authoritative in his vocal style.
And "Say Yeah" - with a big rock sound and great harmonies. This is one of those songs that will pleasantly haunt you after just one listen.
Sonic Boom will be available exclusively at Walmart (stores and online) and Sam's Club in the U.S. and Canada. The album package is a 3-disc set that will include - in addition to Sonic Boom's 11 new songs - ;Kiss Klassics - a 15-track, re-recorded greatest hits CD, a live concert DVD that was recorded in Buenos Aires, Argentina earlier this year, and a 20-page booklet.
The countdown continues but we're almost ready for take-off.
Story by Melanie "Sass" Falina ©20009