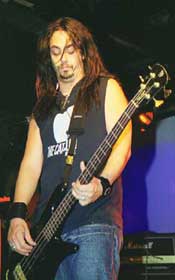 Back in 1996 Blackie Lawless brought on Mike Duda on bass to a revitalized W.A.S.P. for the late 1990 metal scene through present day today. W.A.S.P is not going away and Mike Duda is now one of the longest standing members of W.A.s.P.

Apart from W.A.S.P., Mike Duda can be found playing and contributing to the national heavy metal scene. Some might call it 80's metal but fans come out all over to jam out to classic rock and roll and heavy metal and Mike Duda can be found supplying it with fever. Mike has a classic bassist stance just like a rock star should look like and be thought of by the fans. Don't think that he is not a regular person, Mike is a easy going dude that will meet and greet all that come out to cheer him on and who he might be jamming with that night. You can find Mike Duda on the LA scene and at times touring from time with Happening Harry and the Haptones.

Mike Duda is a true Heavy Metal Warrior and is not going away.